Mobile Apps
Having a smartphone in your pocket has somewhat become a style statement, but apart from its appearance and style appeal, it allows you to perform all tasks that you would perform with your laptop or computer. This is the main reason of smartphone popularity.
For the designing fraternity, there are plentiful Android apps accessible on the internet. So, rather than wasting time in looking for the one you require, have a look at this collection of apps that we have composed here to permit web designers and developers discover the few useful apps they can magnify their productivity with.
With this app you can view the source code of any web page, copy and paste the HTML, select the text and search for it.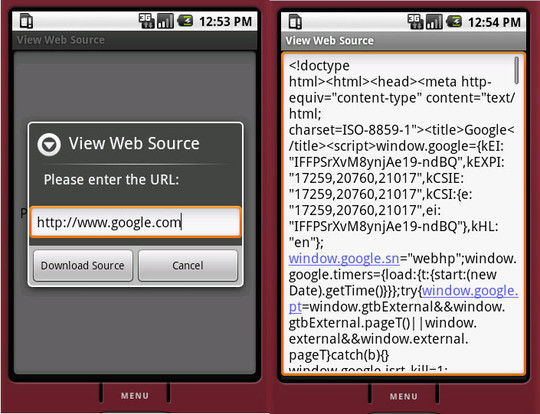 A simple HTML,ASP,JS and CSS editor for your coding on the road, use menu to >"save and view file" to preview.
A simple tool which might be useful in checking with javascript while you commute, or doing some simple maths.
Design Snack is a featured-rich, interactive and socially-powered web design gallery. It's web design inspiration, evolved.
AndFTP is a FTP, SFTP, SCP, FTPS client for Android devices. It allows managing several FTP servers. It comes with both a device file browser and a FTP file browser.
Test your skills of HTML with application developed by INTERSOG. Fast and easy. It is a must-have app for web developers, tech enthusiasts and those with a general interest in HTML.
Magic Color Picker is an powerful color selection tool suitable for designers, artists and programmers for selecting colors using different color models.
Developer's cheat sheets in your android tablet: php, python, ruby on rails, jquery, css, seo, apache, regular expressions, svn, bash, c++, drupal, gcc, gdb, html5, javascript, microformats, mysql, postgreesql, unix, wordpress
The W3C Cheatsheet provides quick access to useful information from specifications (incl HTML5, CSS, SVG, XPath) published by W3C, the leading international Web standards community.
Beta version available only for Android 2.0+ devices.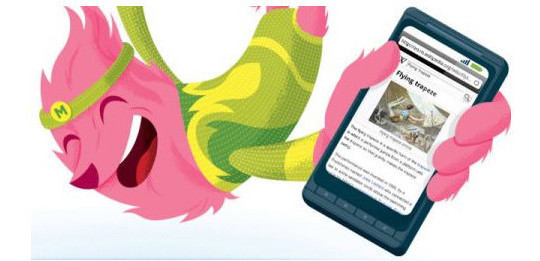 Bloggers today honestly appreciates the power of social networking and how it delivers not only traffic to blogs, important backlinks and of course more recognition. When we talk about social networking the first website that clicks my mind is Digg, followed by Stumbleupon and Reddit. Digg has been around for quiet some time and it actually had gained insane amount of popularity among publishers. It had been known for crushing web servers by sending its loyal visitors to websites.
Digg did change after they launched V4 and it may not be the same anymore but to make it up to its lost users they are putting maximum effort to make things right. Their recent attempt is the new Digg iOS app that is now available on iTunes for absolutely free.
I've downloaded it, used it and here are the top 5 reasons you should try it too.
Clean Interface
The new Digg iOS app for the iPhone, iPad and iPod touch comes with a better user interface. You may relate it to the Digg's mobile version but the iOS version is nothing short of awesome. As soon as you launch the app you will see the front page with the ability to browse via topics or check out the most recent stories. Once you click the "Most recent" tab you can browse topics with just a tap of your finger. This includes
Newswire
Most Recent
Trending
Top in 24 hours
7 Days
30 Days
Similarly you can browse the Top News topics by tapping the "Topics" tab.
Easy Navigation
You can preview any story in a list by clicking the item in the list, which will reveal the story description, source, thumbnail, date, and submitter. To read more about a story a new page is displayed with further details. You can either Digg or Bury the story by tapping the links at the bottom. A well organized page makes it easy for you to read the comments and dugg stories faster.
Mobile friendly pages
You can now view websites in an integrated browser. After visiting a page, all the mobile friendly websites will open the page in a readable manner making sure that users don't get interfered by ads and unwanted content.
Sharing

You can easily share stories with your friends via Facebook or email. If you like to save the pages in Safari you can also open them directly through the App.
Compatibility
The new Digg iOS app is compatible with all the Apple devices including the iPhone, iPad and iPod touch. All it requires is the iOS 4.2 or later. That being said there are surely some cons that needs to mentioned
Can't check profile for submissions, comments etc.
The comments don't show up sometimes, if there are too many the page refuses to load, and the possible comment tree is not deep enough.
All in all Digg app is awesome as long as you require it for reading pleasure only.
There are many applications out there, but getting by free and good ones is not that easy. Today, we are sharing Top 10 Evergreen (Yet Free) iPhone Apps To Make Your Life Easier. Read each entry in the list and see which iPhone app suits your needs best.
You are welcome if you want to share more iPhone apps that our readers/viewers may like. Do you want to be the first one to know the latest happenings at  SmashingApps.com, just subscribe to our rss feed and you can follow us on twitter and follow us on Digg as well to get updated.
TeamViewer provides easy, fast and secure remote access to Windows, Mac and Linux systems. TeamViewer is already used on more than 100,000,000 computers worldwide and with the TeamViewer App for iPhone and iPod Touch you are able to support your family and friends and can have access to your own computer with all of its documents and installed applications.
Idea Sketch lets you easily draw a diagram – mind map, concept map, or flow chart – and convert it to a text outline, and vice versa. You can use Idea Sketch for anything, such as brainstorming new ideas, illustrating concepts, making lists and outlines, planning presentations, creating organizational charts, and more.
Timer+ is a simple countdown timer that can run multiple timers from a list of presets. It lets you pause and resume timers and set timers with seconds. Timer+ will alert you even when it's running in the background.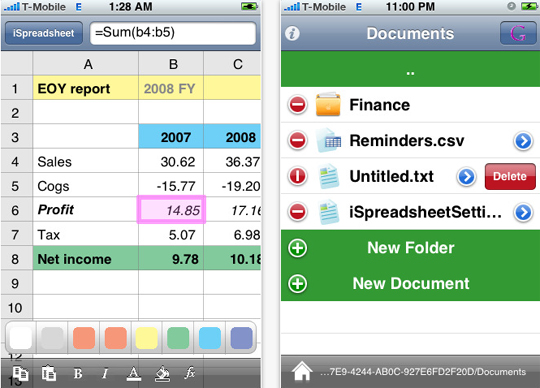 iPhone's only light weight mobile office suite. This essential application allows you to edit and manage spreadsheet & text files on your iPhone. It works both online and offline. You can also synchronize files to your Google Documents account and open files on your PC or Mac.
USB Disk lets you store and view documents on your iPhone and iPod. It has an amazing built in document viewer and is very easy to use, with a simple and intuitive interface, yet it contains many powerful features. Drag and drop files in iTunes to transfer them to your iPhone / iPod, then view them anywhere.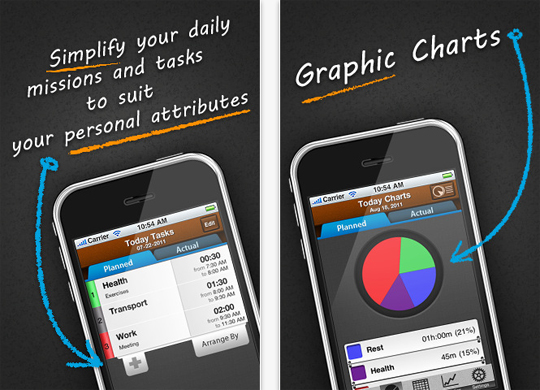 Schedule Planner was developed to aide users in planning out daily activities by category and priority. Busy users are provided with a flexible set of categories ranging from "Meals" to "Health" and "Work" among others. Once a category is selected users simply input the specific nature of each time block, including when each task should be started and its overall duration. Tasks and full days can be planned in advance & viewed day-by-day via a practical graphic calendar. Furthermore, tasks are color coordinate for convenience, while the app employs an in-depth pie-chart diagram color coded to let users see how they send their time with a quick glance.
Pageonce automatically organizes and tracks your money and bills. See your banks, credit cards, bills and investment accounts in one simple place. Control where your money goes and get important real-time alerts and reminders about your accounts. You can even track your frequent flyer miles, rewards, mobile minutes, text and data usage. Pageonce is safe and secure, and was chosen by millions of people to simplify their daily financial lives.
ScatterBrain is an extremely focused note taking app designed to let you capture thoughts and ideas quickly when they happen. It's simple enough to start using immediately, but versatile enough to keep track of all your thoughts. Whether it's a grocery list, your next great idea, or just some random stuff you don't want to forget, ScatterBrain will quickly become your go-to notes app.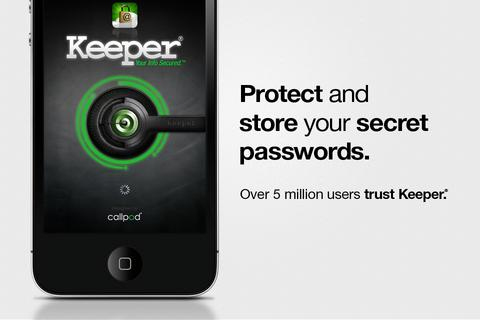 Keeper® keeps your most important information totally secure and easy for you to access. It also protect and store your secret passwords. You can log in to websites with one touch.
DocScan lets you instantly scan multi-pages document and send out when there is no scanner nearby. By having it, you can scan not only documents in sight, but also whiteboards, receipts, business cards, posters, coupons, books …etc.
Are you looking for an effective way to hide personal pictures and media files on your phone from others? If yes, then your search ends today! We have gathered a list of 7 excellent Android apps that will help you password protect your pictures and various other files on your phone.
Gallery Lock Pro
Gallery Lock Pro is a must have android app for all those who are looking for a way to encrypt their galleries. Users can easily lock photos and videos and can even hide the app launch icon. The application can be downloaded from the Android Market for $1 but if you want to try the application before buying, you can download the lite version and test it.
File Cover
File Cover is another excellent application which can help users set a password on their folders and images. Users can even hide pictures and other media files so that they can view it privately. Users can even share the hidden files with friends and family via email or MMS. The application is available for download in Android Market and a free version is also available for those who wish to try application with limited features.
Free Data Vault
Free Data Vault is an excellent free android app which can help users hide any data type including photos and other media files. This application is different from other applications which allow users to set a password on different folders as it allow users to hide one photo in another and store the fake image on the sd card.
Video Safe
Video safe is another useful android application which helps users lock different video files on your device. However, the user must buy Video Safe License for unlimited use. You can download Video Safe Free from the link given below and if you like the application, you can purchase its license.
Kii Safe
With Kii Safe, users can easily lock their photos and they will disappear from the gallery. Only you will be able to view the contents of any folder or locked images.
Gallery Private
Gallery Private is a free application for android devices which allow users to password protect photos and videos. The files encrypted with Gallery Private will still be locked even if the memory card is removed from the device.
Image Lock
Last but not least, Image Lock is another free android application which can help users lock photos with a password. The locked images cannot be viewed by anyone until and unless they know the password to unlock the photo.
If you know about any other application which can be used to lock photos and media files on Android smartphones, please share with us.
Time is a very important thing for every traveler whether he is on vacations or a business trip. This is because the more time you spend on looking for directions, the less time you will have to visit other places and meetings. For all those who use Android can now get rid of this problem. We have gathered a list of 10 excellent Android Apps that can help travelers keep track of the places they visited, how much money they spent and lots more.
Trip Journal is another excellent android app which helps users record their trips and share them with their friends. With Trip Journal, users can record the places you visited, take photos and videos, integrate different social networks and much more.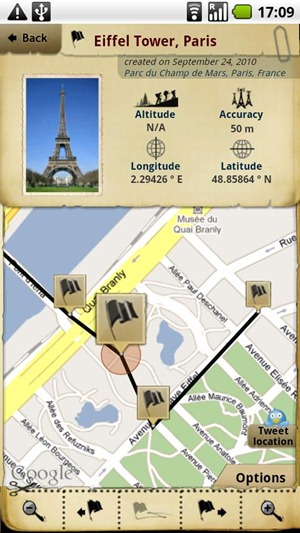 Waze is a free navigation application which uses real time reports based on the live conditions of the road. With Waze, users can even share road reports on accidents, police traps, or any other hazards along the way, helping to give other users in the area a 'heads-up' about what's to come.
PiggyBack is a ridesharing application for Android smartphones which helps then share car related expenses with other users in order to save resources and reduce carbon footprints. If you are using Piggyback, you can either pickup other users near you to reduce your costs or you can be a passenger and share ride with some other person.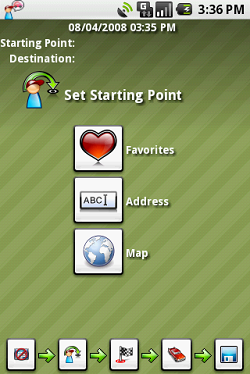 With My Trip Recorder, travelers can capture different events on the go and share them with your friends. You can make photo, text, and video entries and My Trip Recorder will log them by date and location. You can then upload them to your trip site at mytriprecorder.com and share it with your friends.
Maverick is an off road GPS navigation application with offline maps support, compass and track recording. With Maverick app, users can automatically use Bing, Google and many other Maps, and they are cached so that they can be used offline, share your current position, navigate to different places easily and much more.
With HotelsNearMe, travelers can find the best hotel deals around the globe on their android smartphone. You can search from a massive library of around 135,000+ in 101 countries.
Expensify is a useful android application for android users which helps travelers manage their expenses and receipts anywhere you go. Travelers can easily import receipts from their credit cards and convert them to PDF so that it can be saved online.
With TripIt, users can manage their travel plans, itineraries, track flights and share your travel plans with the rest of your team. You can get instant access to the entire trip planning information you might need while you're traveling, even when you can't connect to the Internet.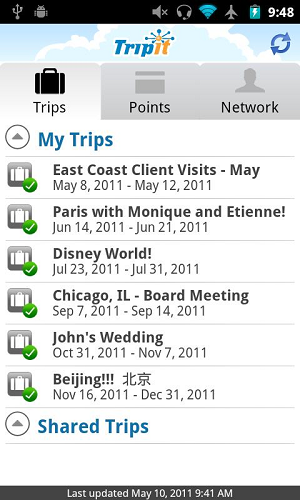 With FlightTrack, get real time flight status and map tracking from airlines all over the world. It reminds you about the status of flights and the time when you must be at the airport.
Talk To Me is an excellent speech recognition application for Android smartphones. You can translate into 7 different languages including English, Spanish, French, German, Italian, Spanish, Chinese and Japanese. Translation can even be sent via SMS and email as well.
Wondering how to make your iPhone helpful for you so most of the time you don't need other devices to perform different tasks? One obvious way is to keep an eye on countless iOS developers who develop such apps. And here we are listing down 11 Totally Awesome Apps For Your iPhone. Read on this list of great iPhone apps f to try them all out – they're free!
You are welcome to share if you want to share more iPhone Apps that our readers/viewers may like. Do you want to be the first one to know the latest happenings at SmashingApps.com just subscribe to our rss feed and you can follow us on twitter as well.
CamScanner turns Phone into Scanner. With CamScanner, you are able to digitize any paper documents by photo shooting. Simply take a picture of any paper documents such as receipts, whiteboards, notes, agreement and so forth, and CamScanner can auto crop image, enhance image quality and to create an industry standard PDF file. Then you can easily sync documents via iTunes, upload to cloud like Evernote, Dropbox, Google Doc, Box.net, iDisk, or manage by tagging or searching.
The Free Wi-Fi locator helps you find free Wi-Fi hotspots where ever you are. With a simple tap of the icon you can see locations near you. Click on a location and receive the exact driving directions.The bad about this application is that this is valid for US users only.
This app allows you to be a responsible driver and stay connected by reading unlimited messages for free.
Touch Mouse by Logitech turns your iPhone or iPod touch into a wireless trackpad and keyboard for your computer. works over Wi-Fi, so you can use it anywhere in the house. And to make typing easier, text is displayed on the screen of your iPhone or iPod touch as you type, so you can see what you're doing without having to continually look up and down.
USB Disk lets you store and view documents on your iPhone and iPod. It has an amazing built in document viewer and is very easy to use, with a simple and intuitive interface, yet it contains many powerful features. Drag and drop files in iTunes to transfer them to your iPhone / iPod, then view them anywhere.
Have you ever wanted to write fast, beautiful notes without having to use the popup keyboard? How about just using your finger on your iPhone, iPod Touch or iPad's gorgeous screen? Use Your Handwriting® (UYH) is a powerful yet simple way to organize and express yourself. Instead of typing items in, Use Your Handwriting lets you write them by hand (well, by finger) – and with its unique graphic rendering engine, makes what you write look like your actual handwriting.
Convert Everything is a simple application that can convert between units (distance, area, weight, etc), translate words (online using google translate), convert currencies with rates updated online.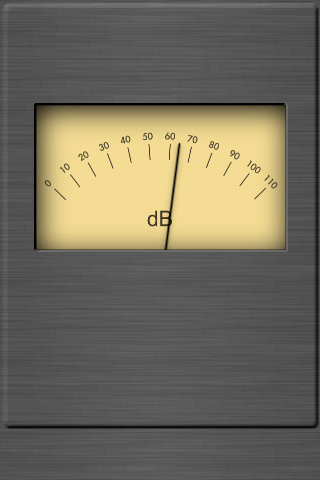 Want to know what noise level is around you? in the restaurant? in the train? in the office? This app will show you how much noise is there in your surrounding.
Battery Master Free shows you the current battery level of iPhone /iPod Touch, e.g. the remaining time for standby, audio, video, Internet browsing in different scenarios. It can also notify you while your iPhone/iPod Touch is fully charged.
This camera app has some really good features like take new pictures while other pictures are saving, this allows you to take multiple pictures in a short period of time. It controls horizontal and vertical zoom separately, which makes your camera more fun. For example, you can take a picture that makes someone look skinny/chubby.
Turn your iPhone into a wireless, mobile external hard drive. It works over any WiFi connection. You can now share, copy, and backup your files to and from your PC / Mac / Linux / or another phone.
iPhone apps are a great way for customizing the way you use your iPhone. They offer flexibility, more features than normal services would and are very easy to use. The Apple iTunes App store has millions of apps which aim to provide users an enriching smartphone experience overall. Today we'll be reviewing five great iPhone apps which can be used to enhance the way you use your smartphone. Have a look:
You are welcome if you want to share more iPhone apps that our readers/viewers may like. Do you want to be the first one to know the latest happenings at  SmashingApps.com, just subscribe to our rss feed and you can follow us on twitter and follow us on Digg as well to get updated.
SoundTracking allows users to share the songs they listen to with other people while on the go. It does so by informing your friends who also use SoundTracking to share the music which they listen to. You and your friends can comment on the music being shared as well. SoundTracking provides a really great and easy way to share you music without really doing much effort.
PairShare is probably the best real-time P2P music sharing app available for the iOS right now. It lets you to stream your music stream live on your friend's iPhone/iPad/iPod Touch nearby. It is a great way to listen and share music with your friends while doing different real world tasks together. A must have for anyone.
Sign Me Out Live is another great app which lets users monitor their important accounts such as Gmail, Google Apps, Facebook, Twitter etc. and immediately know if anyone else is trying to start another session of their respective accounts. Moreover, it also allows users to sign out from different accounts with a single tap. Sign Me Out also provides a complete info about your current session details to each of the services you are logged in. If you like using multiple services on your iPhone, then Sign me Out is a great app to have for a combined signout from all those services in a single click.
Follows is an app for social networking freaks. It provides users the aggregate data about different aspects of social networking information from their profiles on multiple services. Information presented to users is about the total number of friends, subscriptions made following others, social connections developed, likes and so on. Follows supports a lot of social networks and other socially active services like Facebook, Twitter, Vimeo, YouTube etc. and gives quite accurate results for you to analyze your social performance.
This all-in-one app provides users with the ability to send free text messages to others in the US and worldwide, have Google Talk and Facebook chat conversations with them, Twitter via text, auto-reply to text messages while driving and last but not the least, locate and text other friends who also use this great all-in-one app. HeyWire is really easy to use and it DOES provide the ability to send FREE texts all over the globe. HeyWire easily switches between 3G and WiFi when WiFi is available saving you data costs making it economical as well. A little downer for us was a single add which appeared in the app. Overall, it's a must have!
iPhone owners have a large library of applications that serve numerous useful purposes. One category of such application is dedicated to helping people easily contact their friends via messaging.
Depending on their nature, these apps let you send instant messages to your friends as well as text messages. While most of the advanced apps carry a price tag, there are a few free ones as well that get the done quite effectively. Check the top 5 of such free iOS apps below.
IMO
For instant messaging across different type of networks you often have to install separate dedicated apps. But with IMO you get a single application through which you can chat with your friends on Facebook Chat, Google Talk, Skype, MSN, ICQ/AIM, Yahoo, Jabber, and Myspace. Check out the IMO instant messaging iOS application here.
HeyWire
For people looking for basic IM capabilities coupled with free SMS features, HeyWire will be an excellent choice. The app supports Facebook Chat and Gtalk along with letting you send text message for free and tweet via SMS. Get HeyWire from here.
Yahoo! Messenger
I regularly use the desktop Yahoo! Messenger to chat with my friends. Its iOS counterpart is an equally competent app that supports instant messages, video calls, voice calls, and free SMS messages amongst other features. You can visit the Yahoo! Messenger iOS app over here.
Palringo
Palringo is popular iOS app that supports instant messaging across numerous networks. Additionally it supports free text messages, along with picture and voice messages. Get Palringo from here.
Fuze Messenger
Fuze Messengers supports messaging across various networks with added feature of SSL encryption to secure your conversations. Check out the app by clicking here.
If you like shooting pictures with your iPhone, adding effects to them, and sharing the results, then there is a good chance you have multiple apps installed for each function. But this entire process can be made a lot easier and faster if you opt for an iOS app called Instagram.
Instagram is a free iOS application sized at 6.5 MB. The app provides a user-friendly interface through which you can quickly shoot pictures, add cool effects to them, and share with your friends. Instagram uploads your photos and lets you share them with other Instagram users; in this way the app acts like a social network.
You can share photos with people in your network, view their photos, and search the network for people, tags, and popular photographs.
One of the best features about the app is that it offers more than a dozen filters to beautify your photographs.
By adding these filters to your photos, you can get wonderful results and gather followers to be popular on Instagram. Furthermore, users can also optionally share the locations of the places where photos were taken. You can check into Foursquare when you post a photo with a location.
If you want to share pictures on other social networks, you can do this via the app too; sharing on Twitter, Tumblr, Flickr, Posterous, and Facebook is supported.
Instagram is completely a device-based app; in other words you use it entirely on your iPhone, iPad, or iPod Touch. If you want to access your Instagram through a desktop or laptop computer, then you will find a website named Extragram to be most helpful.
Extragram lets you browse Instagram photos in grid, filmstrip, and map views. Other features include the same Instagram functionality: you are able to view popular photos, search for people and tags, browse your photos and your friends' photos, comment on photos, and share them over various social networks.
If you own an iPhone device, then the combined usage of Instagram and Extragram will be the best to shoot photos, add cool effect to them, and manage them through your computer.
Check out Instagram over here and Extragram over here.
There are many apps out there for android phones, but getting by free and good ones is not that easy. That is why I am sharing The Six Browsers For Most Intuitive Web Surfing Experience On Android. Read each entry in the list and see which tool suits your needs best.
You are welcome if you want to share more browsers for android phones that our readers/viewers may like. Do you want to be the first one to know the latest happenings at  SmashingApps.com, just subscribe to our rss feed and you can follow us on twitter and follow us on Digg as well to get updated.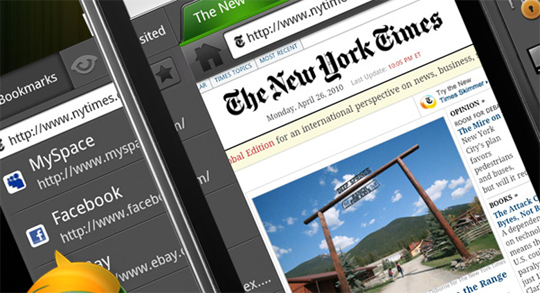 Dolphin Browser HD, most popular and powerful browser on Android Market, is built on Android 2.0+ platform. Beside some basic features, like gesture commands, multi-touch zooming, bookmarking (that syncs to Google bookmarks), Dolphin HD supports more powerful features such as versatile add-ons, better HTML5 support, customizable bookmarks sorting, innovative UI, Download Directory changing, and etc.
It is fast, smooth, and makes surfing the Web on a mobile device more fun and efficient than ever. A refreshed user interface looks better with your device and gives Opera Mobile a sleek, modern appearance. Pinch zoom and smooth panning let you surf in a natural and intuitive way. You can also share web content with others on popular social networks. Opera Mobile is the ultimate browser when connected over WiFi or wireless broadband.
Miren browser brings you the most intuitive browsing experience with full tabbed browser with smart full-screen mode, top site navigation and smart suggestions. It has a Flash support with multi-touch Pinch zoom. You will have excellent bookmark management with folders as well as you can export/import bookmarks via SD.
Skyfire Browser makes your mobile web experience richer, smarter and more fun. It also makes browsing more social. You may have easy access to Facebook and Twitter news feeds, profiles, friends, inbox, events and places. Find popular pages your friends have shared based on the sites you are visiting. Explore related ideas to the pages you browse. And see more from your searches with video and social results.
By compressing pages with Opera's servers, Opera Mini not only loads webpages faster, but it saves on data charges since it uses about a tenth of the data of normal browsers. Opera Mini is the ultimate browser for browsing on slow
Internet connections or while paying per megabyte of data used.
Boat Browser is a fast,clean and ease of use android browser. This is a fast, simple and pretty web browser, which will bring you the greatest user experience on Android.