Playing games on your Android smartphone is fun but one can feel monotonous and bored playing the same game all by himself round the clock. The best solution to the problem is playing multiplayer games with other players around the world and socializing at the same time. It will not only make you cheer up but also test you with other insane players. Finding decent multiplayer games can be difficult in the android market and thus here is our handpicked list of 7 most astonishing multiplayer games that will surely groove you and kill your boredom.
Cestos is one of the most loved multiplayer game in Android and now it just got better with Cestos 2 Party Time. Both Cestos and its sequel are based upon principle of physics and believe me you are sure to love it at the arena. The game can be played online with other players round the globe. In the game a player is given set of marbles and he need to control it by determining their direction and velocity. Once all the player have setup their marbles its time for a launch. The player whose marble make it till the end of the game without falling into the pit and blown by hidden mines is the winner. Cestos 2 is not just about playing game and winning it also provides a bit of social activities such as Avatars and chartrooms to interact to other players. The game runs on a very light engine and will work flawlessly on basic 3G connection.
Project INF Beta is a shooting genre multiplayer game and believe me it's the best in its class. The game is launched by ChickenBrickStudios and is free to play. The game is slow-paced and provide great control. Players can comepete with one another in deathmatch, team deathmatch, and capture the flag events. There are different ranking available for you such as Scout, Marine, or Brute with each having its own set of skills. Well only shooting is not important in the game you also need to collect money to upgrade your inventory. One tip if you are planning to play the game, keep your alias a little more appealing and brood.
No its nothing like Lord of The Rings where you need to kill the king and all it's horses. The game is set in current time and the map is you real-time position through GPS on Google maps. All what you need to do is fight with other players online near you All you have to do is  fight with other players, place flags, plant trees, gather resources, collect items and fight with a variety of creatures  or visit other players inside the game, place flags, plant trees, gather resources and collect items. The game is very addictive and will surely take you back with its concept and game playing.
Seriously how good are you in drawing, because this game will test your drawing skills and at the same time your imagination skills too. The game is free alternative of the game "What The Doodle" and is in no way a compromise against money. The objective of the game is simple; a player has to draw a given word while other players have to guess it. If a player correctly guess what you are drawing he and you both gets one point, if no one was able to guess then the game punishes you with a negative point.
This game is a single device multiplayer game that means you cannot play the game online but rather you can play with your friends on a single device. The concept of the game is the first one to react to whatever's queried on the screen correctly gains a point. It measure your reflexes against your friends word matches color, 5 different shapes, Mouse in maze, Countdown hits zero, Sad Smiley and many more. If you are running out of your bandwidth or don't have an internet connection at your camping this game will surely groove you. The game is all about checking the response time of the players based upon some stimulus. The game supports 2-4 players and is lot more fun to play.
The game is dedicated to all the baseball fans. The game has most promising graphics among the above mentioned games. It's the winner of Best Sports Game of 2009 from Best App Ever, IGN.com and Touch Arcade. The game is all about playing Basebass and scoring as many homeruns as you can competing with several other player around the world.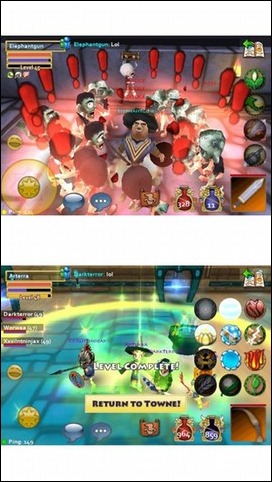 Pocket Legends" is a ground-breaking and unique Mobile MMORPG, or 'massively-multiplayer online role-playing game' where you can join thousands of players from around the world. Play with your friends and make new friends online. Cooperate to undertake wild adventures in endless dungeon campaigns! Become a part of this unique fantasy epic! Assume the role of a powerful bear-like Ursan Warrior, mystical Elf Enchantress, or Avian Archer. In one word it's the World of Warcraft in your pockets.