If you are looking for home office organization ideas to give fresh look of modern office design to your home office then this is the right place for you. Either you are looking to learn how to change your home office design or how to improve the look and feel of your small office interior design, with this collection, it will become the piece of cake for you to improve your work place at its best.
By simply making few changes to your work place, you can improve your boring cubicle or home office design into a resourceful, well-designed, practical and motivating work place.
Do not hesitate to look into this collection and share it with others to motivate them as well. So, here is the full collection of 12 amazing examples of modern-looking, comfortable and creative work home office ideas that have been designed by marginal space, partition décor, shelves, color themes, portraits and personal touch.
Previously, we have covered How to Streamline Your Space and Organize Everything Better than Ever at Your Place? (3 Simple Yet Efficient Ways)
If you are looking to see the home office furniture shown in these pictures, you can click on the relevant picture to find out the details of the specific product displayed here.
Best
Home Office Organization Ideas
This is a kind of minimal style office decoration for those people who tend to have the less furniture around and enough free space. Click here to check out for the minimal style office organization furniture.
This is another example of small office interior design with limited furniture having simple office desk around indoor plants wall paper in the background. Click here to find out more about the relevant furniture shown in this picture.
If you are looking to have a modern office design within very limited space somewhere inside your home parallel to any of the side walls then this idea is best fit for you. Click here to check out the furniture used in the respective picture.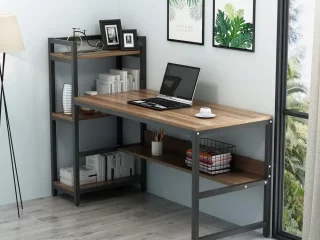 Most of the time home office organization become simpler than anything else. This small office interior design would be your first choice if you have limited space to dedicate for your home office. Click here to check out the relevant furniture in the picture shown.
When you look for simple things, you should look for ideas to see things from minimal point of view. Having a sleek table on one of the vacant side wall in your home would make the whole home office organization process easier than ever. Click here to see the details for the furniture used in the picture aside.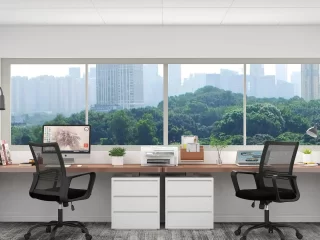 When it comes to using the less space for the multi seating home office organization then it may become complicated to choose the furniture that takes less space and gives full impact. Using the window wall to setup modern office interior design will be the best idea to setup office at home. Click here to find out more about the furniture mentioned in the picture.
Having the home office at the one side of the room with a background window would be a dream for the one. This simple yet more spacious home office design with shelve and the table together is good to choose from cluttered style office design. Click here to look out for relevant furniture used in this picture.
This is one of its kind simple and less occupied home office design. Having a white textured background wall paper including plants around gives a refresh look and feel for anyone who could wish for simple office design. Click here to look out for the relevant furniture mentioned in the picture.
This home office design utilizes the L shape corner table to organize the miscellaneous office materials within the reach of the office bearer with the style and structural format. Click here to check out the furniture used in the mentioned picture.
Whenever someone look out to have the modern interior design for the home office, he has to keep in mind to select the furniture that takes less space and keep the most of the things that are part of the office. Please click here to check out how smart furniture can help you to setup small office interior design.
This U style office interior design is a life saver for anyone who is looking to turn their simple home office design to the modern home office design with limited and spacious office furniture. Click here to check if something relevant to your interest is available here.