iPhone owners have a large option of applications available to them. These apps range from every day utilities to games. Many of these apps are so useful that quickly become a necessity if you want to take full advantage of your phone.
Being an iPhone owner myself, I thought it's best to share my top 5 iPhone apps with my readers. The following 5 applications are absolutely must-haves for all iPhone owners. Check out each entry in the list and see for yourself why these apps are necessary.
iHandy Flashlight Free
We all use our phones to light up a dark space. But having an application built specifically for this purpose can be a great help. The Flashlight application will help you light up a room with the camera's flash. Alternatively you can get an all-white screen to light up a space. Other lighting options include viewing a spiral on the screen, having a neon-type display, or having a glow-stick type display. In other words, this application provides multiple ways of lighting up a dark space and will be the only flashlight application you need. Download Flashlight from http://itunes.apple.com/us/app/ihandy-flashlight-free/id368504562?mt=8
Fake-a-Text
Faking a text conversation on the iPhone can be surprisingly helpful. Whether you want to have fun by fooling a friend or use the text conversation as an excuse for something, Fake-a-Text will serve perfectly. You can create custom messages that will be sent to your phone; the sender's ID will be whatever you choose. As your reply to the fake texts, the app keeps sending the custom texts in the order you specified thereby faking a complete text conversation. There is no limit to the number of fake texts that can be specified. Download Fake-a-Text from http://itunes.apple.com/us/app/fake-a-text-free/id366024390?mt=8
Free Wi-Fi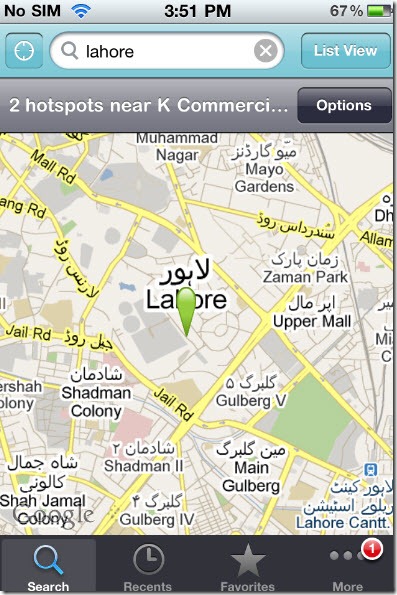 Free Wi-Fi is a greatly handy application that does exactly what its name suggests: it finds free Wi-Fi spots nearby your current location. Your location along with the hotspots are displayed on a map. Using the app you can quickly access free internet to check your emails or peform any other internet activity. Free Wi-Fi can be downloaded from http://itunes.apple.com/us/app/free-wi-fi-finder/id307217005?mt=8
SpeedTest
When you find Wi-Fi networks through the Free Wi-Fi, you can test which one of them has the fastest speed through the SpeedTest app. Using the app you can test the download and upload speed of the network you are connected to. If you find that the network speed is too slow, you can switch to other available Wi-Fi networks. SpeedTest can be gotten at http://itunes.apple.com/us/app/speedtest-net-mobile-speed/id300704847?mt=8
Road Trip Lite
With the rising cost of fuel, owning a car has become quite expensive. Because of the high costs involved, you need to closely monitor the mileage, fuel economy, and maintenance expenses for your car. This is why Road Trip Lite is an essential application for everything iPhone owner who has a car. You can keep a log of your car's maintenance costs and mileage within the app. Unlike similar apps, this app does not limit the amount of data you can specify. You can download the app from http://itunes.apple.com/us/app/road-trip-lite-mpg-mileage/id299392794?mt=8#
SmashingApps.com participates in various affiliate marketing programs and especially Amazon Services LLC Associates Program, which means we may get paid commissions on editorially chosen products purchased through our links to any of the linked sites from us.