Everyone is planning to buy something on this Black Friday either for himself or gift for friends but the question how to make this whole process less complicated? Oh you do not need to worry at all. As there are many apps out there that can help you to find amazing deals for Black Friday on your smartphones. No matter if you have iPhone or Android because we have selected few excellent gems for your smartphones to find Black Friday exciting deals with less efforts. Read each entry in the list and see which tool suits your needs best.
You are welcome if you want to share more Black Friday Apps for iPhone and Android that our readers/viewers may like. Do you want to be the first one to know the latest happenings at  SmashingApps.com just subscribe to our rss feed and you can follow us on twitter as well.
Available for iPhone and Android
shopkick is the first mobile app that gives you rewards and offers simply for walking into stores, for scanning products, and for signing up friends. You can collect kickbucks and bonuses at millions of stores and restaurants in America.
Available for iPhone, iPad and Android
PriceGrabber.com's application helps you quickly find the lowest price on millions of products from thousands of online merchants and sellers. You can find products, compare prices, read product reviews, product specs and ratings.
Available for iPhone, Android and Motorola SUN1660BB
With Groupons smartphone apps you can buy deals, access your purchased Groupons, find the ones that are nearby, and redeem them electronically.
Available for iPhone
The free app allows you to search thousands of Black Friday deals for every major retail store. You can create a personal shopping list and use your iPhone to shop smarter and faster on Black Friday.
Available for iPhone
Everyone knows that Black Friday is a great day to get amazing deals. With the dealnews Black Friday App, you can view retailer "leaked" and confirmed ads, and browse all deals in one place.
Available for Android
DealDroid is small application that continuously watches for new deals on one-deal-at-a-time sites like BonkTown, Brociety, ChainLove, Steep and Cheap, Tramdock, Whiskey Militia, Woot, ThingFling, and SlickDeals. DealDroid runs in the background and produces Android notifications when new items become available.
Available for iPhone
This is powered by the incredible team behind BradsDeals.com & BlackFriday2010.com, the Black Friday App will let you take Black Friday Ads with you on the go, helping you decide which stores to go to and what deals to buy.
Available for iPhone and Android
With Shop Savvy Barcode Scanner, you can scan a barcode with your phone's camera and receive all the best prices on the Internet and at nearby, local stores.
Available for iPhone, iPad and iPod Touch
The Amazon Mobile app allows iPhone, iPad, and iPod touch users to quickly search, shop, compare prices, read reviews, and make purchases on Amazon.com using a simple, yet elegant, interface.
Available for iPhone and iPod Touch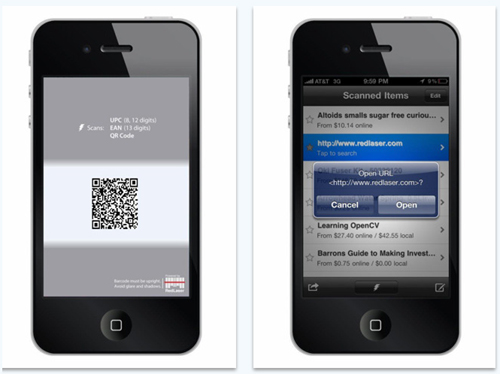 RedLaser is a barcode-scanning application for comparison shopping and finding product information using a mobile device. The state-of-the-art barcode scanning technology was created specifically to deal with non-autofocus cameras, and continues to evolve with innovative mobile visual capabilities.
Available for Android
Google Shopper helps you recognize products by voice, barcode scanning, cover art and text search. You can easily find local and online prices, specs, reviews and much more. If you find something useful and want to share with your friend you can also do that.