No matter how many applications you have installed on your iOS device, you are always on the lookout for the next free and fun iOS app and specially for those apps that may make your iPhone more useful for you. Thanks to countless iOS developers you have a plethora of such apps to choose from. To save your time that would otherwise be spent on searching for these apps, we present a wonderful list of  free and useful iOS applications for iPhone or any type of iOS users.
You are welcome if you want to share more amazing apps for iPhone that our readers/viewers may like. Do you want to be the first one to know the latest happenings at  SmashingApps.com just subscribe to our rss feed and you can follow us on twitter as well.
The NASA App collects, customizes and delivers an extensive selection of dynamically updated information, images and videos from various online NASA sources in a convenient mobile package.
The free Dictionary.com app delivers trusted reference content from Dictionary.com and Thesaurus.com. No internet internet connection is needed to search words. The app includes nearly 2,000,000 words, definitions, synonyms and antonyms. It also features audio pronunciation, voice-to-text search and Dictionary.com's popular Word of the Day and Hot Word blog.
"History:Maps of World" is a fun and educational collection of high-resolution historical maps. Check it out to keep up with your history, learn something about history.
A glossary of scientific terms and short biographies. All definitions link to related terms and to free, detailed science learning modules. Though geared for high school and undergraduate student's using it's website, the glossary and modules are appropriate for anyone generally interested in science.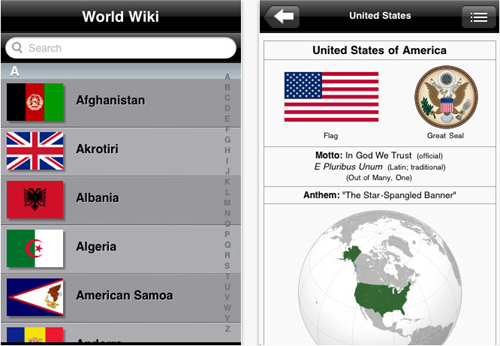 You can get quick access to detailed demographic information of almost 250 countries around the world, right on your iPhone or iPod touch.
WhatTheFact?! is a collection of over 400 true and bizarre facts. With WhatTheFact, you can impress your friends with your knowledge of pointless trivia, or simply waste hours of your life obtaining knowledge you'll never need in the real world!
This application gives you detailed information (Flag, Current ruler, Area, Population, Capital, Largest cities, Languages, Ethnicity/race, Religion, Literacy rate, Economy, Government) about all the Countries of the World.
The HowStuffWorks app not only gives you instant access to a massive collection of articles and podcasts right on your iPhone or iPod Touch, but also you gives you direct access to our famous podcasters and HowStuffWorks experts.
Accessing Wikipedia has never been faster and easier than with Wikipanion, designed for easy, search, navigation and display of Wikipedia entries. Streamline your browsing with history grouped by visit date, and bookmarking that not only bookmarks individual entries, but individual sections within an entry.