No matter how many applications you have installed on your iOS device, you are always on the lookout for the next free and fun iOS app. Thanks to countless iOS developers you have a plethora of such apps to choose from. To save your time that would otherwise be spent on searching for these apps, we present a wonderful list of 10 such free and fun iOS applications.
Read on for the list. Remember, most of these apps will run on all iOS devices: iPod Touch, iPhone, and iPad.
1. Cops & Robbers
Sized at 6 MB, this is a wonderful game in which you play a robber and dodge the cops with your acrobatic moves. Performing those moves around obstacles is exceptionally fun and you will surely end up spending a lot of time playing this game. Get this game from http://itunes.apple.com/app/cops-robbers-cop-mode/id314858221?mt=8#
2. Stardunk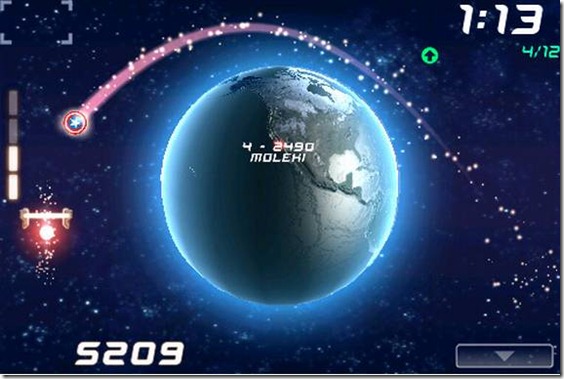 Although a little large (sized at 21.4 MB) this game will provide countless hours of entertainment. Stardunk is a multiplayer basketball game with a space environment. Similar to Space Jam in a few ways, the game will be a great addition to your iOS device. Get it from http://itunes.apple.com/app/stardunk/id361152652?mt=8#
3. "0.03 Seconds"
0.03 Seconds was the top iOS game in many countries within 2 days of its release. The game, sized at 11.9 MB, helps you judge your reaction time. Through a variety of responses it determines how fast you react and tap the screen. Check it out @ http://itunes.apple.com/app/0-03-seconds/id392705022?mt=8#
4. Rat on a Scooter XL
Rat on a Scooter is exactly what its name suggests: a rat on a scooter. After getting this 4.8 MB game you get your rat on the scooter and hit the toads to perform amazing stunts and gain points. Get the game @ http://itunes.apple.com/app/rat-on-a-scooter-xl/id342699962?mt=8#
5. Audiobooks
Sized at 11.6 MB, Audiobooks is a great app that will let you listen to more than 3500 audiobooks for free. Thanks to iOS 4, the app now supports background playback so you can listen to your audiobooks while working on another app. Check out Audiobooks @ http://itunes.apple.com/us/app/audiobooks/id311507490?mt=8#
6. Sketch Nation Shooter
This game is a 19.3 MB download and lets you play games you create yourself. You draw your player, enemies, a boss, and even levels; take a picture of your drawings and then start playing through Sketch Nation Shooter. Check out the game @ http://itunes.apple.com/app/sketch-nation-shooter/id363785930?mt=8#
7. HeyTell
HeyTell can serve as an excellent voice messaging application. Each voice message it delivers takes up data amount almost equivalent to an email message. The app can be used over Wi-Fi, 3G, and even EDGE. Sized at only 2.4 MB, this app can be a great addition to your iPhone. Get it @ http://itunes.apple.com/app/heytell/id352791835?mt=8#
8. Slingshot Cowboy
Slingshot Cowboy is an uncomplicated game that will quickly become a great source of quick laughs, no matter how old you are. With amazing graphics, the game lets your character be mischievous by equipping you with a slingshot and other weapons. The game is sized at 13.2 MB and can be gotten from http://itunes.apple.com/app/slingshot-cowboy/id320287280?mt=8#
9. The Idiot Test 3
The Idiot Test 3 is a fun game that presents you with simple tasks by describing them in a slightly complicated manner. Follow the instructions the right way to prove that you are not an idiot – a fun way to pass your time. The game will take up only 2.7 MB on your device and can be gotten from http://itunes.apple.com/app/the-idiot-test-3/id318760232?mt=8#
10. Zumocast
Zumocast's iOS app is sized at only 3.3 MB. By using its desktop clients in conjunction with the iOS app, you will be able to access your media – songs and videos – spanned across multiple computers via your iOS device. The cloud based storage of Zumocast is what makes this possible. Check out the iOS app @ http://itunes.apple.com/app/zumocast/id386461020#
SmashingApps.com participates in various affiliate marketing programs and especially Amazon Services LLC Associates Program, which means we may get paid commissions on editorially chosen products purchased through our links to any of the linked sites from us.