Wondering how to have fun with your iPad? One obvious way is to play games or try fun apps on it. And here we are listing down Top 10 Evergreen iPad Apps To Kill Your Boredom. Read on my list of top 10 free iPad apps for your entertainment. Try them all out – they're free!
You are welcome to share if you want to share more iPad apps that our readers/viewers may like. Do you want to be the first one to know the latest happenings at SmashingApps.com just subscribe to our rss feed and you can follow us on twitter as well.
A Digital Atlas of the United States and the World, with satellite images of over 400 famous landmarks. The World map lets you view data at the country level, while the United States can be viewed at the state and county levels. Data is provided from the World Bank, Wikipedia and the 2000 US Census.
An optical illusion (also called a visual illusion) is characterized by visually perceived images that differ from objective reality. This Simple Application is a collection containing 70 different optical illusions. Just watch them and be amazed.
Mood Sense knows that your mood is so much more than just happy or sad. You are a unique and complex individual with intricate feelings. Let the Mood Sense Podlingz (4 specialized oracles trained exclusively to interpret your feelings and emotions) read the deep ripples of your inner being and enlighten you.
With Google Earth for iPad, you can fly to far corners of the planet with just the swipe of a finger. You can explore the same global satellite and aerial imagery available in the desktop version of Google Earth, including high-resolution imagery for over half of the world's population and a third of the world's land mass.
Do You Have What It Takes To Save Stickly? Save Stickly is an addicting, fun, (and free) fall down game. Simply tilt your device left and right to falldown the holes in the game. Avoid the ceiling for as long as possible to keep from crushing Stickly.
What's a better way to waste your time than learning 10,513 new cool facts? With this app you can learn thousands of those facts that you might did not know before.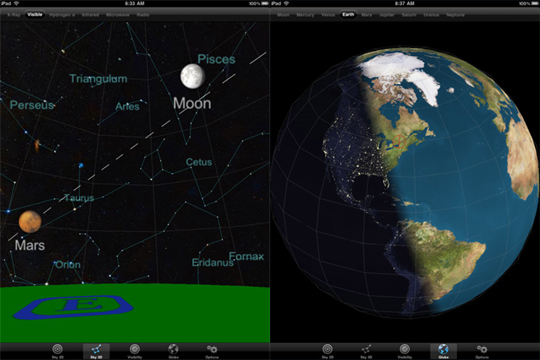 A 3D guide to the solar system for aspiring astronomers. You can discover when you can see your favorite planet, and where to look in the sky in relation to the stars and so much more.
With 25,000 awe-inspiring photos, this much loved app has been called the world's largest photo book, an inspiring travel guide, an entertaining teaching device and even a bed-time relaxation tool.
Tired of having the paper map blown to pieces by the wind every time you try to figure out where you are and where you need to go? The mobile streetmaps are for you, All the map data is loaded on your iPAd before you leave your home, so can you be on the streets, offline, and still know everything about the area you are in, and locate yourself or any street in the city. You don't need any network connection at all once the application is installed on your iPhone.
Desire To Know Your IQ? "TEST YOUR IQ" is the easiest way to check your IQ with your iPhone, iPad or iPod Touch. The test is fully consistent with the standards of IQ testing. You are offered to answer various questions. At the end of testing, the program will calculate your IQ.
SmashingApps.com participates in various affiliate marketing programs and especially Amazon Services LLC Associates Program, which means we may get paid commissions on editorially chosen products purchased through our links to any of the linked sites from us.