At this time, we have come with another electrifying collection of some of the very astonishing iPad apps for web designers and developers. The iPad without a doubt is very helpful in particular for those people whose career are online designing, freelancing and others. We compiled this post especially for web designers, developers as well as for graphic designers because they are the people who are responsible to create visually appealing website while making sure that they work well.
In this round up, you will notice a compilation of some of the Best and Free iPad Apps for web designers as well as developers. These apps will certainly assist in making the job much easier. So, try exploring these apps and choose which one you would opt for.
MedCommons Prototyper is a free utility to assist designers and developers building SplitView layouts and an easy way to present web content on the iPad.
Palettes is a powerful iOS productivity tool for creating and maintaining color palettes. Turn your iOS device into a portable color creation tool. Now you can create a color palette anywhere at anytime. Great for creating color schemes. Grab colors from a photograph, a website, or add colors using any one of 5 color models. Quickly find matching colors with support for many different color schemes.
Dropbox is a free service that lets you bring all your photos, docs, and videos anywhere. After you install Dropbox on your computer, any file you save to your Dropbox will automatically save to all your computers, your iPhone and iPad and even the Dropbox website! With the Dropbox app, you can take everything that matters to you on the go.
Take Photobucket with you on your iPhone! Upload all your special moments directly to your Photobucket albums. Existing photos AND VIDEOS can be uploaded from your camera roll, and new shots and clips can be uploaded from within the camera app.
Ever seen a great font in a magazine ad, poster, or on the web and wondered what font it is? Whip out your phone and snap a photo, and WhatTheFont Mobile will identify that font in seconds!
Discover is a mobile file manager application that allows you to manage, store, view and transfer files with other computers or iPhones, within the same Wi-Fi network. It also allows you to access local or public servers on the Internet, both within or without Wi-Fi connections.
PhotoPad is an easy to use, premium photo editing app. Originally designed for the iPad, PhotoPad now works on the iPad, iPod touch, and the iPhone.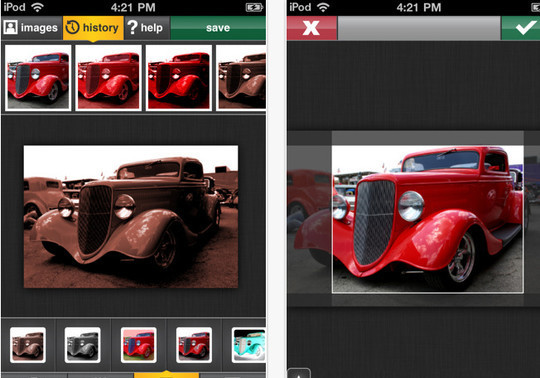 Cool Hunting is synonymous with seeking inspiration. Our global team of editors and contributors sift through innovations in design, technology, art and culture to create our award-winning publication, consisting of daily updates and weekly mini-documentaries.
Quickoffice Lite – view office documents for free
View Microsoft Office files on your iPhone or iPod Touch and manage files on device and in the cloud. Also, try editing features for free and upgrade in-app to save your edits.