Apple has three major devices out that are in popular demand: iPod Touch, iPhone, and now the iPad. In addition to their hardware, what their owners love about them is the availibility of countless applications. From little tasks to big ones, applications for these devices can make jobs easier. Other applications are made for pure entertainment and make owning an iDevice all the more worthwhile.
Whether you have only a few applications on your Apple device or a rich library of them, a good new application is appreciated by all. Below you will find 11 great website to discover and obtain useful applications for your iDevice.
iPhone Application List categorizes applications via various categories. Users can find both paid and free applications by browsing the categories or searching by keywords and filtering the results by different parameters. Visit iPhone Application List.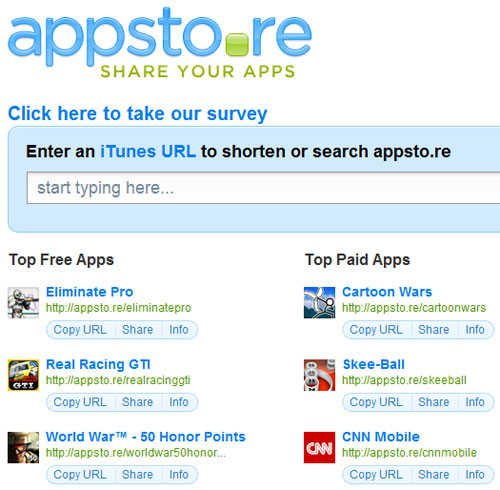 Appsto.re provides visitors with two main branches of applications: the top free ones and the top paid ones. The site features keyword searches as well. Visit Appsto.re.
Appsfire is a website which shows us the Apple device applications which our friends on social networking sites like. We can also view the applications most liked by the site's staff. Visit Appsfire.
As the site's name suggests, iPhone App Review provides users with reviews of numerous iPhone applications. These reviews are honest and unbiased. Learning about an application through a full review can help us decide better whether or not to get the application. Visit iPhone App Review.
While written reviews of applications are certainly helpful, video demonstrations of an application really show how the application will feel on our Apple device. AppVee contains many brilliant video reviews of Apple device applications. This is one site all Apple device owners can benefit from. Visit AppVee.
TUAW is a massive website centered on everything Apple. From Mac news to other Apple device news, TUAW covers it all. Their iPhone / iPad applications reviews section covers many applications which users will find very useful. Visit TUAW's applications section.
Useful iPhone applications can be found on many websites but FreshApps ensures that only the latest applications are shown to you. This is the website for all Apple device owners wanting to own the latest, most updates applications. Visit FreshApps.
Many Apple device owners do not bother with applications at all… unless they are games. We all love to play games on our Apple devices using our touchscreens. TouchArcade has a huge library of game reviews for Apple devices that will surely satiate the thirst of every iPhone gamer. Visit TouchArcade.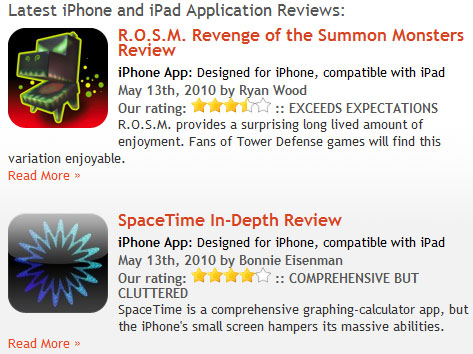 148apps was launched soon after the App Store itself was launched. The site features countless applications reviews and even news related to the Apple devices. For any Apple device owner, this website is a must-bookmark. Visit 148apps.
TapCritic is another website hosting many video reviews of numerous Apple device applications. The site presents video reviews of what it considers to be the best applications out there – a great help to any Apple device owner. Visit TapCritic.
AppSafari has a great interface for users to easily find the applications they are looking for. The homepage lists the latest applications. Visitors can use the available menus to view the top 25 applications on the site, browse all available applications via categories, make purchases from the AppSafari Store, or take advantage of the numerous give-away offers present on the site. Visit AppSafari.
More…

SmashingApps.com participates in various affiliate marketing programs and especially Amazon Services LLC Associates Program, which means we may get paid commissions on editorially chosen products purchased through our links to any of the linked sites from us.