Visfire is running a contest, where winners will get 10 Developer Licenses(worth $99 each). Well, you guys know what Visifire is. Lets say it once again for n00bs.
Visifire is a set of open source data visualization components – powered by Microsoft® Silverlightâ"¢ & WPF. Visifire is a multi-targeting control which can be used in both WPF & Silverlight applications. Using the same API, charts in both Silverlight & WPF environments can be created within minutes. Visifire can also be embedded in any webpage as a standalone Silverlight App. No Silverlight knowledge required. Visifire is independent of server side technology. It can be used with ASP, ASP.Net, PHP, JSP, ColdFusion, Ruby on Rails or just simple HTML. Don't take our word for it! Visit Visifire Gallery or design your own chart using Chart Designer or watch Screencasts. Checkout the Complete Feature List.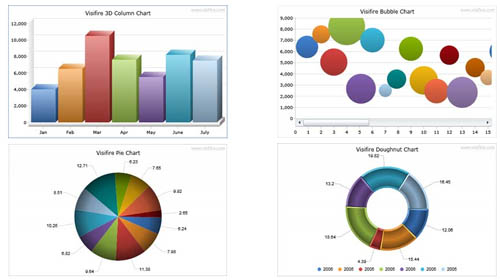 This contest will run from April 2, 2009 to April 16, 2009 and Visifire will choose winners with best comment till April 16, 2009 . Result can be announced any day before April 30, 2009 so keep visiting here or subscribe to our rss feed to get the latest updates. To participate in the contest and win free developer license of Visifire, All you have to do is just :
1. In the comments, tell us why you love Visifire. (We know you have said it many times, please do it once more.)
2. Valid email ID in the email box.
3. Not necessary, but subscribe to our RSS Feed if you haven't done so already and to keep yourself updated on cool tips & tricks on charting, subscribe to Visifre Blog. (To track this contest and for future updates)
4. And thats it!
So what are you waiting for now? Let's participate in the contest and good luck!