Thank you for all of the participants of contest in which Visifire, Giving Away 10 Developer Licenses Of Worth $99 Each. We and Visifire selected these 10 best commenter and decided to give them free Developer Licenses of Visifire.
Visifire is a set of open source data visualization components – powered by Microsoft® Silverlightâ"¢ & WPF. Visifire is a multi-targeting control which can be used in both WPF & Silverlight applications. Using the same API, charts in both Silverlight & WPF environments can be created within minutes. Visifire can also be embedded in any webpage as a standalone Silverlight App. No Silverlight knowledge required. Visifire is independent of server side technology. It can be used with ASP, ASP.Net, PHP, JSP, ColdFusion, Ruby on Rails or just simple HTML. Don't take our word for it! Visit Visifire Gallery or design your own chart using Chart Designer or watch Screencasts.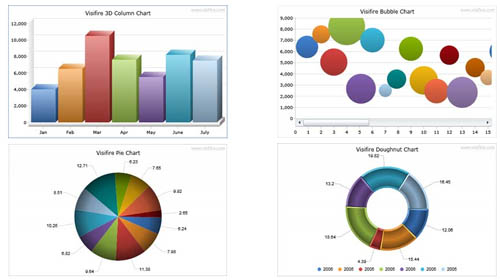 Congratulations to all the winners from SmashingApps.Com. All of the winners will be contacted via email within 15 days. If you are not winner at this time so please be patient and keep visiting here or subscribe our rss feed because we are very soon coming up with another new great contest.
Thank you Visifire for sponsoring this wonderful contest at SmashingApps.
If you want to conduct any contest at SmashingApps just contact us and send us all the details.