People whose work involves computers need to have an online version of their resumes a.k.a. curricula vita. If you plan on uploading an online CV furnished in Microsoft Word, you will not stand out from the crowd. You need a resume that is brilliant and eye catching. DoYouBuzz can help with that.
DoYouBuzz is a wonderful website that helps you create an online resume within minutes. The site features free and paid accounts. While you can take full advantage of the site's services only through the paid account, the free version will be a good place to start.
You start by creating a username and password on the site. Entering your name gives you your very own DoYouBuzz URL. As you move on you can transfer information from your LinkedIn and Viadeo accounts. At the time you enter your name, you can also enter your employment type and field.
The resume starts off as a basic black and white template which you can modify to give a visually brilliant look. This is what the resume looks like without any work done on it:
Additions to your resume can be made using the buttons on top. From there you can choose different templates and color schemes for your online CV.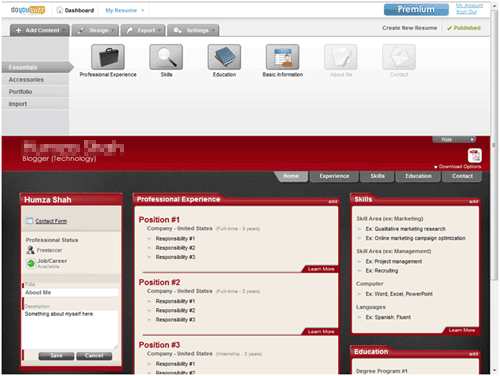 You can choose to add a variety of things to your resume such as media additions to your portfolio.
The completed resume can even be linked to your social media accounts to share with your friends and family.
People who work online (especially freelancers) can immensely benefit from DoYouBuzz's online resumes. Click here to visit the site.