Magic Members is running a contest, where winners will get 5 single user license (worth $97 each). Well, you guys know what Magic Members is. Lets say it once again for n00bs.
Magic Members is a premium WordPress Membership Plugin that turn your WordPress blog into a powerful, fully automated membership site. This WordPress membership plugin, takes your membership site to the next level with the ability to control access to different levels across your membership site. The ability to offer different membership access to different areas, such as a download area, increases value for your membership levels.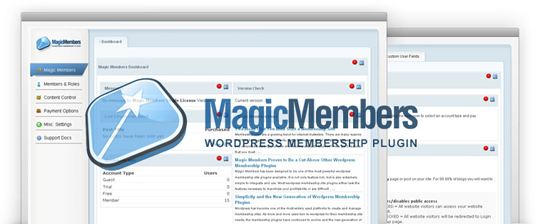 In addition to the different levels of membership, you are also able to set different membership billing options with an unlimited amount of subscriptions. Whether you want to charge daily, weekly, monthly or even annually, you will have complete control in how your members pay for their subscriptions. For example, 'Standard' memberships may pay monthly, while 'Premium' memberships pay annually.
You may expect to pay $2,000 – $3,000 for such an easy to use, full-featured membership application that does not require you to switch to a different system. Magic Members is a fully integrated WordPress membership and subscription plug-in that quickly takes your blog from an ordinary blog to a powerful membership site.
Built specifically for WordPress blogs, Magic Members will easily create your membership site. The easy-to-use interface gets rid of the "technical" side, allowing you to create and manage your membership site without worry.
This contest will run from May 20, 2010 to May 27, 2010 and we will select the winners randomly by running MySQL query. Result can be announced any day before May 30, 2010 so keep visiting here or subscribe to our rss feed to get the latest updates. To participate in the contest and win free license of Magic Members, All you have to do is just :
1. Just leave a comment.
2. Use valid email ID in the email box.
3. Not necessary, but you can subscribe to our rss feed and follow us on twitter as well. (To track this contest and for future updates)
4. And thats it!
So what are you waiting for now? Let's participate in the contest and good luck!
SmashingApps.com participates in various affiliate marketing programs and especially Amazon Services LLC Associates Program, which means we may get paid commissions on editorially chosen products purchased through our links to any of the linked sites from us.