Rather than standard website templates, a free admin template is nearly impossible to find.This post is about a free admin template released by WebResourcesDepot which you can use for web applications like:
E-commerce projects
Content management systems
And more..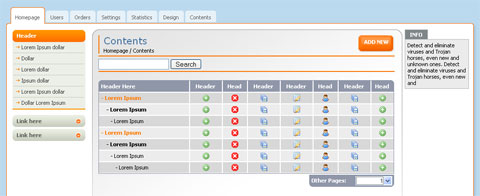 It is a 3 column design with a tabbed menu. The idea is having the standard categories in the tab menu for an easy reach and have all the detailed ones in the left menu. And there is an info box at the right to inform users what's going on at that page.
You can customize it however you want to fit your project. It has a listing and a new entry sample which covers %99 of an admin screen.
It is totally free to use the template, no backlinks or anything required.