Responsive website templates are everywhere. The time has gone when websites were more nifty looking designs. Today, web designs have greatly evolved and improved resulting in more fluid and responsive web templates. This innovation in the web industry has totally changed the criteria of web development. Today, it is more about interactive and responsive web templates that can engage visitors for a relatively longer period of time.
Keeping this in mind, we thought it is a great time to share with you some flexible grid tools for creating responsive websites. So, here we are featuring 8 of the best and most useful flexible grid tools.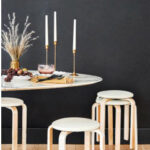 —————Recommendations; Please continue reading below————— Space-saving Furniture Shop Now
If you want to maximise space in your home, office or home-office with flexible furniture that collapses, folds, and stacks to fit every room, you can click here to see the wide range of space-saving furniture. Click here to learn more >>>
Lemonade is a flexible, simple and customizable grid system.
Simple Way to Build Versatile Web.
A super simple, responsive framework built for all devices big, small and in-between
A good starting point for design that takes device resolution out of the equation.
Kube is one of the world's most advanced and flexible frameworks. Kube helps you spend less time on routine tasks and more time creating amazing products. Focus on success, and Kube will cover the technology behind it.
The responsive web framework..!
----------------------Recommendations; Please continue reading below----------------------