Javascripts
Another amazing and wonderful collection of jQuery and CSS3 for you is presented here. In this collection we are showcasing 40 jQuery and CSS3 loading animation and progress bar plugins and tutorial. One thing keep in your mind that CSS3 animations are not yet supported in old browsers so you have to try modern browsers if you want to see the live action of these outstanding plugins. With loaders and progress bars users know that something is still going on that's why loaders and progress bars are very essential for users.
With these loading animations and progress bars you can make your web application and websites more stunning and eye-catching. All these jQuery and CSS3 loading animation and progress bar also help you to enhance the performance of your websites or web application. This is the reason loaders and progress bars are very famous and trendy these days. Take a look and let me know what you think.
Animated Progress Bar in 4 Lines of jQuery
Beautiful CSS3 And jQuery progress Bar
Smooth Progress Bar Loading Effect
Animated Skills Diagram with Raphael
Creating & Styling Progress Bar With HTML5
Animated Progress Bars with CSS3
The Facebook loading animation
Flickr Style Loading Animation
CSS3 Loading Spinners Without Images
QueryLoader2 – Preload your images with ease
Automatic Page Load & Ajax Request Progress Bar
Google Like jQuery Slim Progress Bar Plugin
jQuery Ajax Loading Overlay with Loading Text
Buttons with Built-in Loading Indicators
Form Submit Buttons with Built-in Loading Indicators
Automatic Page Load & Ajax Request Progress Bar
Form Submit Buttons with Built-in Loading Indicators
Real Time Hints & Progress For Forms
jQuery Plugin For Detecting Image Have Been Loaded
Tiny jQuery Plugin For Animated Loading Spinners
Simple and Customizable jQuery Loading Animation Plugin
The demand of Bootstrap Tools increase due to its awesome features likes Add-ons, pre-styled modules of library and so many. The main advantages of Bootstrap tools are they make web development faster as well as easier for the web developers. That's why so many web developers are using Bootstrap tools. If you want that your website look stylish and amazing, then you should use Bootstrap tools. Bootstrap tools also help to keep your websites transparent because Bootstrap tools have a responsive framework and they all are designed according to your professional requirements.
In this assortment, we are going to showcase 40 outstanding and useful Bootstrap Tools for the web developers. So take advantage of this wonderful assortment and start downloading these Bootstrap tools. You can share your suggestion with us via comment section below and you can also send this article to your social media friends as well. Enjoy!
Twitter Bootstrap WordPress Themes
Brag Themes provides high quality, unique WordPress themes that utilize the Twitter Bootstrap framework for your business and personal sites.
A complete kit for making websites. The first of its kind, Kickstrap is a no-install front-end framework with apps, themes, and extras.
Bootply makes it easy to use other popular plugins, micro-libraries and frameworks.
Templates KIT & themes pack built with Bootstrap 3.0.v.
BootStrap Alert with modal instead of Browser alert.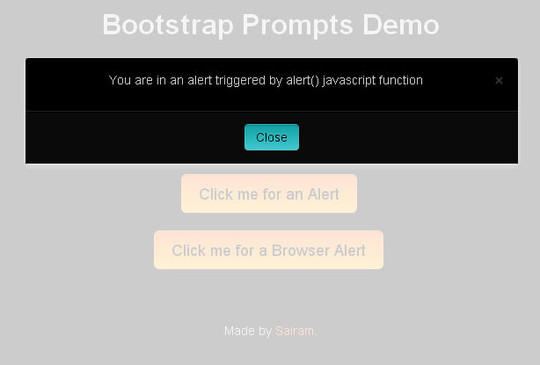 Bootstrap-wysihtml5 is a javascript plugin that makes it easy to create simple, beautiful wysiwyg editors with the help of wysihtml5 and Twitter Bootstrap.
Bootstrap Arrows jQuery Plugin
A simple jQuery plugin and add-on to the popular Twitter Bootstrap framework to include the use of arrows at any angle in your UI designs.
tablecloth.js is a jQuery plugin that helps you easily style HTML tables along with some simple customizations.
WordPress Twitter Bootstrap CSS
WordPress Twitter Bootstrap CSS lets you include the latest Twitter Bootstrap CSS and Javascript libraries in your WordPress site.
Jetstrap – Web-Based Interface Building Tool for Bootstrap
Not just a mock-up tool, Jetstrap is the premier interface-building tool for Bootstrap 3.
Twitter Bootstrap Button Generator – the easiest way how to set up your buttons based on Twitter Bootstrap in a seconds.
Divshot – The Bootstrap Interface Builder for Web Apps
As simple as a mockup tool. As powerful as a text editor.
A simple lightbox plugin based on the bootstrap modal plugin.
A Bootstrap-themed kickstart for jQuery UI widgets (v0.5).
This library allows you to create editable elements on your page. It can be used with any engine (bootstrap, jquery-ui, jquery only) and includes both popup and inline modes.
Yet another jQuery color picker. This plugin is unobtrusive and integrates well with Twitter Bootstrap (it works just fine without). The source code only requires jQuery and is about 200 lines of JavaScript and 100 lines of CSS.
File Upload widget with multiple file selection, drag&drop support, progress bars, validation and preview images, audio and video for jQuery.
JavaScript notifications for Bootstrap or jQuery UI.
This plugin replaces the default checkboxes and radio inputs for better looking ones.
This is bootpag – dynamic pagination jQuery plugin. Works well with twitter bootstrap or standalone.
Create Themes, Mockups, Websites.
A showcase of sites and apps built with BootstrapSubmit Your Site.
Fuel UX extends Twitter Bootstrap with additional lightweight JavaScript controls. Other benefits include easy installation into web projects, integrated scripts for customizing Bootstrap and Fuel UX, simple updates, and solid optimization for deployment. All functionality is covered by live documentation and unit tests.
Grid Displayer Bookmarklet for Bootstrap
In-browser web design made easier with this bookmarklet which displays the grid of your favourite front-end framework.
Lavish – Generate your own Bootstrap Color Scheme
Generate your own Bootstrap color scheme from an image and customize to your taste.
Simple and flexible web framework to create elegant and modern web applications with the same look & feel of Windows 8.
Flat UI Free is made on the basis of Twitter Bootstrap in a stunning flat-style, and the kit also includes a PSD version for designers.
A jQuery Mobile theme based on Twitter Bootstrap.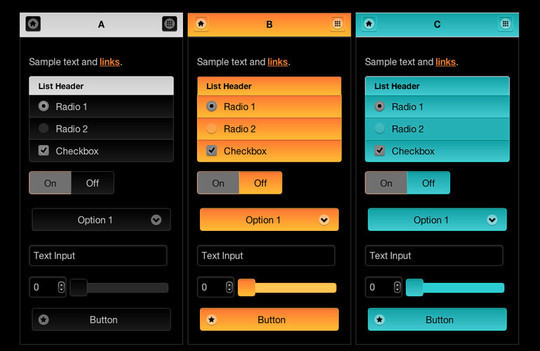 Initializr is an HTML5 templates generator to help you getting started with a new project based on HTML5 Boilerplate. It generates for you a clean customizable template with just what you need to start!
Modern WordPress Theme Development
Roots is a WordPress starter theme based on HTML5 Boilerplate & Bootstrap that will help you make better themes.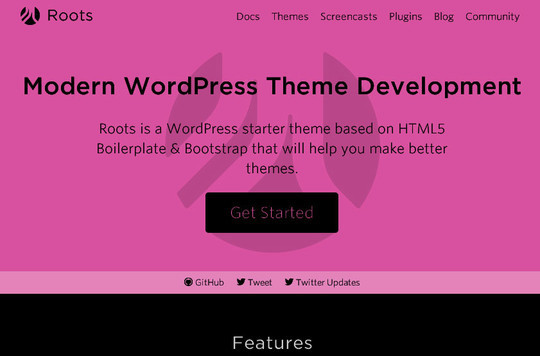 Javascript tagging for Twitter Bootstrap (Written in CoffeeScript)
Add datepicker picker to field or to any other element.
An unofficial Twitter Bootstrap plugin to enable Twitter Bootstrap dropdowns to activate on hover and provide a nice user experience.
jQuery Form Validation with Styles
The jQuery Validate plugin by Jorn Zaefferer is a fantastic tool for providing users with immediate feedback while completing a web form.
Sublime Text 2 Bootstrap Snippets
A bunch of nicely described and categorized Twitter Bootstrap code snippets for Sublime Text editor.
Bootstrap ThemeRoller – Customize the Look and Feel of Bootstrap
A handy and intuitive application that provides a visual interface to customize your favorite Bootstrap from Twitter.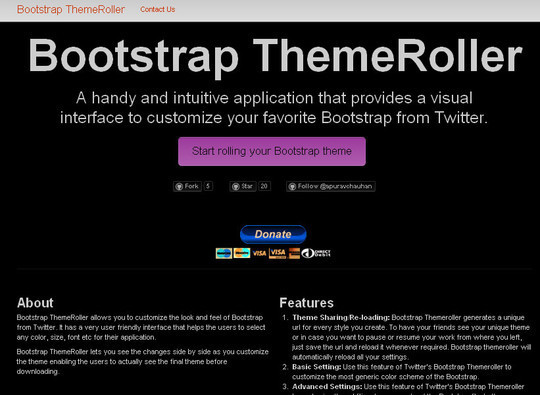 Generate beautiful Twitter Bootstrap themes using the Adobe kuler / COLOURlovers color scheme.
Extends the default Bootstrap Modal class. Responsive, stackable, ajax and more.
Bootbox.js is a small JavaScript library which allows you to create programmatic dialog boxes using Twitter's Bootstrap modals, without having to worry about creating, managing or removing any of the required DOM elements or JS event handlers.
Simply download a CSS file and replace the one in Bootstrap. No messing around with hex values.
Here we are presenting another new collection of some fresh jQuery plugins for you. We all know that plugins are the great time savers as they help us to perform certain actions in a more convenient and speedy manner, thus saving our time as well as energy. This is the reason why every designer and developer is interested in keeping a good collection of different types of plugins that are useful for them.
For now, we are focusing on jQuery plugins. This collection is specifically targeted at the web developers and web designers who want to create websites that are more interactive, attractive as well as accessible to the broadest assortment of browsers. With these plugins, you can make user experience which they come away from your site with more pleasurable and exciting. Let us have a look and enjoy! Feel free to share this post with others.
jQuery Mapael – Build dynamic vector maps
Tumbo 1.0 – Show Tumblr feeds on your website – Jquery plugin
A great website capability is the demand of many elements working in harmony, creating an engaging experience for users. A great inspiring website is what haves easy navigation, creative design, visual effects, not too heavy of server resources. These may combine a lot of techniques to work together such as HTML and CSS.And to the best combination adds up is jQuery. jQuery does wonders to your websites with effects and plugins giving it that charm it needs to attract attention.
jQuery comes with light and flight worthy web development techniques. Need responsive sliders, great image presentation, dialog alerts, lightweight animations etc. jQuery is these quarries perfect answer for all solutions. With its fast and lightweight JavaScript Library, interaction between languages with hassle-free handling, it gives most rapid web development capabilities ever. When such a great thing is at a web developers disposal, why not start with these great Useful jQuery Tutorials for Web Developers we have for you today for making web development work your favorite profession.
Colorful Sliders With jQuery & CSS3
In this tutorial we are using jQuery and the new transformation features brought by CSS3 to create a three dimensional dynamic slider effect.
Animated Form Switching with jQuery
In this tutorial we will create a simple animated form switch with three very common forms. The idea is not to leave the page when the user goes to another form but instead make the new form appear within the same container, expanding or contracting to the dimensions of the new form.
How to Make Custom Flat Styled Google Maps with jQuery and Flat UI
In this tutorial we will show you how to make custom flat styled google map with jquery and flat UI.
Password strength verification with jQuery
In this tutorial, we'll construct a form that gives the user live feedback as to whether their password has sufficiently met the complexity requirements we will establish.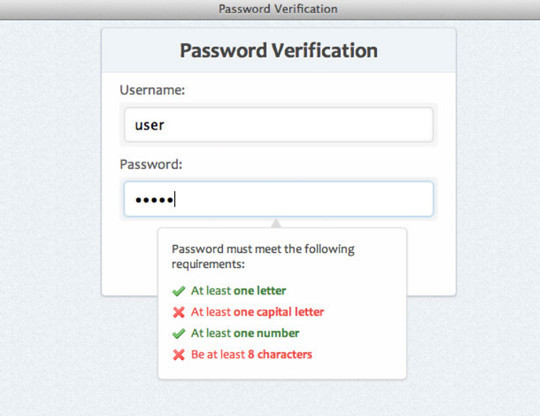 Vertical Scroll Menu with jQuery Tutorial
In this tutorial we will learn vertical scroll menu with jquery tutorial.
Shiny Knob Control with jQuery and CSS3
In this tutorial we will be writing a jQuery plugin for creating a shiny knob control. Aptly named knobKnob, this plugin will use CSS3 transformations and jQuery's new event handling methods to give visitors of your website a new way of interactively choosing a value from a range.
Make Pretty Charts For Your App with jQuery and xCharts
In this tutorial you will learn about pretty charts for your app with jquery and xcharts.
How to Create Login Form with CSS3 and jQuery
In this tutorial we will learn how to create login form with CSS3 and jQuery.
A Simple Movie Search App w/ jQuery UI
In this tutorial, we are using jQuery UI's autocomplete widget, to build a simple AJAX movie search form. The script is going to use TheMovieDatabase.org's free API, to provide auto suggestions against a vast database of movie titles.
In this tutorial you will learn beautiful slide out navigation a CSS and jQuery.
There is the option of using one of the numerous lightbox plugins to do this, but the plugin we will be creating in this tutorial has a lot of advantages over a generic lightbox script.
How to Create a Responsive Image Slider in jQuery and CSS3
In this tutorial we will code a responsive image slider from the Impressionist UI. We will code it using the FlexSlider plugin for the functionality and style it using CSS3.
Animated Content Menu with jQuery
In this we will create a slick animated content menu with jQuery for a restaurant theme. The menu items will be animated and when clicked, a content area with more information will appear.
The talk of the town, the recent revolutionary bend in web designing world is jQuery. Not a surprise as jQuery has taken over the designing field and is in high demand everywhere for its great flexibility giving the liberty of creating many possibilities without losing quality and quantity in any manner from outlook of design to speed of performance of webpages.
jQuery's emphasis on interface between JavaScript and HTML, centralizing on write less and do more approach made it a top notch tool that is fascinating every attention for theremarkable abilities for fast and short JavaScripts that simplifiesanimation, HTML navigations and Ajax interactions for swift web development.
Keep yourself updated for newer examples, options and features for this most essential tool. Don't miss these exceptional jQuery tutorials and stay connected!
Creating Consecutive Slide Using jQuery
Animated Content Menu with jQuery
Create jQuery Pinterest Pin It Plugin
Flyout Image Slider Using jQuery & CSS3
How to turn jQuery accordion into CSS3 accordion
Sweet Tooltip a jQuery & CSS3 Tooltips
Make a Google Powered Shopping Search Website
Making a jQuery Countdown Timer
Making an Interactive Picture with jQuery
Sponsor Flip Wall With jQuery & CSS
Swatch Book with CSS3 and jQuery
How to Create an Interactive Graph using CSS3 & jQuery
Make Pretty Charts For Your App with jQuery and xCharts
How to Create Accordion Menu (CSS3+jQuery)
Shiny Knob Control with jQuery and CSS3
Fancy Image gallery – jqFancyTransitions
An HTML5 Slideshow w/ Canvas & jQuery
Portfolio Zoom Slider with jQuery
This time we are presenting some awesome jQuery plugins for you that have been categorized into different categories so that you can easily find out a plugin you need. With these jQurey plugins, you can complete your tasks quickly and effortlessly and can create interactive web design in less time.
The plugins presented in this collection are categorized into following categories Page Layout Plugins, Menu & Navigation Plugins, Form & Search Plugins, Slider, Gallery & Carousel Plugins, Chart & Graph Plugins, Animation Plugins, Typography Plugins, Image Effect Plugins and, finally, everything else in-between.
Lots of jQuery plugins are available in the internet market. Some give you outstanding results and reduce your work load with their awesome functionality while some give you only tension and increase your work load. And as you see every year so many latest and new jQuery plugins are released. All these jQuery plugins offer different functionalities and therefore, it is difficult for the users to choose which jQuery plugin is suitable for his work or which one is not.
You do not have to worry anymore, in this assortment we are showcasing 40 new and outstanding jQuery plugins for you. Check this out and get to pick one that suits you and feel free to download. All these jQuery plugins are useful and fresh. Please give us your feedback about this superb collection of jQuery plugins because your feedback is very precious and important for us.
Flexisel – Responsive Carousel Plugin
Resize your browser window to see how you the plugin can adjust to the window width. Flexisel will adapt responsively as the screen width gets smaller…
Swipebox – A Touchable jQuery Lightbox
Swipebox is a jQuery "lightbox" plugin for desktop, mobile and tablet.
Sidr – Creating Facebook-Like Side Menus
The best jQuery plugin for creating side menus and the easiest way for doing your menu responsive.
Unslider – A 'Super-Tiny' jQuery Slider
The jQuery slider that just slides. No fancy effects or unnecessary markup, and it's less than 3kb.
jQuery Nested – Create Multi-Column, Dynamic Grid Layouts
Nested is a jQuery plugin which allows you to create multi-column, dynamic grid layouts.
jResponsive – Super-Smooth Transition Layouts
JResponsive will organize your content in an efficient, dynamic and responsive layout. It can be applied to a container element and it will arrange its children in a layout that makes optimal use of screen space, by "packing" them in tightly. One of the very famous website that using this type of layout is Pulse.
MultiDialog utilizes jQuery UI Dialog Widget for a full featured Modalbox / Lightbox application.
FlexNav – Flexible, Device Agnostic Navigation
A jQuery Plugin for Responsive Menus.
Flaunt.js – Responsive Navs with Nested Click-To-Reveal
Flaunt.js is a jQuery script that allows you to create a responsive, nested navigation out the box. Flaunt was built to overcome responsive design challenges which faced a huge percentage of websites. This challenge was to show nested navigation items on click-demand, without the event taking you through to the page you've pressed…
SlideToucher – Touch Enabled jQuery Plugin for Content Swiping
SlideToucher, touch enabled jQuery plugin for content swiping. Supports vertical and horizontal swipes.
LiquidSlider – A Responsive jQuery Content Slider
A Responsive jQuery Content Slider.
Dropdown.dot.js – Flexible Dropdowns Based on dot.js Templates
A JQuery Plugin for super-flexible Dropdowns based on dot.js Templates.
Typeahead.js – A Fully-Featured Autocomplete Library
A fast and fully-featured autocomplete library.
iCheck – Customize Checkboxes & Radio Buttons
iCheck plugin works with checkboxes and radio buttons like a constructor.
Chardin.js – Simple Overlay Instructions for Apps
Simple overlay instructions for your apps.
This plugin can change selected colours to transparent on your image and give result as image or imagedata. This plugin works on IE9+, Chrome, Firefox, Safari. I didn't try in opera.
A Lightweight Plugin for Creating a Customisable "Scroll-to-Top".
Adding Alarms to the Digital Clock
Adding Alarms to the Digital Clock.
Ractive.js is different. It solves some of the biggest headaches in web development – data binding, efficient DOM updates, event handling – and does so with almost no learning curve.
Firechat is an open-source, real-time chat widget built on Firebase. It offers fully secure multi-user, multi-room chat with flexible authentication, moderator features, user presence and search, private messaging, chat invitations, and more.
Albumize is a jQuery plugin that lets you manage collection of images in the web page as albums. With albumize, you can browse albums, add cover image to albums and switch between albums.
PowerTip – A jQuery Hover Tooltip Plugin
PowerTip features a very flexible design that is easy to customize, gives you a number of different ways to use the tooltips, has APIs for developers, and supports adding complex data to tooltips. It is being actively developed and maintained, and provides a very fluid user experience.
jQuery Pin – Pin Any Element Within a Container
Query.Pin is here to help! Pin any element to the top of a container. Easily disable it for smaller screen-sizes where there's no room for that kind of shenanigans.
Perfect-Scrollbar – A jQuery Scrollbar Plugin
Tiny but perfect jQuery scrollbar plugin.
Complexify aims to provide a good measure of password complexity for websites to use both for giving hints to users in the form of strength bars, and for casually enforcing a minimum complexity for security reasons.
The mobile-friendly, responsive, and lightweight jQuery date & time input picker.
It is a collection of HTML/CSS and JavaScript files to be used for web designers and developers.
A jQuery Plugin allows you to easely manipulate the Google Map API. You are now able to create maps, add some markers et create routes.
qTip2 – Pretty powerful tooltips
The second generation of the advanced qTip plugin for the ever popular jQuery framework.
Fast, light, mobile-friendly and responsive lightbox and modal dialog plugin. Open inline HTML, ajax loaded content, image, form, iframe (YouTube video, Vimeo, Google Maps), photo gallery. In/out animation effects are added with CSS3 transitions.
AutoHideInput is a simple jQuery plugin that hides and shows the information entered by the user.
A jQuery plugin that gives users real time hints & progress updates as they complete forms.
Thumbnail Grid with Expanding Preview
A tutorial on how to create a thumbnail grid with an expanding image preview similar to the effect seen on Google Images.
App Showcase with Grid Overlay
A tutorial about creating a simple grid overlay with subtle transitions for an app showcase.
A light weight jQuery plugin that is a must have for any developer to easily create modal windows. Put focus on important elements by applying a mask to your page and opening a customizable pop up modal window.
A light weight jQuery plugin that is a must have for any developer to easily create modal windows. Put focus on important elements by applying a mask to your page and opening a customizable pop up modal window.
Smint : Sticky Menu with Smooth Scroll
SMINT is a simple plugin for lovers of one page websites.
Random & Responsive jQuery, Html5 & Css3 Gallery with Lazyload.
Make Pretty Charts For Your App with jQuery and xCharts.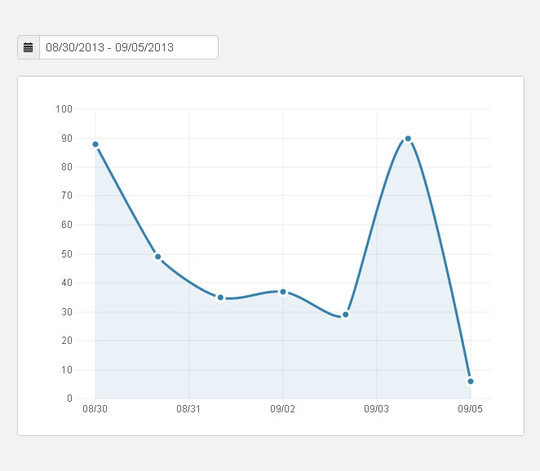 Plugins and tutorials are great designing resources for the designers. With the help of tutorials, designers can learn and practice new technique of using their designing tool and plugins are meant to simplify their designing work. In the recent times, jQuery has become simply miraculous seeing that with jQuery you can discover plugins to achieve almost anything you want. Among all the JavaScript frameworks, jQuery is the most prominent and well-known that goes together with loads of amazing features. On top of that jQuery is very easy to use.
Here, we are listing some fresh as well as free jQuery plugins and useful tutorials. We hope that you will like this collection and enjoy this collection.
App Showcase with Grid Overlay
A tutorial about creating a simple grid overlay with subtle transitions for an app showcase.
Thumbnail Grid with Expanding Preview
A tutorial on how to create a thumbnail grid with an expanding image preview similar to the effect seen on Google Images.
In this tutorial, we are going to create a mini help system with jQuery. This will be a small widget which will display help text or a guide to users of your web application. The widget content is going to be searchable in real time, and all matching terms will be highlighted.
jQuery Animated Bar Plugin: jqBar
This is a simple jQuery plugin for creating animated vertical and horizontal bars. The plugin is called jqBar. jqBar can be used in variety of situations where you want to present data with some visual effects. It helps you crate beautiful bar charts to represent skill set or can be used as a progress bar. Plugin is very light weight and can be completely customized.
Charts For Your App with jQuery and xCharts
Make Pretty Charts For Your App with jQuery and xCharts.
iOS-Style Content Slider using jQuery
In this tutorial I want to focus on one useful plugins called iosSlider. This is an open source project with numerous options for customizing your own media slideshow. This includes typical animations and effects for when the user clicks or hover over slideshow items.
Create a Sticky Navigation Header Using jQuery Waypoints
In this tutorial, we'll be creating a navigation bar that stays with you as you scroll down — and we'll also throw a gimmick or two into the mix to polish it off.
Interactive Infographic with SVG and CSS Animation
Learn how to build an interactive animated infographic using SVG, CSS and JavaScript.
PUtting CSS Clip to Work: Expanding Overlay Effect
A tutorial about how to create a simple expanding overlay effect using the CSS clip property and CSS transitions.
An experimental slider pagination using the jQuery UI slider. The idea is to use a simple navigation concept that preserves layout and style while allowing content to stay easily accessible.
Make a Google Powered Shopping Search Website
In this tutorial, we will be making a simple product search engine. Using jQuery and PHP, we will tap into Google's Shopping Search API and return a list of items available for purchase, along with prices, photos and other useful information.
How to Create a Simple Multi Item Slider
A tutorial on how to create a simple category slider with a minimal design using CSS animations and jQuery. The idea is to slide the items sequentially depending on the slide direction.
Responsive & Tough Friendly Audio Player
A jQuery audio player plugin that is responsive and touch-friendly. The UI is css-only, no images used.
Calendario: A Flexible Calendar Plugin
A jQuery calendar plugin for creating flexible calendars.
Simple Effects for Drop Down Lists
A jQuery plugin for transforming select inputs into drop-down lists with some simple expanding effects.
How to Make a Tumblr-powered News Ticker
In this tutorial, we are going to use it as the foundation of a news publishing system. We are going to develop a simple widget which cycles through the most recent posts on a Tumblr blog, and presents them as news items to your users. Adding news will be done by creating new blog posts in your Tumblr dashboard.
Create Attractive Coming Soon Template with CSS 3D and Javascript
We are going to make an attractive coming soon html template with CSS3, CSS 3D transform and jQuery. Let's go a little wild with CSS3 even though some old browsers won't support it. However, for CSS 3D transform part, we will make it degrades gracefully. Instead of the awesome 3D flipping effect, we will be substituted with just a simple hide and show effect.
jQuery Responsive Horizontal Accordion Image Slider: Raccordion
This is a multi purpose responsive accordion image slider plugin raccordion. Its a horizontal image slider that adjusts according to the size of the browser width. raccordion slider adds variety and style.
3D Flipping Circle with CSS3 and jQuery
In this tutorial we will create a circle with a handle which will open once the little handle is clicked, creating a realistic 3D flipping effect with the help of CSS 3D transforms and shadows/gradients.
How to Make a Mac OSX-like Animated Folder with CSS3
In this short tutorial, we are going to make a OSX-like folder with CSS3, by utilizing 3D transforms, gradients and box shadows. In addition, we are going to use jQuery UI and its drag and drop interactions to build a pretty interactive demo.
Create a Beautiful Password Strength Meter
In this tutorial we will be creating a beautiful password strength indicator. It will determine the complexity of a password and move a meter accordingly with the help of the new Complexify jQuery plugin.
A jQuery plugin that uses the CSS3 image filters to replicate the tilt-shift effect. This is a proof of concept and currently only works in Chrome & Safari 6.
Vertical Showcase Slider with jQuery and CSS Transition
A tutorial on how to create a responsive vertical fullscreen slider that moves its sections in opposite directions. We'll be using jQuery, CSS Transitions and media queries to make the layout adaptive.
A tutorial on how to create some custom drop-down lists. We'll show you five examples with different looking drop-down menus and lists for various purposes.
Creative Web Typography Styles
Let's create some interesting web typography effects with several CSS techniques and the help of lettering.js.
Live Album Previews with CSS3 and jQuery
Here we are going to make a script for previewing the contents of an album with a slideshow-like animation. This can be used in photo galleries, online shops, profile pages and more. The example is inspired by Facebook, where you hover over an album and get a slideshow of some of the photos contained inside it.
Slicebox, the jQuery 3D image slider plugin, has been updated. We've done some major improvements and added new features.
Fullscreen Video Slideshow with Bigvideo.jg
A tutorial about how to create a slideshow-like fullscreen video background using BigVideo.js, a jQuery plugin for big background video.
A tutorial on how to create a fullscreen pageflip layout using BookBlock. The idea is to flip the content like book pages and access the pages via a sidebar menu that will slide out from the left.
Responsive CSS Timelinge with 3D Effect
A tutorial about how to create an experimental CSS-only timeline with a 3D effect. The idea is to expand a content area when the associated radio input is selected.
Creative CSS Loading Animations
In this tutorial we'll show you how to make some creative css-only loading animations also known as activity indicators.
This is a collection of some basic styles that can come in handy when creating your own style definitions. Learn how to make some useful classes for simple styles and how to apply them to a variety of elements.
Hexaflip: A Flexible 3D Cube Plugin
HexaFlip is a JavaScript UI plugin that let's you use 3D cubes as interface elements. Dive into the process of creating the plugin and learn some best practices regarding flexible UI plugins.
In this tutorial, we are going to build an animated photo stack, which will use all kinds of fancy effects to transition between a set of images. The effects are implemented purely using CSS3, which means that they run smoothly on modern browsers and mobile devices. We will also make the photo stack advance automatically, so you can use it as a slideshow.
Make a Web App with Instagram-like Filters
In this tutorial, we are going to make a simple web app that allows you to drag a photo from your computer into the browser window, and apply instagram-like filters on it.
Dropbox File Uploader With Twitter Bootstrap
Here we are going to use this feature to create a simple application that allows people to attach a photo from their Dropbox account, crop an area with the Jcrop plugin, and download the result. Additionally, we will make use of Twitter Bootstrap to show dialog windows, and PHP on the backend for the actual photo cropping.
How to grab Dribbble feed with jQuery and CSS3
As a web developer, third party API integration is something you will have to face. Especially with the current trend, we have facebook, twitter, flickr etc. Today, we are going to look at dribbble's API. Dribbble is a place to show off your design, it's based on invitation basis, therefore, most designs are of high quality.
Photo Booth Strips with Lightbox
A tutorial about how to create some neat scrollable photo booth strips and integrate Lightbox 2 and customize it in order to make it responsive and touch-device friendly.
How to Build a ToDo Application with Web SQL and jQuery
This tutorial will take you through the step by step development of building a ToDo App entirely powered by Web SQL. You will learn about getting started with Web SQL, understanding transactions, following best practices and how to write re-usable functions.
Here, we are presenting a collection of some useful and free to use jQuery pagination plugins for you that you can integrate on your website in order to split pages and posts into several pages. These pagination plugins make pagination easy for the website developers. These plugins are designed for you so that website pagination will no longer be a tough task for you. With these plugins, you can divide the data into multiple pages once it is loaded into the page. Furthermore, server side pagination allows you to extract necessary amount of data and then loaded on the page.
In this post, you will find a list of some useful jQuery pagination plugins that allow you to create proper pagination setups for your website. We hope that you will find this collection useful for you. Feel free to share your opinions with us via comment section below. Have fun.
Extreme Makeover: jPaginator CSS3 Edition
jPaginate: A Fancy jQuery Pagination Plugin
Pajinate – A jQuery Pagination Plugin
Easy Paginate jQuery plugin for pagination
Sweet Pages: A jQuery Pagination Solution
jQuery Pagination Plugin: Smart Paginator
Easy pagination with jQuery and Ajax
jPaginate – jQuery Pagination System Plugin
Pagination with jQuery, MySQL and PHP.
AJAX Pagination using jQuery and PHP with Animation
In today's collection, we are presenting for you 13 jQuery Modal plugins. Many websites are using jQuery currently and it is important that one should know what jQuery plugins are available there in order to stay up to date with the latest web design trends. With the help of jQuery plugins, one can keep his website ahead of the crowd.
If you want to show quick information to your users, then jQuery Modal dialog box would be the great option for you. With the help of jQuery Modal dialog boxes, you can show alerts, notices, errors, modal popups, modal windows or dialog. With the help of jQuery modal plugins, you can easily create modal dialog boxes. All of these jQuery modal plugins can easily be integrated into you websites so that you can create cool and visually appealing modal window. So what are you waiting for? Have a look at this collection.
Avgrund is a jQuery plugin for modal boxes and popups. It uses interesting concept showing depth between popup and page. It works in all modern browsers and gracefully degrade in those that do not support CSS transitions and transformations (e.g. in IE 6-9 has standard behavior).
FancyBox is a tool for displaying images, html content and multi-media in a Mac-style "lightbox" that floats overtop of web page.
SIMPLEMODAL is a small plugin to create modal windows. It can be used to generate alert or confirm messages with few lines of code. Confirm configuration involves the use of callbacks to be applied to affirmative action; it can work in asynchronous mode and retrieve content from external pages or getting the inline content. SIMPLEMODAL is not a lightbox although the possibility to hide parts of its layout may partially make it similar.
Lightview was built to change the way you overlay content on a website.
bPopup is a lightweight jQuery modal popup plugin (only 1.34KB gzipped). It doesn't create or style your popup but provides you with all the logic like centering, modal overlay, events and more. It gives you a lot of opportunities to customize so it will fit your needs.
Bare bones modal dialog windows.
jQuery Superbox! is a script which allows you display windows with the lightbox effect.
Highslide JS is an image, media and gallery viewer written in JavaScript.
GreyBox can be used to display websites, images and other content in a beautiful way.
Reveal: jQuery Modals Made Easy
Reveal is awesome because it's easy to implement, is cross-browser compatible with modern browsers (with some graceful degradation of course) and lightweight coming in at only 1.75KB. What that means for you is that it's fast, sexy and just works. Now let's see how easy is can be to get Reveal working!
jQuery lightBox plugin is simple, elegant, unobtrusive, no need extra markup and is used to overlay images on the current page through the power and flexibility of jQuery´s selector.
PrettyPhoto is a jQuery lightbox
prettyPhoto is a jQuery lightbox clone. Not only does it support images, it also support for videos, flash, YouTube, iframes and ajax. It's a full blown media lightbox.
SimpleModal is a lightweight jQuery Plugin which provides a powerful interface for modal dialog development. Think of it as a modal dialog framework. SimpleModal gives you the flexibility to build whatever you can envision, while shielding you from related cross-browser issues inherent with UI development.