Javascripts
One can easily take control of orders, placement and organization of his web pages or table elements with the help of jQuery filter and sort plugins. Moreover, if someone wants to offer a more dynamic and user friendly design, he can use plugins with drag-able controls.
Keeping this in mind, here we are presenting a vast collection of useful jQuery filter and sort plugins. Such type of sorting and filtering plugins are extremely useful for the websites that have large datasets for instance, table view, list views such as for a portfolio page.
Below, you will find some useful plugins to manage your table views and list views with. We hope that you will like this collection and find these plugins useful for you. Feel free to share your opinions with us via comment section below. Enjoy!
MixItUp is a light-weight but powerful jQuery plugin that provides beautiful animated filtering and sorting of categorized and ordered content. It plays nice with your existing HTML and CSS, making it a great choice for fluid, responsive layouts. It's perfect for portfolios, galleries, blogs, or any categorized or ordered content!
jQuery Plugin For Sorting and Filtering Html Lists – listplus
Listplus is a lightweight jQuery UI widget based on jQuery library that enables you to sort, group, and filter an html list on client side.
Minimal jQuery Table Sorter and Filter Plugin – table.js
table.js is a super simple yet useful jQuery plugin for sorting, filtering and formatting your html tables.
Filtrify is an advanced tag filtering plugin, inspired by Chosen multiple select feature and Orman Clark's Vertical Navigation Menu. Advanced because you can search tags within tags and filter items by multiple tags from different categories and get a live feedback on the number of items containing related tags.
Datagrids don't have to be difficult to use anymore – say hi to Ingrid. Ingrid is an unobtrusive jQuery component that adds datagrid behaviors (column resizing, paging, sorting, row and column styling, and more) to your tables. It's easy to get started.
Sortable Lists Using jQuery UI
Sortable Lists Using jQuery UI.
The PicNet Table Filter is used in production in several PicNet projects so it has been tested production ready. The table filter was born out of our Visual Analytics (Mouse Eye Tracking) project and has received great feedback.
A jQuery-plugin to toggle the visibility of table columns (collapsing and expanding them) and to save the state until the next visit. It's supporting tables with colspans and rowspans, too!
Animated table sort (REGEXP friendly)
This plugin allows you to animatedly sort a table based on a column's td's, or on the content/value of a child/descendant element within those td's. The various td's fly to their new homes, giving a nice effect. It also supports sorting on REGEXP matches. You can also control whether row relationships are maintained, whether it sorts on ascii or numeric and ascending or descending.
Using jQuery To Manipulate and Filter Data
When a webpage is designed to display large tables of data, a great amount of consideration should be dedicated to allowing the user to sort through the data in a structured manner. In this article, I will go over four techniques: hover effects, zebra rows, filtering, and sorting.
Lightweight but rich data grid with resizable columns and a scrolling data to match the headers, plus an ability to connect to an xml based data source using Ajax to load the content.
Drag & Drop Sortable Lists with JavaScript and CSS.
TinySort is a small and simple jQuery plugin that will sort any nodetype by it's text- or attribute value, or by that of one of it's children.
Flexible client-side table sorting.
Reorder and filter items with a nice shuffling animation.
An exquisite jQuery plugin for magical layouts.
Chosen is a jQuery plugin that makes long, unwieldy select boxes much more user-friendly.
Reorder elements in a list or grid using the mouse.
Creating a "Filterable" Portfolio with jQuery
If you have worked in your field for a while, there is a pretty good chance that you have a rather extensive portfolio. To make it a little easier to navigate, you will probably be tempted to break them into different categories. In this tutorial, I will show you how to make "filtering by category" a little more interesting with just a little bit of jQuery.
Table Drag and Drop JQuery plugin.
Visually reorder all your table columns.
Powerful jQuery Data Table Column Filter Plugin – yadcf
yadcf is yet another data table column filter plugin for jQuery that integrates with jQuery DataTables Plugin to make your data tables sortable, filterable and searchable. With this plugin, you can add various types of filters to each column of your data table.
jSquared is a jQuery plugin for UI like in Google Squared.
Interface is a collection of rich interface components which utilizes the lightweight JavaScript library jQuery. With this components you can build rich client web applications and interfaces with the same simplicity as writing JavaScript with jQuery.
Premium Plugins:
( Demo )
SortResponsiveTable including: sorting script adds search, column averages and totals, record numbering, a view all function, and a reset function.
( Demo )
tQuery Tables is an easy to implement, lightweight Jquery script that makes tables dynamic on the fly.
( Demo )
Quickly allow your users to access the information that they are looking for with Simple Content Sorting! This plugin creates a simple sorter for your content. Simple Content Sorting provides a clean and easy way to beautify your interface by providing a slick client side sorting mechanism. You heard correctly, no page loading happens as the sorting takes place since its all done with javascript.
jSorted – a plugin for sorting things
( Demo )
This plugin allows to sort an unordered list or a table using a value (number or date) attached to each item in ascending or descending order. It can be used for live data charts, sports widgets, news tickers, html5 games and a lot more. It's very easy to customize!
( Demo )
jPList is a flexible jQuery plugin for sorting, pagination and filtering of any HTML structure (DIVs, UL/LI, tables, etc).
( Demo )
SearchBox is a jQuery plugin that allows you to have reach search controls with filters on your pages (similar to GMail and Google Docs).
Tonic Gallery – jQuery XML Portfolio Gallery
( Demo )
Tonic Gallery is a jQuery XML Portfolio Gallery that allows you to create very easily a portfolio gallery with some nice effects and flexible customization settings.
( Demo )
This is plugin of jQuery, to help create the table very simple.
jQuery Simple Content Sorting Plus Plugin
( Demo )
This plugin creates a simple content sorter for your content and allows you to control your content with pagination! Simple Content Sorting provides a clean and easy way to beautify your interface by providing a slick client side sorting mechanism. You heard correctly, no page loading happens as the sorting takes place since its all done with javascript.
( Demo )
Beautiful Data is a great way to turn a boring HTML table into something that supports features like paging and sorting. This jQuery plugin can also access data from CSV and JSON just by specifying the source file.
Tutorials are the best way to learn new techniques and new programs not only for the beginners but also for the experienced professionals who want to polish their skills. In this compilation, we have listed down 14 jQuery tutorials especially for programmers. jQuery is the most famous and most widely used programming language all across the globe. It is fast and extremely versatile giving developers and programmers complete command. If you want to learn jQuery or just want to polish your jQuery skills, then this collection is for you.
Below, we have 14 best and detailed tutorials and plugins about jQuery and how to use it to achieve excellent results. We hope that you will find this collection useful for you. Enjoy!
ALS – Any List Scroller is the jQuery plugin by musings.it to scroll any list, of any dimension, with any content. Try it.
A simple plugin that "sticks" an element to the top of the browser window while scrolling past it, always keeping it in view. This plugin works on multi-page sites, but has additional features for one-pager layouts. Scroll down to see it in action.
Responsive-Text is A jQuery plugin to set font sizes responsively based on its' container width. Use jQuery responsiveText to have scalable headlines, build responsive tables and more.
Toolbar allows you to quickly create tooltip style toolbars for use in web applications and websites. The toolbar is easily customisable using the twitter bootstrap icons and provides flexability around the toolbars display and number of icons.
imagefill-js is a jQuery plugin to make images fill their containers and also be centered .Its a potentially useful tool for Responsive Web Design.
Tipue drop is an open source and responsive. search suggestion box jQuery plugin.
A jQuery plugin that turns a one-line div into a sweet color swatch.
gridster.js is a jQuery plugin that makes building intuitive draggable layouts from elements spanning multiple columns.
Tumblr blogs are now-a-days mostly used to share images, audio and short notifications etc. It becomes very helpful if you can use Tumblr as a service to display those posts on your website.
Here we would like to share with you a little jQuery plugin that creates an image slider which gives more information when clicked on. I've also included a bunch of built-in animations for the modal windows giving some pretty cool effects.
Yet another jQuery plugin for tabs, lightweight, easy to use and with some extra features.
A jQuery plugin that uses canvas to create a 'screen print' offset effect on an image, by altering the pixel data.
Textillate.js combines some awesome libraries to provide a ease-to-use plugin for applying CSS3 animations to any text.
A jQuery calendar plugin that uses HTML templates.
Are you looking for some stunning jQuery slideshows? If your answer is yes then look no further; because here we are presenting 10 truly beautiful and stunning websites that showcase full screen jQuery slideshow. These websites show that you can also integrate jQuery slideshow in such a way that it can cover the whole screen while presenting the content of your website in a very nice and visually alluring manner.
Here is the complete list after the small jump. We hope that you will like this collection and find these websites useful for you. We just have compiled this collection for your inspiration only. Do let us know what you feel about this collection. Enjoy!
SIDEWAYS–jQuery Fullscreen Image Gallery
A simple, yet elegant fullscreen image gallery created with the jQuery library and CSS. The gallery features fullscreen images in various modes and custom scrollbars.
jQuery HTML5 Fullscreen Slideshow
This jQuery plugin lets you create fullscreen galleries where the slides are shown on the entire screen using the fullscreen APIs provided by Firefox 10+ and Chrome 15+ (and possibly Safari 5.1+).
Simple jQuery Fullscreen Image Gallery
A fullscreen image gallery made with jQuery and CSS. The gallery features fullscreen images in various modes and custom thumbnail scrolling script.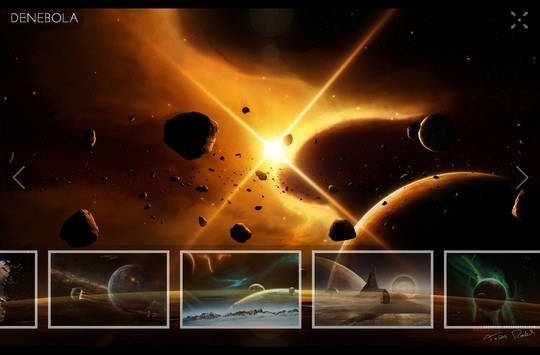 Supersized Fullscreen Slideshow
Supersized is a fullscreen background slideshow built using the jQuery library.
Advanced jQuery background image slideshow
Here you will learn how to create a beautiful advanced jQuery background image slideshow.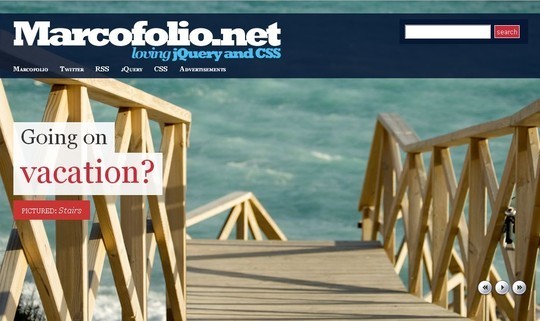 PhotoSwipe is a FREE HTML/CSS/JavaScript based image gallery specifically targeting mobile devices.
Fullscreen Video Slideshow With Bigvideo.JS
A tutorial about how to create a slideshow-like fullscreen video background using BigVideo.js, a jQuery plugin for big background video.
Animated Fullscreen Background Image Slideshow
Here With the help of some small HTML, nifty CSS and loads of jQuery, we're able to create an animated fullscreen background image slideshow.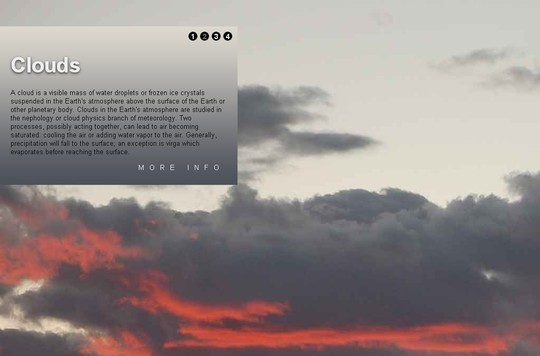 Fullscreen Slideshow With Html5 Audio And Jquery
In this tutorial we'll create a fullscreen photo slideshow to illustrate a New York picture series. We will add sounds with the HTML5 audio element in order to give life to the gallery and try to recreate the ambient of this vibrant city.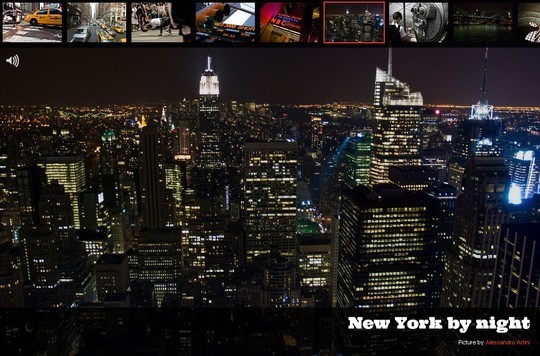 Full Screen Image Slideshow is a cool slideshow that uses jQuery and PHP to display large images from a directory automatically and using the entire browser window as its canvas! Thumbnails of every image is shown at the bottom of the slideshow for easy viewing on demand.
Another amazing and wonderful collection of jQuery and CSS3 for you is presented here. In this collection we are showcasing 40 jQuery and CSS3 loading animation and progress bar plugins and tutorial. One thing keep in your mind that CSS3 animations are not yet supported in old browsers so you have to try modern browsers if you want to see the live action of these outstanding plugins. With loaders and progress bars users know that something is still going on that's why loaders and progress bars are very essential for users.
With these loading animations and progress bars you can make your web application and websites more stunning and eye-catching. All these jQuery and CSS3 loading animation and progress bar also help you to enhance the performance of your websites or web application. This is the reason loaders and progress bars are very famous and trendy these days. Take a look and let me know what you think.
Animated Progress Bar in 4 Lines of jQuery
Beautiful CSS3 And jQuery progress Bar
Smooth Progress Bar Loading Effect
Animated Skills Diagram with Raphael
Creating & Styling Progress Bar With HTML5
Animated Progress Bars with CSS3
The Facebook loading animation
Flickr Style Loading Animation
CSS3 Loading Spinners Without Images
QueryLoader2 – Preload your images with ease
Automatic Page Load & Ajax Request Progress Bar
Google Like jQuery Slim Progress Bar Plugin
jQuery Ajax Loading Overlay with Loading Text
Buttons with Built-in Loading Indicators
Form Submit Buttons with Built-in Loading Indicators
Automatic Page Load & Ajax Request Progress Bar
Form Submit Buttons with Built-in Loading Indicators
Real Time Hints & Progress For Forms
jQuery Plugin For Detecting Image Have Been Loaded
Tiny jQuery Plugin For Animated Loading Spinners
Simple and Customizable jQuery Loading Animation Plugin
The demand of Bootstrap Tools increase due to its awesome features likes Add-ons, pre-styled modules of library and so many. The main advantages of Bootstrap tools are they make web development faster as well as easier for the web developers. That's why so many web developers are using Bootstrap tools. If you want that your website look stylish and amazing, then you should use Bootstrap tools. Bootstrap tools also help to keep your websites transparent because Bootstrap tools have a responsive framework and they all are designed according to your professional requirements.
In this assortment, we are going to showcase 40 outstanding and useful Bootstrap Tools for the web developers. So take advantage of this wonderful assortment and start downloading these Bootstrap tools. You can share your suggestion with us via comment section below and you can also send this article to your social media friends as well. Enjoy!
Twitter Bootstrap WordPress Themes
Brag Themes provides high quality, unique WordPress themes that utilize the Twitter Bootstrap framework for your business and personal sites.
A complete kit for making websites. The first of its kind, Kickstrap is a no-install front-end framework with apps, themes, and extras.
Bootply makes it easy to use other popular plugins, micro-libraries and frameworks.
Templates KIT & themes pack built with Bootstrap 3.0.v.
BootStrap Alert with modal instead of Browser alert.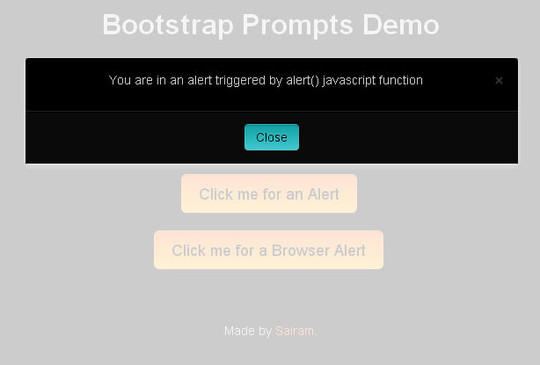 Bootstrap-wysihtml5 is a javascript plugin that makes it easy to create simple, beautiful wysiwyg editors with the help of wysihtml5 and Twitter Bootstrap.
Bootstrap Arrows jQuery Plugin
A simple jQuery plugin and add-on to the popular Twitter Bootstrap framework to include the use of arrows at any angle in your UI designs.
tablecloth.js is a jQuery plugin that helps you easily style HTML tables along with some simple customizations.
WordPress Twitter Bootstrap CSS
WordPress Twitter Bootstrap CSS lets you include the latest Twitter Bootstrap CSS and Javascript libraries in your WordPress site.
Jetstrap – Web-Based Interface Building Tool for Bootstrap
Not just a mock-up tool, Jetstrap is the premier interface-building tool for Bootstrap 3.
Twitter Bootstrap Button Generator – the easiest way how to set up your buttons based on Twitter Bootstrap in a seconds.
Divshot – The Bootstrap Interface Builder for Web Apps
As simple as a mockup tool. As powerful as a text editor.
A simple lightbox plugin based on the bootstrap modal plugin.
A Bootstrap-themed kickstart for jQuery UI widgets (v0.5).
This library allows you to create editable elements on your page. It can be used with any engine (bootstrap, jquery-ui, jquery only) and includes both popup and inline modes.
Yet another jQuery color picker. This plugin is unobtrusive and integrates well with Twitter Bootstrap (it works just fine without). The source code only requires jQuery and is about 200 lines of JavaScript and 100 lines of CSS.
File Upload widget with multiple file selection, drag&drop support, progress bars, validation and preview images, audio and video for jQuery.
JavaScript notifications for Bootstrap or jQuery UI.
This plugin replaces the default checkboxes and radio inputs for better looking ones.
This is bootpag – dynamic pagination jQuery plugin. Works well with twitter bootstrap or standalone.
Create Themes, Mockups, Websites.
A showcase of sites and apps built with BootstrapSubmit Your Site.
Fuel UX extends Twitter Bootstrap with additional lightweight JavaScript controls. Other benefits include easy installation into web projects, integrated scripts for customizing Bootstrap and Fuel UX, simple updates, and solid optimization for deployment. All functionality is covered by live documentation and unit tests.
Grid Displayer Bookmarklet for Bootstrap
In-browser web design made easier with this bookmarklet which displays the grid of your favourite front-end framework.
Lavish – Generate your own Bootstrap Color Scheme
Generate your own Bootstrap color scheme from an image and customize to your taste.
Simple and flexible web framework to create elegant and modern web applications with the same look & feel of Windows 8.
Flat UI Free is made on the basis of Twitter Bootstrap in a stunning flat-style, and the kit also includes a PSD version for designers.
A jQuery Mobile theme based on Twitter Bootstrap.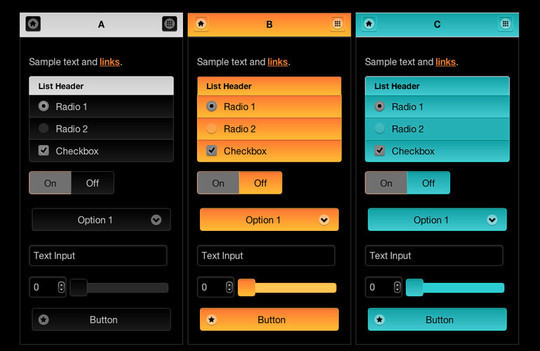 Initializr is an HTML5 templates generator to help you getting started with a new project based on HTML5 Boilerplate. It generates for you a clean customizable template with just what you need to start!
Modern WordPress Theme Development
Roots is a WordPress starter theme based on HTML5 Boilerplate & Bootstrap that will help you make better themes.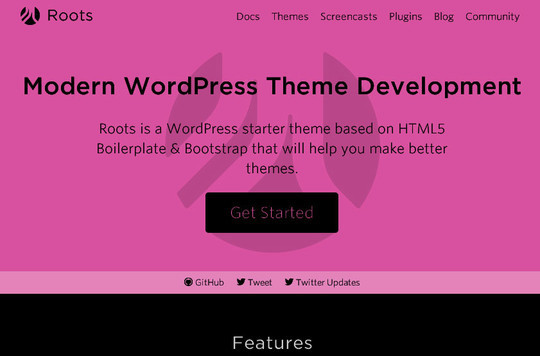 Javascript tagging for Twitter Bootstrap (Written in CoffeeScript)
Add datepicker picker to field or to any other element.
An unofficial Twitter Bootstrap plugin to enable Twitter Bootstrap dropdowns to activate on hover and provide a nice user experience.
jQuery Form Validation with Styles
The jQuery Validate plugin by Jorn Zaefferer is a fantastic tool for providing users with immediate feedback while completing a web form.
Sublime Text 2 Bootstrap Snippets
A bunch of nicely described and categorized Twitter Bootstrap code snippets for Sublime Text editor.
Bootstrap ThemeRoller – Customize the Look and Feel of Bootstrap
A handy and intuitive application that provides a visual interface to customize your favorite Bootstrap from Twitter.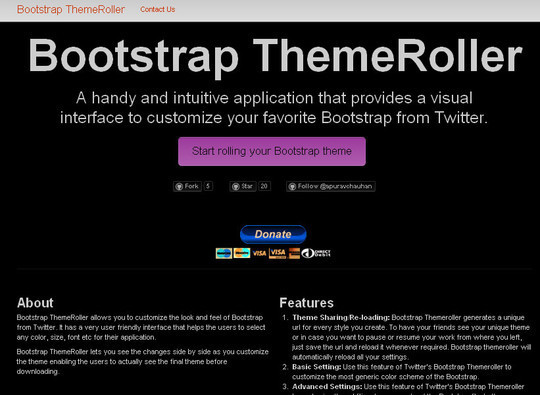 Generate beautiful Twitter Bootstrap themes using the Adobe kuler / COLOURlovers color scheme.
Extends the default Bootstrap Modal class. Responsive, stackable, ajax and more.
Bootbox.js is a small JavaScript library which allows you to create programmatic dialog boxes using Twitter's Bootstrap modals, without having to worry about creating, managing or removing any of the required DOM elements or JS event handlers.
Simply download a CSS file and replace the one in Bootstrap. No messing around with hex values.
Here we are presenting another new collection of some fresh jQuery plugins for you. We all know that plugins are the great time savers as they help us to perform certain actions in a more convenient and speedy manner, thus saving our time as well as energy. This is the reason why every designer and developer is interested in keeping a good collection of different types of plugins that are useful for them.
For now, we are focusing on jQuery plugins. This collection is specifically targeted at the web developers and web designers who want to create websites that are more interactive, attractive as well as accessible to the broadest assortment of browsers. With these plugins, you can make user experience which they come away from your site with more pleasurable and exciting. Let us have a look and enjoy! Feel free to share this post with others.
jQuery Mapael – Build dynamic vector maps
Tumbo 1.0 – Show Tumblr feeds on your website – Jquery plugin
A great website capability is the demand of many elements working in harmony, creating an engaging experience for users. A great inspiring website is what haves easy navigation, creative design, visual effects, not too heavy of server resources. These may combine a lot of techniques to work together such as HTML and CSS.And to the best combination adds up is jQuery. jQuery does wonders to your websites with effects and plugins giving it that charm it needs to attract attention.
jQuery comes with light and flight worthy web development techniques. Need responsive sliders, great image presentation, dialog alerts, lightweight animations etc. jQuery is these quarries perfect answer for all solutions. With its fast and lightweight JavaScript Library, interaction between languages with hassle-free handling, it gives most rapid web development capabilities ever. When such a great thing is at a web developers disposal, why not start with these great Useful jQuery Tutorials for Web Developers we have for you today for making web development work your favorite profession.
Colorful Sliders With jQuery & CSS3
In this tutorial we are using jQuery and the new transformation features brought by CSS3 to create a three dimensional dynamic slider effect.
Animated Form Switching with jQuery
In this tutorial we will create a simple animated form switch with three very common forms. The idea is not to leave the page when the user goes to another form but instead make the new form appear within the same container, expanding or contracting to the dimensions of the new form.
How to Make Custom Flat Styled Google Maps with jQuery and Flat UI
In this tutorial we will show you how to make custom flat styled google map with jquery and flat UI.
Password strength verification with jQuery
In this tutorial, we'll construct a form that gives the user live feedback as to whether their password has sufficiently met the complexity requirements we will establish.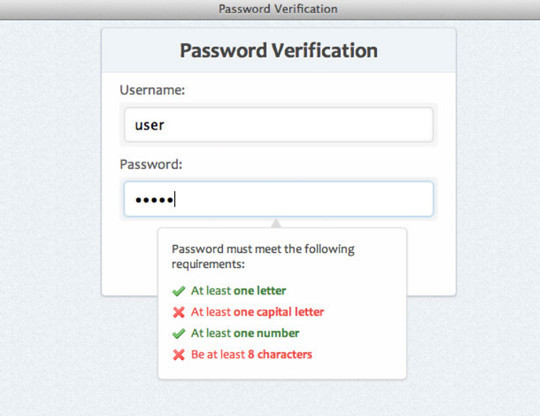 Vertical Scroll Menu with jQuery Tutorial
In this tutorial we will learn vertical scroll menu with jquery tutorial.
Shiny Knob Control with jQuery and CSS3
In this tutorial we will be writing a jQuery plugin for creating a shiny knob control. Aptly named knobKnob, this plugin will use CSS3 transformations and jQuery's new event handling methods to give visitors of your website a new way of interactively choosing a value from a range.
Make Pretty Charts For Your App with jQuery and xCharts
In this tutorial you will learn about pretty charts for your app with jquery and xcharts.
How to Create Login Form with CSS3 and jQuery
In this tutorial we will learn how to create login form with CSS3 and jQuery.
A Simple Movie Search App w/ jQuery UI
In this tutorial, we are using jQuery UI's autocomplete widget, to build a simple AJAX movie search form. The script is going to use TheMovieDatabase.org's free API, to provide auto suggestions against a vast database of movie titles.
In this tutorial you will learn beautiful slide out navigation a CSS and jQuery.
There is the option of using one of the numerous lightbox plugins to do this, but the plugin we will be creating in this tutorial has a lot of advantages over a generic lightbox script.
How to Create a Responsive Image Slider in jQuery and CSS3
In this tutorial we will code a responsive image slider from the Impressionist UI. We will code it using the FlexSlider plugin for the functionality and style it using CSS3.
Animated Content Menu with jQuery
In this we will create a slick animated content menu with jQuery for a restaurant theme. The menu items will be animated and when clicked, a content area with more information will appear.
The talk of the town, the recent revolutionary bend in web designing world is jQuery. Not a surprise as jQuery has taken over the designing field and is in high demand everywhere for its great flexibility giving the liberty of creating many possibilities without losing quality and quantity in any manner from outlook of design to speed of performance of webpages.
jQuery's emphasis on interface between JavaScript and HTML, centralizing on write less and do more approach made it a top notch tool that is fascinating every attention for theremarkable abilities for fast and short JavaScripts that simplifiesanimation, HTML navigations and Ajax interactions for swift web development.
Keep yourself updated for newer examples, options and features for this most essential tool. Don't miss these exceptional jQuery tutorials and stay connected!
Creating Consecutive Slide Using jQuery
Animated Content Menu with jQuery
Create jQuery Pinterest Pin It Plugin
Flyout Image Slider Using jQuery & CSS3
How to turn jQuery accordion into CSS3 accordion
Sweet Tooltip a jQuery & CSS3 Tooltips
Make a Google Powered Shopping Search Website
Making a jQuery Countdown Timer
Making an Interactive Picture with jQuery
Sponsor Flip Wall With jQuery & CSS
Swatch Book with CSS3 and jQuery
How to Create an Interactive Graph using CSS3 & jQuery
Make Pretty Charts For Your App with jQuery and xCharts
How to Create Accordion Menu (CSS3+jQuery)
Shiny Knob Control with jQuery and CSS3
Fancy Image gallery – jqFancyTransitions
An HTML5 Slideshow w/ Canvas & jQuery
Portfolio Zoom Slider with jQuery
This time we are presenting some awesome jQuery plugins for you that have been categorized into different categories so that you can easily find out a plugin you need. With these jQurey plugins, you can complete your tasks quickly and effortlessly and can create interactive web design in less time.
The plugins presented in this collection are categorized into following categories Page Layout Plugins, Menu & Navigation Plugins, Form & Search Plugins, Slider, Gallery & Carousel Plugins, Chart & Graph Plugins, Animation Plugins, Typography Plugins, Image Effect Plugins and, finally, everything else in-between.
Lots of jQuery plugins are available in the internet market. Some give you outstanding results and reduce your work load with their awesome functionality while some give you only tension and increase your work load. And as you see every year so many latest and new jQuery plugins are released. All these jQuery plugins offer different functionalities and therefore, it is difficult for the users to choose which jQuery plugin is suitable for his work or which one is not.
You do not have to worry anymore, in this assortment we are showcasing 40 new and outstanding jQuery plugins for you. Check this out and get to pick one that suits you and feel free to download. All these jQuery plugins are useful and fresh. Please give us your feedback about this superb collection of jQuery plugins because your feedback is very precious and important for us.
Flexisel – Responsive Carousel Plugin
Resize your browser window to see how you the plugin can adjust to the window width. Flexisel will adapt responsively as the screen width gets smaller…
Swipebox – A Touchable jQuery Lightbox
Swipebox is a jQuery "lightbox" plugin for desktop, mobile and tablet.
Sidr – Creating Facebook-Like Side Menus
The best jQuery plugin for creating side menus and the easiest way for doing your menu responsive.
Unslider – A 'Super-Tiny' jQuery Slider
The jQuery slider that just slides. No fancy effects or unnecessary markup, and it's less than 3kb.
jQuery Nested – Create Multi-Column, Dynamic Grid Layouts
Nested is a jQuery plugin which allows you to create multi-column, dynamic grid layouts.
jResponsive – Super-Smooth Transition Layouts
JResponsive will organize your content in an efficient, dynamic and responsive layout. It can be applied to a container element and it will arrange its children in a layout that makes optimal use of screen space, by "packing" them in tightly. One of the very famous website that using this type of layout is Pulse.
MultiDialog utilizes jQuery UI Dialog Widget for a full featured Modalbox / Lightbox application.
FlexNav – Flexible, Device Agnostic Navigation
A jQuery Plugin for Responsive Menus.
Flaunt.js – Responsive Navs with Nested Click-To-Reveal
Flaunt.js is a jQuery script that allows you to create a responsive, nested navigation out the box. Flaunt was built to overcome responsive design challenges which faced a huge percentage of websites. This challenge was to show nested navigation items on click-demand, without the event taking you through to the page you've pressed…
SlideToucher – Touch Enabled jQuery Plugin for Content Swiping
SlideToucher, touch enabled jQuery plugin for content swiping. Supports vertical and horizontal swipes.
LiquidSlider – A Responsive jQuery Content Slider
A Responsive jQuery Content Slider.
Dropdown.dot.js – Flexible Dropdowns Based on dot.js Templates
A JQuery Plugin for super-flexible Dropdowns based on dot.js Templates.
Typeahead.js – A Fully-Featured Autocomplete Library
A fast and fully-featured autocomplete library.
iCheck – Customize Checkboxes & Radio Buttons
iCheck plugin works with checkboxes and radio buttons like a constructor.
Chardin.js – Simple Overlay Instructions for Apps
Simple overlay instructions for your apps.
This plugin can change selected colours to transparent on your image and give result as image or imagedata. This plugin works on IE9+, Chrome, Firefox, Safari. I didn't try in opera.
A Lightweight Plugin for Creating a Customisable "Scroll-to-Top".
Adding Alarms to the Digital Clock
Adding Alarms to the Digital Clock.
Ractive.js is different. It solves some of the biggest headaches in web development – data binding, efficient DOM updates, event handling – and does so with almost no learning curve.
Firechat is an open-source, real-time chat widget built on Firebase. It offers fully secure multi-user, multi-room chat with flexible authentication, moderator features, user presence and search, private messaging, chat invitations, and more.
Albumize is a jQuery plugin that lets you manage collection of images in the web page as albums. With albumize, you can browse albums, add cover image to albums and switch between albums.
PowerTip – A jQuery Hover Tooltip Plugin
PowerTip features a very flexible design that is easy to customize, gives you a number of different ways to use the tooltips, has APIs for developers, and supports adding complex data to tooltips. It is being actively developed and maintained, and provides a very fluid user experience.
jQuery Pin – Pin Any Element Within a Container
Query.Pin is here to help! Pin any element to the top of a container. Easily disable it for smaller screen-sizes where there's no room for that kind of shenanigans.
Perfect-Scrollbar – A jQuery Scrollbar Plugin
Tiny but perfect jQuery scrollbar plugin.
Complexify aims to provide a good measure of password complexity for websites to use both for giving hints to users in the form of strength bars, and for casually enforcing a minimum complexity for security reasons.
The mobile-friendly, responsive, and lightweight jQuery date & time input picker.
It is a collection of HTML/CSS and JavaScript files to be used for web designers and developers.
A jQuery Plugin allows you to easely manipulate the Google Map API. You are now able to create maps, add some markers et create routes.
qTip2 – Pretty powerful tooltips
The second generation of the advanced qTip plugin for the ever popular jQuery framework.
Fast, light, mobile-friendly and responsive lightbox and modal dialog plugin. Open inline HTML, ajax loaded content, image, form, iframe (YouTube video, Vimeo, Google Maps), photo gallery. In/out animation effects are added with CSS3 transitions.
AutoHideInput is a simple jQuery plugin that hides and shows the information entered by the user.
A jQuery plugin that gives users real time hints & progress updates as they complete forms.
Thumbnail Grid with Expanding Preview
A tutorial on how to create a thumbnail grid with an expanding image preview similar to the effect seen on Google Images.
App Showcase with Grid Overlay
A tutorial about creating a simple grid overlay with subtle transitions for an app showcase.
A light weight jQuery plugin that is a must have for any developer to easily create modal windows. Put focus on important elements by applying a mask to your page and opening a customizable pop up modal window.
A light weight jQuery plugin that is a must have for any developer to easily create modal windows. Put focus on important elements by applying a mask to your page and opening a customizable pop up modal window.
Smint : Sticky Menu with Smooth Scroll
SMINT is a simple plugin for lovers of one page websites.
Random & Responsive jQuery, Html5 & Css3 Gallery with Lazyload.
Make Pretty Charts For Your App with jQuery and xCharts.