Another amazing jQuery plugins collection is presented here. In this post we are presenting 9 best and fantastic jQuery site tour plugins. With the help of this collection you can easily make your website look superb and attractive and they also help you to generate site or page tours. When you use these jQuery plugins you will find all of these are fresh and very helpful in your work. All these jQuery Plugins are free so you can easily download your favorite one without any payment.
So why you are waiting? Come and have a look at this wonderful and useful collection. We hope that you will like this collection. Feel free to share this post with others. Do also let us know what you think about this post via comment section below. Enjoy!
Crumble allows you to quickly and easily build feature tours for your website or app using small bubbles!
Bootstrap-intro.js: Show your users a guided tour of what is what on a page. Especially, for first-time users. Use it with Bootstrap.
For websites, it's quite common that you need to have a tutorial trip to teach new comers how to user your own services. In addition to this, when there is any new feature coming up, you also need that to make sure your hard works do have been seen and used by users. Same like you, we have been making tons of routine works like that and that's why we are going to make a super lightweight library – Trip.js that you can use for most cases !
When new users visit your website or product you should demonstrate your product features using a step-by-step guide. Even when you develop and add a new feature to your product, you should be able to represent them to your users using a user-friendly solution. Intro.js is developed to enable web and mobile developers to create a step-by-step introduction easily.
Today we want to share a little script with you that allows to create a tour on a website with jQuery. This can be very useful if you want to explain your users the functioning of your web application in an interactive way.
Joyride is extremely flexible and lets you take control of how people interact with your tour.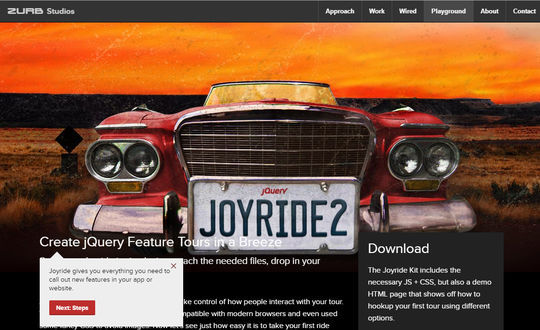 The easiest way to show people how to use your website.
pageguide.js is an interactive visual guide to elements on web pages.
Instead of cluttering your interface with static help message, or explanatory text,
add a pageguide and let your users learn about new features and functions.
SmashingApps.com participates in various affiliate marketing programs and especially Amazon Services LLC Associates Program, which means we may get paid commissions on editorially chosen products purchased through our links to any of the linked sites from us.