There are many web apps out there for you, but getting by free and good ones is not that easy. That is why I am sharing Ten Brilliant Web Tools To Make Your Life Easier. Read each entry in the list and see which tool suits your needs best.
You are welcome if you want to share more useful web apps that our readers/viewers may like. Do you want to be the first one to know the latest happenings at SmashingApps.com, just subscribe to our rss feed and you can follow us on twitter and follow us on Digg as well to get updated.
PDF files can have restrictions that prevent you from for example copying text from them or editing, printing or merging them. PDFUnlock can remove these restrictions (a.k.a "owner password")
ShiftEdit is an online IDE for developing PHP, Ruby, HTML, CSS and JavaScript with built-in (S)FTP.
Join.me is an impromptu meeting space that happens wherever, whenever. It's getting a second or third pair of eyes on your presentation from across the hall or across the continent. It's sharing your screen instantly with anyone or everyone to get stuff done, quickly.
IdentyMe is a service for making of virtual business cards. You can collect all your contacts in one place and create a portfolio. It will helps you share information with new people, find new friends and business partners.
TitanPad lets people work on one document simultaneously. While working on this app, you may do infinite undo and everyone gets their own color.
dushare is a simple direct file-file-transfer service. It makes sending unlimited file sizes between two people as simple as clicking a link. You can send you files to your peers directly (P2P) with no server for upload/download.
SmartPointment is a simple but effective way to schedule appointments online. With this, You can let your customers schedule appointments at their convenience. SmartPointment analytics give you the insight you need so you can direct your efforts into what has the most impact on your business.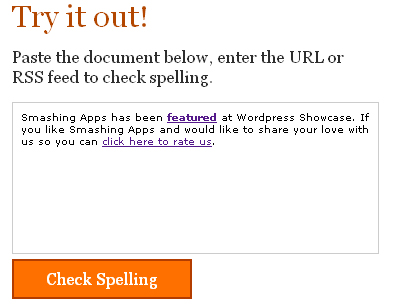 Respelt is a free online spell checker with a powerful feature set. It help you spell check your documents, web pages and even RSS feeds.
Tired of printing web pages only to find your printout is full of ads, empty space and other junk you don't want? PrintWhatYouLike is a free online editor that lets you format any web page for printing in seconds.
CodePaste provides an easy and convenient way to send/share PHP, C++, Javascript, Java, CSS, Actionscript and HTML code with others. Copy and paste the code and enter the email where you want the CodePaste to send it. CodePaste then nicely formats the code and sends it over.