Different workplaces have different ways to mark an employee's attendance. Sometimes a physical register is kept in which each employ signs in and out. Other workplaces use a fingerprint scanner or a code-entering gadget to mark attendance. Another way is for each employee to sign in via an email which can only be opened from the office.
All these solutions are effective in marking attendance but are not effective in finding out where the employee is presently. In other words, if an employee is absent, the boss does not have a way to find the reason of absence.
To remedy this, a better sign in-out solution is provided by Tabzon.
Tabzon is a free website that acts as an in-out board. It can work as a wonderful attendance tool for businesses. To take advantage of the site, the boss creates a Tabzon account. This requires entering the name of the company and no kind of personal details. Upon successful account creation we are provided with a URL for our company's in-out board. We can then proceed to invite our employees to Tabzon either from within our account or by sharing the URL.
When a user enters your Tabzon in-out board, each time he is about to be away from work, he updates his Tabzon status for other employees to see.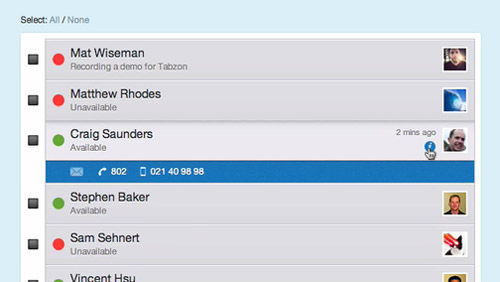 Using Tabzon employees will be able to specify the reason they are currently unavailable. This is something that will be a great help to the bosses and administration.
If you are heading a company, give Tabzon a try by clicking here and let me know in the comments what you think about it.