Football fans are currently following each and everything going on with the Football World Cup. Everybody has their eyes on all the matches; while the average football fan might be content with watching the matches and getting their outcomes, hardcore fans need a lot more. And it is for hardcore football fans that Score Grid was created.
Score Grid is a website that is rich in features yet very simple to use. The site lets football fans learn as much as they can about each football game. You start off by creating an account on the site. The next step is to add your favorite teams. The site is not restricted to the World Cup so you can add international teams as well as club teams. The tournaments they correspond to will be written in front of the team names.
Once you teams have been added, you can click on the 'team page' button in front of them to view the team's details. Here you will find various details such as ranking statistics, background information, and upcoming plus archived matches.
For any archived match, you can get the option to go its page.
Click on this link to view more details about that game. The details you see will depend on the game but usually in addition to highlights of the game, the site also shows a breakdown of goals, yellow cards, red cards, corners, free kicks, throw ins, substitutions, off-sides and penalties.
A in-depth analysis of the game is also shown where the actual track of the ball is mapped.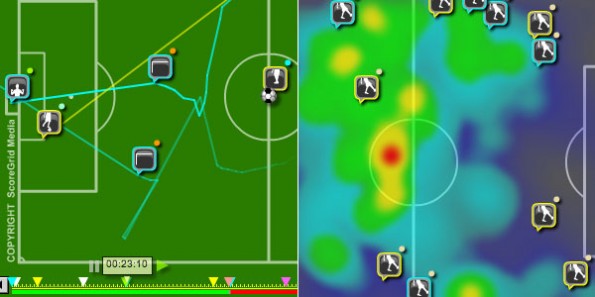 Such analysis is exactly what hardcore football fans and enthusiasts will highly appreciate. Fans can even communicate with each other, make their views public regarding matches, and comment on their favorites. Check out Score Grid
SmashingApps.com participates in various affiliate marketing programs and especially Amazon Services LLC Associates Program, which means we may get paid commissions on editorially chosen products purchased through our links to any of the linked sites from us.