Google News has undergone extensive testing by Google and finally the service now has a number of notable customization options. Read on to learn about them:
1. Topics you can subscribe to
In the left pane of Google News, you will find a topics list. Click on any topic to find news related to it. When the news open up, you will find a button which lets you add that topic to your personalized news page thereby subscribing to the topic.
2. News For You
News For You is a brilliant idea by Google. You can edit the news topics by filtering them out of your news feed. New topics can be added by entering keywords in the search bar provided in the News For You box. You can also specify the frequency with which you read about each topic so that news is correspondingly arranged.
3. Selecting / Deselecting News Sources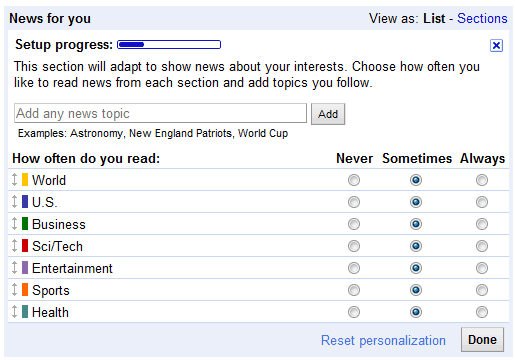 If there is a certain news source that you prefer, you can click on "Settings" at the top of the page, select "News settings" and start typing the sites you'd like to see more often in Google News. On the other hand if there is a news source you do not like, you follow the same procedure and eliminate the news source from your feed.
4. Social Network Integration
Clicking on the small arrow in the top right corner of each news cluster will drop down networks on which you can share the current news. This is a great way to let your friends know of anything interesting you read.
5. Keyboard Shortcuts
Some keyboard shortcuts have been added to enhance the user experience. The following keys apply: j or n (next story), k or p (previous story), / (search), s (star), . or f (share), Enter (open the headline article for the current story).
Google has clearly improved its News page by giving more control to the user. A full list of new features can be read here, on Google's official page on the matter.
SmashingApps.com participates in various affiliate marketing programs and especially Amazon Services LLC Associates Program, which means we may get paid commissions on editorially chosen products purchased through our links to any of the linked sites from us.