This is one of the very best list of its kind where you can find the iPhone clients of must-have popular tools. I hope everyone of you will love these apps whether you are an office worker, a manager, a supervisor, a student, a home user, designer, developer etc. This is the list of The 14 iPhone Clients That Would Actually Make Your Lives Easier. Just take a look at them and share your thought's here.
You are welcome to share more useful iPhone clients that will be helpful for our readers/viewers may like. Do you want to be the first one to know the latest happenings at SmashingApps.com just subscribe to our rss feed and you can follow us on twitter and do not forget to become our fan on facebook as well.
You can download Google Mobile App to your smartphone to search fast. It will allow you to quickly navigate to other Google services, such as Maps and Gmail etc.
With eBuddy you can have one single buddy list with all your friends from multiple IM and social accounts. eBudd also made it easy for you to manage your buddy list, add new buddies, organize them in groups, sort by account, or search your list.
It's easy to use the Photoshop.com Mobile App on your iPhone. Simply drag your finger to crop, adjust color, apply effects. You can crop, rotate, change color with just a touch, give an extra glow with Soft Focus, apply one-touch effects like Warm Vintage and Vignette etc.
You can download the iPhone App and then sign into Skype from any WiFi zone and reach friends and family free with Skype-to-Skype calls.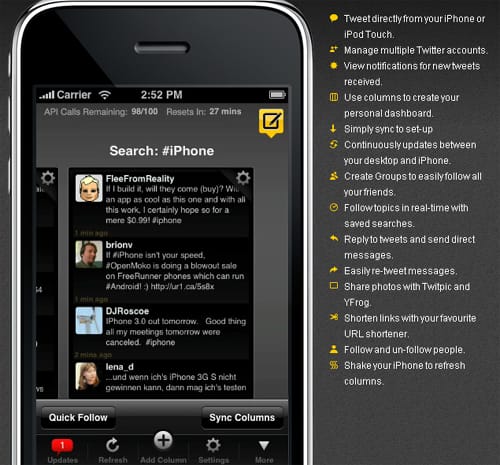 TweetDeck is your mobile browser for staying in touch with what's happening now on Twitter from your iPhone or iPod Touch. TweetDeck shows you everything you want to see at once, so you can stay organised and up to date no matter where you are.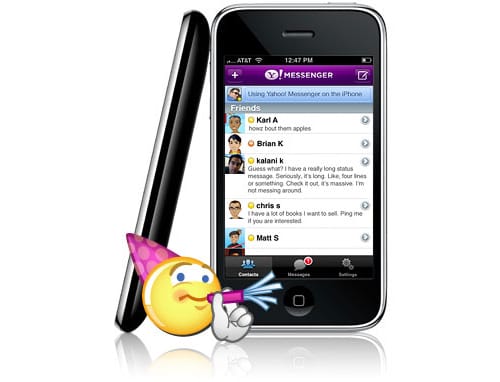 Take the Yahoo Messenger anywhere on your iPhone. This will help you to share photos, emoticons and links, right from your iPhone and it will alerts you when a new IM arrives, even if you're not in the app.
Facebook is a social utility that connects people with friends and others who work, study and live around them. Facebook for iPhone will help those people to stay connected when they are away from their computers but would not like to away from facebook.
Waze is a free social mobile app that enables drivers to build and use live maps, real-time traffic updates and turn-by-turn navigation for an optimal commute. 100% powered by users the more you drive the better it gets. Join the community of drivers in your area today.
You may have Gmail via mobile anywhere with you.
Evernote for iPhone lets you create notes, snap photos, and record voice memos that you can then access any time from your iPhone, computer, or the web.
Dropbox is the easiest way to store, sync, and, share files online. You can access your Dropbox on the go and download files for offline viewing. There is an option to sync photos and videos to your Dropbox and to share links to files in your Dropbox.
Connect with friends and family and keep track of status and presence updates in real time. Just sign in using your existing AIM, AOL, .mac or MobileMe name, or register for a free screen name right to your device.
HootSuite for iPhone is the only Twitter app that lets you view statistics. It's also the only one that lets you schedule your tweets in advance. With HootSuite for iPhone, you can send tweets to multiple accounts simultaneously, from the palm of your hand. But that's not all.
With Google Earth for iPhone and iPod touch, you can fly to far corners of the planet with just the swipe of a finger. You can explore the same global satellite and aerial imagery available in the desktop version of Google Earth, including high-resolution imagery for over half of the world's population and a third of the world's land mass.