This is one of the very best list of its kind where you can find incredibly useful and life saver FREE web apps that you probably never heard of and these would be great enough to bookmark or just for get in your knowledge. I hope everyone of you will like this list, you can try these whether you are an office worker, a manager, a supervisor, a student, a home user, etc.These are really amazing in respect to their features. This is the list of 10 Best Business Web Apps To Make Your Lives Easier. Just take a look at them and share your thought's here.
You are welcome if you want to share more useful web apps that our readers/viewers may like. Do you want to be the first one to know the latest happenings at  smashingApps.com just subscribe to our rss feed and you can follow us on twitter as well.
Project Bubble is a simple and easy tool for managing your projects, client and invoices. It's intuitive interface makes project management a breeze. You can easily generate PDF invoices and get paid through PayPal.
Collabtive is a modern Web application that allows teams to collaborate on projects, manage tasks, milestones, and files, and send instant messages to each other. It is multilanguage capable, supporting more than 20 languages. Collabtive integrates with other webservices via an XML API. It also provides importing functionality for data from other applications.
Pivotal Tracker is a great collaboration tool for people working on a software or web coding project. You start work on a project by first creating an account on the site. After logging in you can create and name a new project.
ShiftPlanning is a free online employee scheduling management software aimed at helping businesses with their employee scheduling. Interactive and easy to use, ShiftPlanning is next-generation scheduling software that delivers precision and speed to the business's scheduling responsibilities, freeing up time to concentrate on other demands.
Fortunately I have found a greatly user friendly task management tool and am about to share it with you – Doit.Im. Doit.Im is a free web app that offers task management services. It offers comprehensive options yet packs them into a neat and tidy interface.
Stixy is a free to use website that acts as your portable work desk. Basically it is a virtual desk that operates from within your browser. You create an account on Stixy then upload files to your account; you get thumbnail views of each file; these thumbnails can be dragged around or stacked on top of each other, whichever way suits you best. Thus whether it is organization you want or that scrambled documents look, Stixy can help you out.
Zoho is the name for a collection of services. The entries you see in the image above are only few of what Zoho has to offer. We can sign up for an account and use Zoho's services to easily gather ideas and create plus modify files / documents / images / presentations as a group.
Tabzon is a free website that acts as an in-out board. It can work as a wonderful attendance tool for businesses. To take advantage of the site, the boss creates a Tabzon account. This requires entering the name of the company and no kind of personal details. Upon successful account creation we are provided with a URL for our company's in-out board. We can then proceed to invite our employees to Tabzon either from within our account or by sharing the URL.
HiTask is a friendly and easy-to-use task management system that anyone can start using right away. It is designed to satisfy both sophisticated followers of David Allen's "Getting Things Done" methodology and anyone who just needs a quick and easy tool to manage their everyday tasks.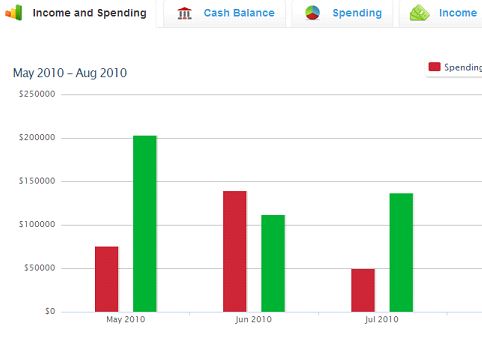 Even if you are running a small business you need a service that analyzes your finances and keeps the figures updated. Through this analysis you can view if there are any upcoming shortages or anything you should be alarmed about. By monitoring the financial health of your business you are able to better ensure its success. inDinero makes that possible. inDinero is a web service that can be dashboard for your business's financial health.
SmashingApps.com participates in various affiliate marketing programs and especially Amazon Services LLC Associates Program, which means we may get paid commissions on editorially chosen products purchased through our links to any of the linked sites from us.