Forget jumping from site to site and remembering multiple passwords. Quicken Online simplifies Internet banking by automatically organizing your financial accounts " including checking, savings, investments, loans and credit cards " in one place. You can use Quicken Online to easily and automatically track your spending so you know very easily where to save and when to spend and the best part is, it's free.
Quicken Online automatically downloads, categorizes and tracks your income, scheduled bills and other expenses. So you can look ahead to see what bills are coming and make sure you have enough money to pay them. This way you can avoid those nasty end-of-the-month surprises.
Quicken Online even takes into account your upcoming bills and pending payments when displaying your balances, so the balance you see is really how much you have to spend. You'll always know what money you have coming in, where it's going throughout the month, and exactly how much cash you'll have left at the end of the month. You'll get a complete picture of your personal finances so you can get ahead of your expenses and stop living paycheck to paycheck.
Late fees can swallow up a big chunk of your paycheck. That's a problem easily avoided with Quicken Online. Each time you sign in, you'll see a list of bills you have coming up. You'll also get automatic reminders when bills are due via email or text message. So you can say goodbye to late fees and use your hard-earned cash to pay down debt, sock away in your savings, or treat yourself to something special.
Which account do you use for dinner and a movie? Those new shoes you've had your eye on? That weekend getaway you've been dreaming about? With Quicken Online your personal finance information is always available to you, not just when you're at your computer.
You can check your Quicken Online Internet banking balances from your cell phone to see what you can afford to spend. You can even add transactions using your cell phone to keep your account balances up to date. If you've got an iPhone, you can use the iPhone-optimized version of Quicken Online and manage your money from anywhere you use your iPhone.
Quicken Online makes managing your personal finances easy because it's really developed for you guys. You can simply enter your bank, credit card, loan and investment accounts once, and Quicken Online does the rest.
They securely download your balances and other financial information directly from your financial institutions and categorize your expenses. So you don't have to spend hours manually entering data. Then they update your account once a day so you'll have current information.  Best of all…it's automatic.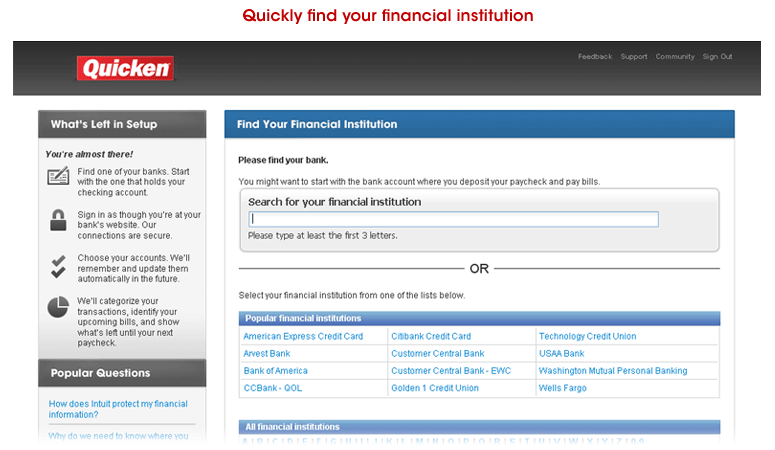 Their interactive charts automatically categorize transactions so you can see the big picture up close and personal. You can also see how you're doing month-to-month, quickly access your average expenses for any given category, know instantly whether you're spending more than you make, view income vs. expenses side-by-side, focus on one particular category etc.