3d package is a 3d-box graphic generator. 3d package lets you instantly create 3d-box, CD-box and DVD-box images online for free.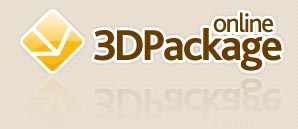 Just upload pictures for cover and sides and then get 3d-box in you favorite image format (JPG, GIF, PNG supported).  This is a free service and you can use the generated 3d box image anywhere you want. Its best for the developers or software companies who want to promote their softwares/products on the internet via using this 3d-box which gives a professional impact on the customers. See the 3d-box gallery for better idea.