WordPress is the first thing that comes to our mind whenever we think about content management system (CMS). There is no doubt in it that WordPress is the king of CMS, however, there are plenty of other alternatives that you can use. All these CMS alternatives are free to use and provide good functionality as well. So, if you feel a bit bloated due to WordPress long legacy and want to use some alternative, then this post is for you.
In this compilation, you will find 12 free CMS alternatives to WordPress. Some of these alternatives focus more on powering portfolio websites while some other only cater to writers and bloggers who want no distractions rather want to focus only on the words.
TYPO3 is a free open source Content Management Framework initially created by Kasper Skaarhoj and licensed under GNU/GPL.
Many content management systems are focused on developer or site owner needs, but concrete5 is a CMS that truly delivers the best to both worlds. An in-context editing toolbar makes it easy to make changes as you navigate the live website. A truly MVC architecture and API make it easy for developers to truly use the CMS as building blocks.
Middleman is a static site generator using all the shortcuts and tools in modern web development.
Simple content management for designers, artists, photographers and musicians.
Drupal is an open source content management platform powering millions of websites and applications. It's built, used, and supported by an active and diverse community of people around the world.
GetSimple is an open source Simple CMS that utilizes the speed and convenience of flat file XML, a best-in-class UI and the easiest learning curve of any lite Content Management System out there. It requires no database and has a powerful plugin system that allows for unlimited expansion.
Pligg CMS – An Open Source, Social Publishing, Content Management System.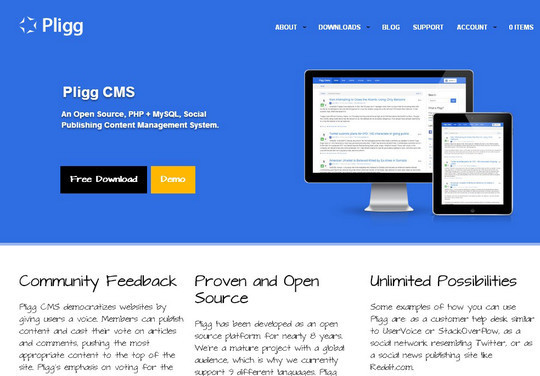 Zotonic is the open source, high speed, real-time web framework and content management system, built with Erlang. It is flexible, extensible and designed from the ground up to support dynamic, interactive websites and mobile solutions.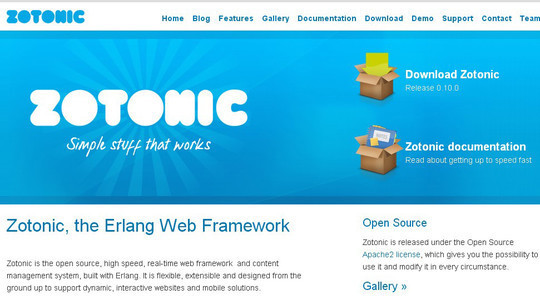 Exponent CMS is an Open Source Content Management System, based on PHP, MySQL and the Exponent Framework. Dynamic CMS Content Management Solution with Enterprise Level Content Management Features.
ImpressCMS is a community developed Content Management System for easily building and maintaining a dynamic web site. Keep your web site up to date with this easy to use, secure and flexible system.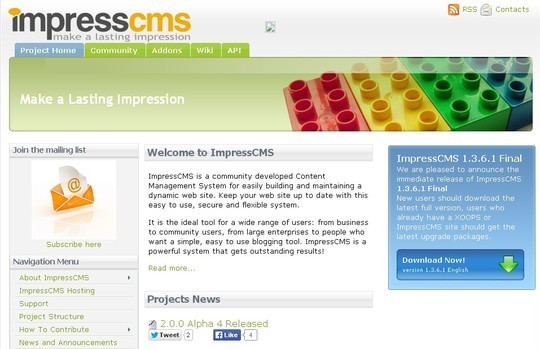 Jaws is a Framework and Content Management System for building dynamic web sites. It aims to be User Friendly giving ease of use and lots of ways to customize web sites, but at the same time is Developer Friendly, it offers a simple and powerful framework to hack your own modules.
Create a CMS using the tools you already know. Make static websites editable by adding a CSS class.