DepositPhotos is running a contest, where winners will get 15 accounts with free credits (worth $30 each). Well, you guys know what DepositPhotos is. Lets say it once again for n00bs.
DepositPhotos.com is one of the best resource for buying and selling Royalty-free photographs and vector images. Their vast library of imagestock coupled with wide variety of flexible purchase options makes them most convenient and profitable tool for designers, artists and photographers.
Whether you're a designer looking to buy images for a project or a photographer selling your stock, They make working with DepositPhotos.com as easy as possible. Their low, low pricing and flexible purchase plans make it easy to buy exactly what you need instead of just what you can afford, and their generous commission structures give their contributors enormous earning potential.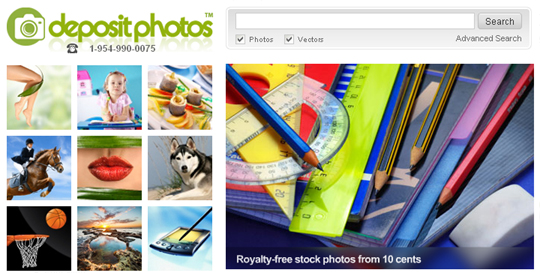 Looking for images containing food, beverages or tableware? That's easy – just start in the "Food & Drink" category. Need an image related to an office environment, work or careers? Visit our "Business & Finance" Category. Maybe you're looking for an image of a ring, necklace or bracelet. Then, start your search in the "Jewelry & Gems" category. With more than three dozen categories to choose from, you'll never have trouble finding the perfect image, no matter what you're looking for!
This contest will run from May 05, 2010 to May 12, 2010 and we will select the winners randomly by running MySQL query. Result can be announced any day before May 15, 2010 so keep visiting here or subscribe to our rss feed to get the latest updates. To participate in the contest and win DepositPhotos account, All you have to do is just tweet this :
Take A Chance To Win Free Accounts With $30 Credit From DepositPhotos @SmashingApps – http://su.pr/22OXz6

1. After you retweet, just leave a comment with your retweet link.
2. Use valid email ID in the email box.
3. Not necessary, but you can subscribe to our rss feed and follow us on twitter and do not forget to become our fan on facebook as well. (To track this contest and for future updates)
4. And thats it!
So what are you waiting for now? Let's participate in the contest and good luck!