For the person who wants to use his/her computer as an interactive personal diary, there are many options available. There exist countless applications for each of the following tasks: organizing your calendar events, scheduling your tasks, recording your contacts, and taking down notes. Freeware programs available on the internet specialize in one of these tasks and perform their functions excellently. While all these programs are great, they do not turn the computer into a personal diary on their own – they always need to be coupled with another program.
There is one program however which we have discovered recently that performs as a personal diary software all on its own without hogging up your system's resources. This application is named Osmo.
Osmo is a freeware program with a size of only 4.6MB. The download and installation of the program take no time at all. After you install and run the program you will notice its icon in the system tray:
Whenever you close the application by clicking on the cross button, it will minimize to this icon. Here is how the program's main window looks like:
Osmo opens in the Calendar tab. The current day is highlighted; at the bottom you can find the "Moon phase," the week number of the year, the day number, and weekend days. You can right-click on any date in the calendar to display a window which will let add a task to that day:
To add notes to about a particular date, simply double-click on it to be shown the note region below the dates:
The dates with an apostrophe sign have notes included in them. You can always double click on the date to view the notes you store for it.
The Tasks tab lets us add new tasks and view existing ones:
The Contacts tab lets us add and view contacts. The Contacts tab also has a 'show birthdays' tool which ensures we do not miss any birthdays: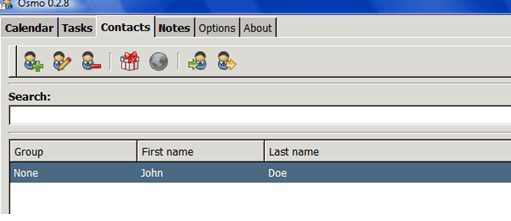 Our contact list in Osmo can be saved to a CSV or XHTML file. We can also import contacts from CSV files.
The notes tab lets us add notes in separate files and then show us these files:
We are presented with the list of titles of notes. Double-clicking on any title will open the respective notes and enable us to view and/or edit them.
Apart from these functions, Osmo also printing functionality and options to modify our existing tabs. Amongst other things we can change the font of the fonts being store and the colors of the program.
Providing an impressive functionality by remaining user-friendly and having a minuscule memory footprint, Osmo is the ultimate diary program which the computer users of today simply should not miss.
SmashingApps.com participates in various affiliate marketing programs and especially Amazon Services LLC Associates Program, which means we may get paid commissions on editorially chosen products purchased through our links to any of the linked sites from us.