If you are an avid music fan like me, you will surely love the application I have got for you today. Today all music is electronically stores and there is a good chance that all your music collection exists as mp3 files. Mp3 files are portable and can be carried around in flash drives as well as cellphones and mp3 players. But what if you have none of these things with you and only the internet? What if you want to listen to your favorite songs?
Of course you could use an audio streaming website to listen to your song but who knows how long it would take to find your song. A much better alternative is AudioBox.
AudioBox is a free website that provides registered users with 1GB of online storage to host their music audio files. Once our music has been stored into our AudioBox account, we can use any internet-equipped computer to access and listen to our music. We listen and add our music using the in-browser tool and require nothing to download and install. Before we do any of this however, we must first sign up for a free account.

After signing up, you receive an email which you have to open and click on the confirmation link it contains. You will then be directed to your AudioBox dashboard.
To open your web player, click on the "Cloud Web Player" tab in the top row of tabs.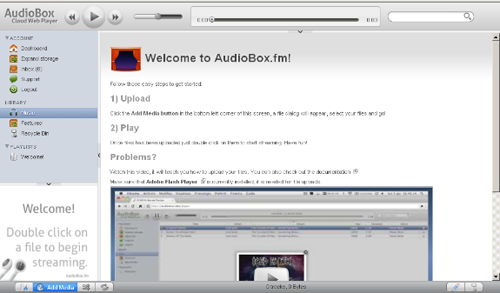 Here we can easily add, organize, and listen to the music on our computer.
Next time whenever we want to listen to our music, we can log on to AudioBox and access our stored music anywhere.
SmashingApps.com participates in various affiliate marketing programs and especially Amazon Services LLC Associates Program, which means we may get paid commissions on editorially chosen products purchased through our links to any of the linked sites from us.