Here we are presenting 8 free to use tools that will be very helpful for you in analyzing hard drive space on your Windows PC. No matter how large disk space we have, we always end up with low disk space. This is because we do not realize that how fast photos, videos, music and other such files start to use up any hard drive space we have.
Therefore, it is important to have some tools that will help you analyze what files are taking up the most space. Otherwise, it will be very tiresome and hectic job to figure out what is taking up the most space. So browse through this collection and find out how you can analyze your disk space easily. Enjoy!
WinDirStat is a disk usage statistics viewer and cleanup tool for various versions of Microsoft Windows.
Every hard disk is too small if you just wait long enough. TreeSize Free tells you where precious disk space has gone.
Disktective is a freeware utility for Windows (and Linux/wine) to trace used-up disk space on your system. Disktective reports the real size of your directories and the distribution of space inside them.
JDiskReport enables you to understand how much space the files and directories consume on your disk drives, and it helps you find obsolete files and folders.
RidNacs RidNacs is a very fast disk space usage analyzer for Microsoft Windows. It scans your local drives, network drives or single directories and produces a tree view with a percentage bar chart column. This gives the user a quick and easy way to identify the largest directories and it's very useful for cleaning up the disk.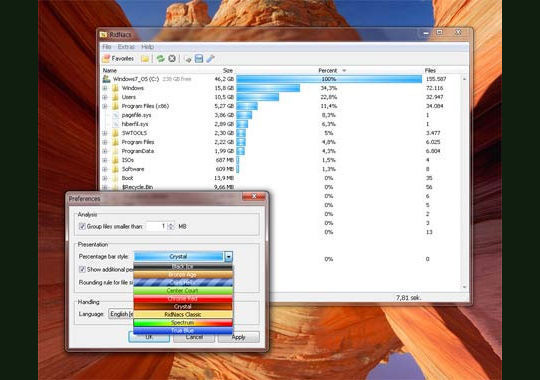 This tool uses a sunburst chart to display the usage of your hard disk or other media. The chart shows all major files and folders from all directory levels at once.
Disk Usage Analyzer helps you organize your files and manage disk space by locating the largest files on your disk. You can quickly find where are your largest files, such as videos, photos and archives, and move them elsewhere, possibly to a backup drive. You may also decide to simply delete unneeded files. Disk Analyzer is fast and easy to use, summarizing your disk usage in a friendly format with visual graphs. Disk Analyzer is integrated with Windows so that you can view, open or delete files in the same way as in Windows Explorer.
SpaceSniffer is a freeWare and portable tool application that lets you understand how folders and files are structured on your disks.