While the job is interesting and one gets to discover the latest about the Internet, blogging is no easy task. "Time is money" could not be any truer for bloggers; impossible deadlines put us under harsh time constraints. Due to this constraint, bloggers are always actively on the lookout for the next great tool that can help us cut back on the time it takes to write our articles/reviews.
Bloggers who run their own website, on the other hand, are not under any critical deadlines – their worries are of a different nature. Taking constant care of their website and monitoring it is an absolute must for them; if a site owner's website unexpectedly goes down, his/her income will be negatively affected.
Therefore one way or the other, all bloggers have problems whether they are self-employed, freelancing, or fulltime employed. They need all the help they can get.
Today we present to our fellow bloggers five tools available on the internet which will help them in one way or the other. We hope you all find the following tools as helpful as we did.
You are welcome to share if you know more useful tools which our readers/viewers may like. Do you want to be the first one to know the latest happenings at SmashingApps.com just subscribe to our rss feed and you can follow us on twitter and do not forget to become our fan on facebook as well.
1. DomainTools
For somebody who plans to start out his/her own website, the first most important step is to come up with a great name. Once the great name has been thought of, one needs to check its availability. DomainTools is a free website that does both things. Firstly it can suggest various names to a user by taking as input a keyword. Secondly it shows us which domain extensions (COM, NET, etc.) is the site name available. If a user wishes, he/she can buy and register the domain name right from the site. In this way, DomainTools eventually saves us a lot of time in the process of naming our website.
2. WhoisLookup/WhoisApplication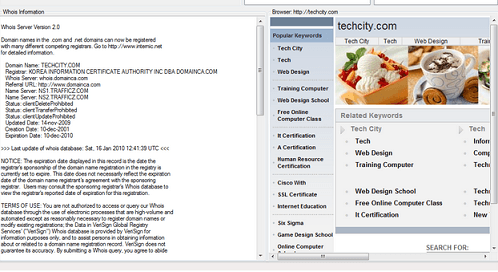 WhoisLookup is a freeware application less than 100KB in size. The EXE file is downloaded and can be run without any installation. In the program we can enter the URL of a site and get its Whois information which shows us the site's various attributes such as its registrar's information, the location of the site, and the details of its administrator. Whois specifics can help out a great deal when trying to determine which website to blog about. To some extent, it can also show us whether or not the site's claimed location matches its actual location; this helps us judge the trueness of the website's credentials.
3. dnspchecker
This nifty little freeware is about 3MB to download and is helpful in determining the status of a website. It is compatible with Linux and Windows operating systems. After we enter a URL into the program, it uses ping command to see if the DNS is live. In other words you can see if a site is up or not. A successful message is show each time the site if up; if the site is down or a valid response could not be received then it automatically checks the site every 60 seconds. This way we do not have to recheck the status of the site each minute (because it is automatically being done for us). To have it not interfere with our work, the program can be minimized to the System Tray and gives an alert when DNS is propagated.
4. Observu
dnschecker can only help you if you have it installed on your system. If you are using a computer on which you do not have the privilege to install new programs and you would like to check the status of your websites, the only way that comes to mind is by actually visiting the website in your internet browser. If the number of websites is more than one then the process could be considerably time consuming. Observu is a free website that lets us register for a free account and enter an unlimited number of websites to be automatically monitored. If any one of them goes down, we are immediately emailed of its negative status. There is no limit to the number of sites we want monitored. Observu can be helpful not only for site owners but also for bloggers who have reviewed a website and want to stay informed of its status. For instance John, a blogger, blogs about www.XYZABC123.com and he is emailed of its negative status the next month; upon receiving the notification, John can updates his previous review and add a note saying that the site is currently experiencing problems and is down. Such responsibility can go a long way and earn loyal readers.
5. BlogDesk
WordPress is a blogging platform used by many bloggers. Other widely used platforms are MovableType, Drupal, Serendipity and ExpressionEngine. To blog in these platforms, we open up our internet browser window, log into our blogging Dashboard and get started. With the latest platforms we can save our work as we go along but having the data secure on our hard drive is something that most bloggers find comfortable. Also while typing on these platforms, one has to go through special means while inserting hyperlinks and pictures. BlogDesk is a 4MB freeware program that eliminates all the problems associated with typing our blogs on these platforms. It is a desktop application that enables us to type up our blog offline with ease. When we want to publish the article, we can simply blog from BlogDesk directly. The abovementioned blogging platforms are supported by the program. But before you go using it, make sure its option is enabled in the online settings of your blogging platform.