Today, we have a new post in which we are covering few more simplest free web apps that can really simplify your work life. Whether you are office worker, manager, supervisor, designer, developer, student, home user, etc. But we make sure to add something useful for everyone. Most of them are not very well-known, but they are really amazing in respect to their features. Just take a look at them and share your thought here.
You are welcome to share more free web apps that are really simple and useful and our readers/viewers may like. Do you want to be the first one to know the latest happenings at SmashingApps.com just subscribe to our rss feed and you can follow us on twitter as well.
MyFontbook is an unique online font viewer that can save your time by providing a number of tools to view installed fonts quickly and easily. Unlike a classic font management tool, MyFontbook is platform independent and can be used freely through any web browser. MyFontbook tries to fill the gap between the limited font tools provided by your operating system and the expensive font management applications aimed at power users.

Box.net's online file storage makes it easy to securely share content as a link or a shared folder with anyone inside or outside your company. This will help you create an online workspace where you can share project files, add comments, assign tasks, start discussions or create new content.
Ronin is a flexible application designed for creative professionals looking for an easy, affordable, web-based way of managing clients and invoices. You can send invoices and estimates in multiple currencies. The dashboard provides an at-a-glance summary of account activity for all of your staff users. Quickly access existing invoices and create new clients. Manage your account with simplicity.
Go2Convert is a set of free web based tools that allow you to convert, resize a picture without having to install any software on your computer. It is not meant to be a complete Image editing software package. It is meant to be an easy to use solution to convert, resize your pictures and digital photos without the need to learn a complex software package. Once you convert, resize an image, you can choose to copy image's URL or download it directly to your computer – It doesn't get easier than that.
Managing projects and work via email is just so old-school. How do you keep track of tasks, issues, files, timesheets & feedback via email? How much work is still yet to be completed? Who is working on what? Where is all the communication related to this project? Is it done yet? What's holding the project back? DeskAway is simple to use, feature-rich online service. This is a web-based project collaboration service that provides teams a central location to easily organize, manage and track their projects.
Atmail allows users to access IMAP Mailboxes on any server of your choice. You and your users can experience webmail via a fluid, intuitive interface that excels aesthetically and functionally; a benchmark that very few webmail clients have achieved. Staying in touch with business or personal contacts is made easy by the groupware features of Atmail. The easy-to-use calendar events, tasks, and free-busy scheduler provide collaboration and communication around the clock, with the simplicity of a browser-based interface.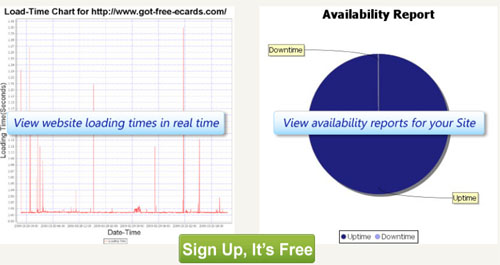 Having a good uptime is essential for the success of your website. 247webmonitoring will monitor it 24X7 from their servers and notify you whenever it goes down. This will check your website every 15 minutes to know it is up. They will send you notification by email or SMS when it goes down. So you can quickly fix the issue and you can stay happy. This way you can relax and focus on your core business. In future, you will also find out how fast your site is from different location.
This is a brand new site that allows you to check out how your website looks in the most popular resolution formats. It's all powered by Ajax & PHP so no need to download anything. Using ViewLike.Us is perfectly free.
You can use PDF to Excel to quickly and easily create highly, editable XLS files, making it a cinch to re-use tables and spreadsheets from PDF files in Microsoft Excel, OpenOffice, Google Docs, and WordPerfect Office. Best of all, you can do it entirely free.
With Shareflow you can share your team conversations so everyone involved can clearly see what's being said, and you can all get more done. The more you use email, the more work you create for your team. Important information gets lost in the shuffle. The Shareflow bookmarklet gives you one-click access to post content from the web to any of your flows. You can use the bookmarklet with Yahoo! Mail, Windows Live Mail, and Gmail to share your email on a flow. Create multiple flows to organize different projects or teams. You can add or remove someone at any time and invited members can create their own flows, so different teams can work amongst themselves.
Vyew is a new and powerful platform for real-time and always-on interaction between people and connent. Vyew's clear-view workspaces enable a transparent collaboration flow with content. Review the past, work together in the present and prepare for the future.
Windows Live SkyDrive works well on any Windows or Macintosh computer with Firefox 1.5 or higher, or Internet Explorer 6 or higher. 5 GB of free online storage, available from any computer with Internet access. You can create personal, shared, and public folders and you can decide who has access to each folder.
ShowDocument is a free service for online meetings with fully synchronized co-browsing of any document. It is a quick and simple way to share a document with other people at the same time. It is a web collaboration platform that lets individuals have a free online meeting. It is an alternative to various commercial desktop sharing applications. One can easily upload any file and during the session mark it up with a pen or a highlighter tool in addition to a text box tool and eraser.
AlertFox is a revolutionary new self-service website transaction monitoring service that is capable of keeping tabs on the functioning and performance of all websites. You can monitor even complicated steps, (e.g., complete check out process, not just store uptime) , only AlertFox can monitor the function and performance of sites that are based on any of the major rich internet applications (RIA), including ActiveX, AJAX, Flash, Flex, complex HTML and Silverlight technology. AlertFox also helps SaaS users monitor their provider's reliability.
tgethr is for Project teams who need a no-frills, secure email-based collaboration solution and useful for families, friends, and clubs who don't need the overhead of more complicated solutions. This is also best for remotely located people who still use email as a primary collaboration mechanism. With tgethr all correspondence over the web and email can be safely encrypted.