Regrettably, the smartphone apps available for clients to search real estate are reasonably inadequate, but now thanks to Android store, you can have some really useful apps that will specifically fulfill your real estate needs. Here we are showcasing some great and truly amazing real estate apps for Android phones. These apps would let you hunt a house on the go.
Here is the complete list of 14 great real estate Android apps in no particular order. Share your comments, suggestions and feedback at the end and let us know what you think about this compilation! We hope that all these Android app will help the life of a mobile Realtor.
Zillow Real Estate and Rentals
Real estate & home values on nearly all US homes. Find homes and apartments for sale, or for rent. Or, get home values on nearly every home (100+ million) in the U.S.
HotPads Rentals and Real Estate
Discover rental listings, apartments, homes for sale, and homes for rent while on the go. Our free app makes it easy to see local price trends, compare school information, send inquiries, and visit rental and real estate listings on the move.
Movoto Android Real Estate App
Movoto's new real estate app makes searching for your new home easy.
Trulia Launches iPad and Android Apps
Trulia's top-rated real estate app instantly shows you a map of nearby homes for sale, open houses, or apartments for rent. You can easily adjust search filters to find real estate listings that exactly match your home and location criteria. Stay on top of your home search – wherever you are – with the Trulia Real Estate & Rentals app.
Search properties to buy or rent and view full properties details.
Price trends and floor plan using the location-based services.
Sotheby's International Realty
SIR Mobile is an easy to use GPS-enabled mobile app that can help you find a house to buy. You can search for a luxury homes and real estate anytime, anywhere using the Sotheby's International Realty ® Mobile app.
CENTURY 21 Mobile brings the most accurate and up to date real estate!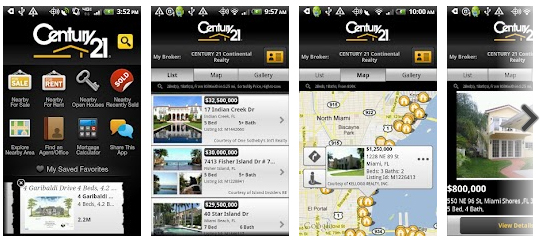 Rocky Geiser Real Estate app and 1rocky.com give you instant online access to current real estate in the Buffalo County of Nebraska MLS. Rocky Geiser is a broker for RE/MAX Executives, Inc. and participates in the IDX, enabling the real estate company to show you listings for all other companies that have opted into the IDX in the Buffalo County MLS.
Search over 300,000 homes for sale or rent throughout the northeast.
Real Estate exploration is enhanced with Spokane Real Estate's property search on Android.
It provides search of property based on: 1) your current location (default) 2) location entered by you on the Advanced Search. 3) MLS # search. 4) also Street View
Industry's first mobile home search with Schools and Neighborhood Info. Get all info about "For Sale" homes in one place along with Schools API scores and neighborhood data.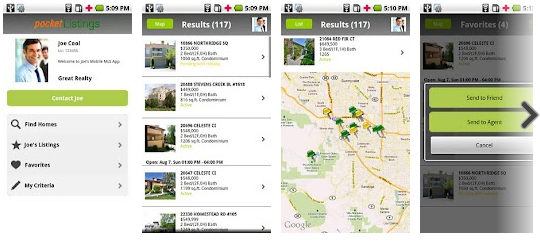 Fast easy app to help you locate your Dream Home in Ventura, Los Angeles and San Diego Counties. Troop Real Estate, Largest Independent Real Estate Brokerage in Southern California.