We all want remote access to our computer files. Whether we want to listen to our favorite music, view pictures or videos stored on our computer, or open an important document, remote access to our files can be very beneficial. Although there are programs out there that enable remote access, they require your main computer to be powered on at all times with an active internet connection. ZumoDrive provides a better alternative.
ZumoDrive is a software and web service that will upload your files on the web and provide them in a very friendly interface.
The installable part of ZumoDrive comes in versions compatible with Windows, Linux, and Mac running machines. The service even has smartphone apps for iPhone, Android, and Palm Pre.
The Windows installer is sized at nearly 9 MB. After its installation you are prompted to sign up for a Zumo account which can be done through the app.
Zumo will then create your account and sign you into it. You are then asked to select the folders you want to upload to Zumo.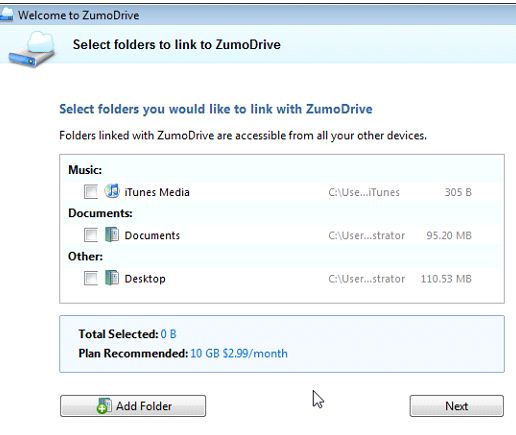 Then you choose your package. Free Windows users are provided up to 1 GB of storage and the upload size of each folder is shown against it.
Choosing your package will end the setup process.
Your files will be uploaded in the background. This upload activity will be shown by ZumoDrive's cloud icon in the System Tray.
With the files uploaded, you can sign into ZumoDrive via your web browser and get access to the files.
When you access My Computer, you will see another drive added that will correspond to Zumo. Opening this drive will open the material already uploaded to Zumo.
If you log on to Zumo's website and complete its tour after setting it all up, you can get an extra 1 GB of storage.
ZumoDrive will surely benefit many computer users desiring remote access but unwilling to leave their computers powered on all the time.