Recently I was thinking how to initiate recording a TV channel via Windows 7 Media Center. The problem was that I needed to do this remotely, in case I was not at home, remembered that a series I liked was being aired on TV, and wanted it recorded. After much extensive searching, I finally found an application called Remote Potato.
Setting up Remote Potato was no child's play and it took me quite some time. I am still not satisfied with it. When I told a fellow blogger about my predicament, he asked "But if you can access the internet while you're away from home, why not simply use it to view television online?" I asked him what he meant and he answered "TV Chrome."
When he showed me what TV Chrome was, I did not believe my eyes. Without paying anything, setting up anything, I was able to view hundreds of channels from around the world. I bet you do not believe me.
TV Chrome is an extension for Google Chrome. It places an icon in Chrome's address bar which we click to dropdown a window.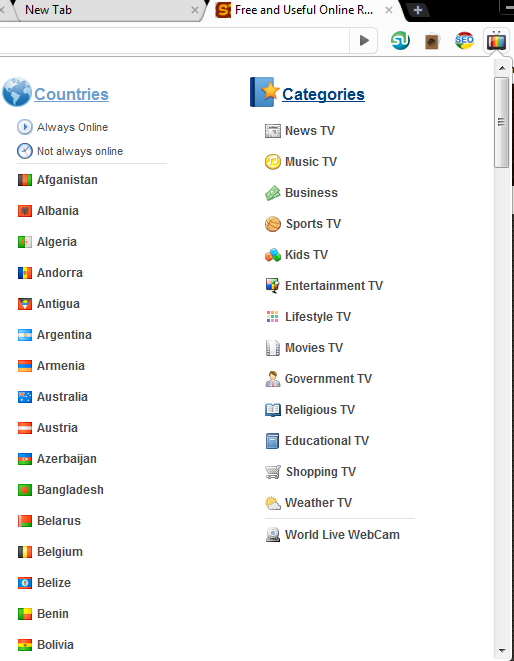 This window has channels from all over the world sorted country and genre wise. Of course not each and every channel from all countries are available, but the list that is available is very impressive.
Take the "Movies TV" genre, for example.
It has HBO USA on top that can be streamed online. Click on HBO and a new Chrome window opens up.
We can double-click on the video to view it full screen. While the video quality is not great, the advantage is that the loading time is impressive and we can view the video stream easily.
Impressed with TV Chrome yet?
There is just one thing you should know before you start using it. When I first tried to view the channels, I got a message in the newly opened window that my Chrome was missing the Windows Media Player plug-in. I did a bit of searching and found that to fix that issue, I need to download the Windows Media Player plug-in for Firefox. It made little sense, but I did it anyway and I could use TV Chrome then.
Here is the link to Chrome guiding users how to install the Windows Media Player plug-in and here the link to the plug-in itself.
In the end of this post, I want to wholeheartedly thank the team behind TV Chrome which has made online TV completely free to view.