Another amazing and wonderful collection for the web designers and web developers is presented here. In this collection we are showcasing 45+ Google Chrome Extension for the web designers and developers. As we all know that Google Chrome is not only an old browser but it is also a very popular and famous browser. Google Chrome is an open source browser that's why you can easily modify it when where you want. Google Chrome also provides to their users a huge list of powerful and free extensions.
So, here is the complete list of Google Chrome extensions for your use. We hope that this collection proves to be the best and will help you. Check out these Google Chrome extensions and download your best pick. Do let us know what do you think about this collection. Feel free to share your opinions and comments with us via comment section below.
Creates a color palette from any image. Just right-click on the image and select the 'Palette for Chrome' option.
Web developer color picker / eye dropper. Pick color from current web page or change color(s) of any element in DOM.
Bookmark, Archive, Screenshot & Markup – All-In-One Web Collector, must-have research tool.
Extended web developer tools for Chrome. Use this extension in addition to the built-in Developer Tools (Ctrl+Shift+I).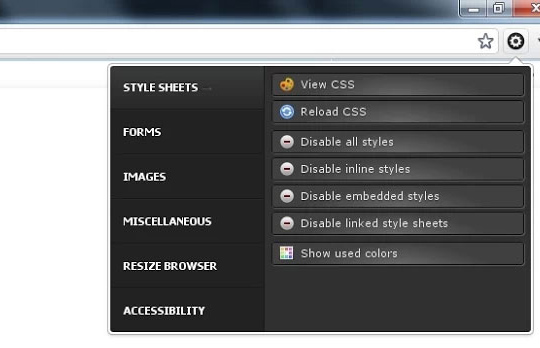 Firebug Lite for Google Chrome™
Firebug Lite is not a substitute for Firebug, or Chrome Developer Tools. It is a tool to be used in conjunction with these tools. Firebug Lite provides the rich visual representation we are used to see in Firebug when it comes to HTML elements, DOM elements, and Box Model shading. It provides also some cool features like inspecting HTML elemements with your mouse, and live editing CSS properties.
CSSViewer is a simple CSS property viewer for Google chrome originally made by Nicolas Huon as a FireFox addon.
The BuiltWith Chrome Extension lets you find out what a website is built with by a simple click on the builtwith icon!
The Microstock Photo Power Search Tool makes searching multiple libraries for the best microstock stock photos easier than ever.
Automatically creates a note when you select a text and bookmarks it. Search on Google and export to a Google document your notes.
Use the Evernote extension to save things you see on the web into your Evernote account.
Discover webpages similar to the page you're currently browsing.
Quickly launch Apps from browser toolbar. Organize Apps and Extensions into Groups. Manage Apps and Extensions with ease.
Ananke Timer is a simple task timer extension.
Todoist: To-Do list and Task Manager
Todoist is the leading online to-do list and task manager. We manage millions of to-dos and we are ready to manage yours as well!
Save time and effort with Popchrom by creating your own shortcuts for text phrases! Whether it's a simple email signature or…
Speed Dial for Chrome – replace Chrome new tab with your predefined visual bookmarks.
An extension for developers to test web pages in different screen resolutions, with an option to define your own resolutions.
Get insight into the performance of your web applications.
On-Page / External metrics, Social Media info, PR / numbering on Yahoo, Bing, Google SERPs.Extends WMT, YSE and GA with metrics
SEO for Chrome provides SEO Stats and Tools that make your daily SEO tasks easier. The MOST popular Google Chrome SEO Plugin!
Eye Dropper is open source extension which allows you to pick colors from web pages, color picker and your personal color history.
Image Cropper lets you crop images in any website on the fly.
The most powerful and freeware app for capture entire page, Save & Edit & Annotate & Print & Share.
Automate your web browser. Record and replay repetitious work.
Merge the active tab and the previous one into a frameset.
Manage Your Browser Sessions.
Resize browser window to emulate various screen resolutions.
A fantastically simple on-screen ruler for lining up and measuring type, line height, strokes and just about anything on the web.
Tape is a tool for pixel-perfect website development. It lets you put down guides that snap intelligently to the page content (and stick to it if it moves on scroll or resize), and helps you easily measure positions and sizes of elements.
The easiest way to identify fonts on web pages.
Adds a toolbar button with various web developer tools. The official port of the Web Developer extension for Firefox.
A QR code (abbreviated from Quick Response code) is a type of matrix barcode (or two-dimensional code) designed to be read by smartphones. Using QRUrl you can translate any literal URI to a QR code and then use it to share your site in the physical world.
The Save my Tabs is an extension that with one click can save all open tabs in your browser.
The Official Alexa Traffic Rank Extension, providing Alexa Traffic Rank and site Information when clicked.
Addicted to numbers? Get the daily statistics of your blog in your chrome browser.
Domain Availability Checker and Whois
This plugin checks a domains availability straight from your toolbar. Perfect for web designers/developers.
Forget Me – Clean History, Cookies & m
Delete everything about a website. Cookies, History, localStorage, sessionStorage…everything!
Awesome Screenshot: Capture & Anno
Capture the whole page or any portion, annotate screenshot, blur sensitive info, one-click upload to share.
Drag files to text boxes on any site to upload and share.
Edit HTML code in real-time. Just enter HTML, CSS, or Javascript in the left pane and you will get instant results as you type in the right pane. Great for editing on the fly and for teaching/learning HTML.
A simple context menu extension to show the properties of an image.
Draw out a ruler that will help you get the pixel width and height of any elements on a webpage.
TabJump – Intelligent Tab Navigator
A new way to navigate your tabs. Easily access most used tabs, associated tabs, and closed tabs. Allows tab locking too.
Manage your tabs, improve your browsing, and maintain your sanity when you have many tabs open.
Session Manager lets you save sessions of your opened tabs and windows, and to quickly re-open them whenever you like.
Google Font Previewer for Chrome
Lets you choose a font from the Google Font directory with a few text styling options, and preview them on the current tab.
Change the appearance of websites instantly. Preview and install styles created by users for your favorite websites.
MultiTab type IE inside Chrome. This is the neatest one among other IE extensions.