You might have been using Chrome for a quite some time now but there is a good chance you are not taking its full advantage. Chrome's maximum potential lies in the power of its extensions. Below We have gathered 9 Insanely Cool Google Chrome Extensions You May Need to Know About. You will not find these extensions in similar lists on other websites; I hope you find them to be useful to your computer usage.
Give the list a thorough reading, try out any extension you are interested in, and let me know in the comments how they worked out for you. You are welcome to share if you know more useful chrome extension which our readers/viewers may like. Do you want to be the first one to know the latest happenings at SmashingApps.com just subscribe to our rss feed and you can follow us on twitter.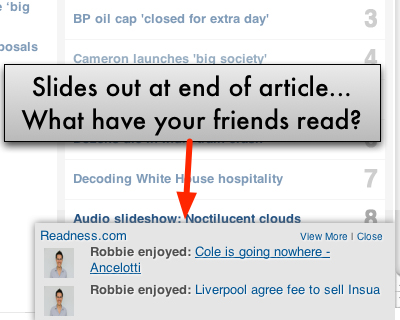 As you're reading content (eg: nytimes.com articles) around the web, Readness.com will suggest additional content that you'll enjoy – based on what your friends have recently read, and also what articles are popular that you have yet to read. It uses Facebook Connect to import your friends – but does not write to your wall / spam your friends.
Apture Highlights is a free tool, built from the ground up to let you take the power of Google search, and the richness YouTube, Flickr, Twitter, and Wikipedia with you to any site. Just highlight a phrase on any site to reveal the web's best content without ever leaving the page. Fast, powerful, and fun.
It will automatically previews pdfs, powerpoint presentations, and other documents in Google Docs Viewer.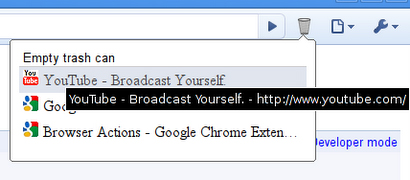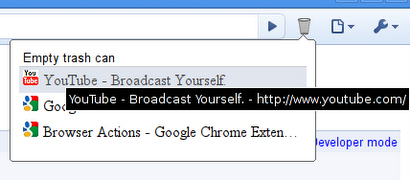 With this extension you can easily reopen previously closed tabs. There is no limit on how many tabs can be remembered. It is kind of a mix of the "recently closed" bar on the New Tab page and the History page. It currently supports only the very basic functionality.
With this ext, you can make notes on any web page, any position. when you open that page again, the notes get loaded automatically.
PanicButton makes it easier for you to hide all of your tabs at once just by clicking on a button. They are then saved as bookmarks in a separate folder. After that the PanicButton turns green and shows you how many tabs are currently hidden. Another click on the PanicButton restores all of the tabs you have hidden earlier.
With Session Manager you can quickly save your current browser state and reload it whenever necessary. You can manage multiple sessions, rename or remove them from the session library. Each session remembers the state of the browser at its creation time, i.e the opened tabs and windows. Once a session is opened, the browser is restored to its state.
Convert any website to PDF document with this incredible Web to PDF online converter.  It Allows you to view the converted PDF using Google Docs and of course you can download it to your computer.
Whenever you need a quick check or a second opinion, such as before logging into your favorite game, when using your bank account or buying something online, use QuickScan, directly from your browser. BitDefender QuickScan takes full advantage of the "in-the-cloud" scanning service and is capable to detect active malware in less than a minute, taking just a fraction of the system resources needed by a regular virus scan. It's not a virus cleaning tool.
SmashingApps.com participates in various affiliate marketing programs and especially Amazon Services LLC Associates Program, which means we may get paid commissions on editorially chosen products purchased through our links to any of the linked sites from us.