I used Google Reader to catch up with all of my favorite websites. But like many other users of the service, I feel that the Reader's interface lacks the eye-candy I want. If you are like me and want to your Google Reader experience to have a visual appeal, then you will find "WebReader" to be greatly helpful.
WebReader is an AIR-based freeware. Being based on Adobe AIR makes the software cross-platform. The first time you run WebReader after installation you will need to provide your Google account details. This is to fetch your Reader subscriptions from Google.
With the subscriptions and articles fetched from Google, the program will have a view similar to the following image: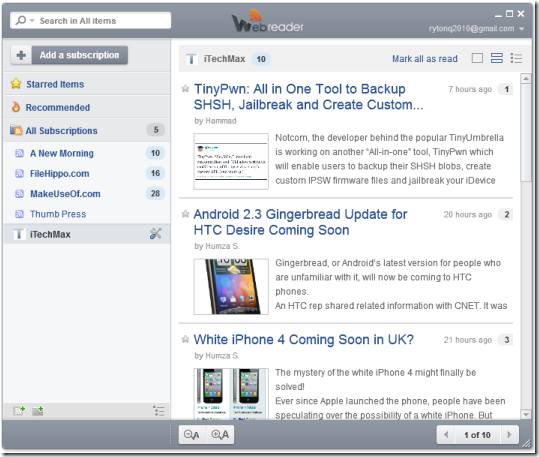 As you can already see, the program is a lot better looking than the native web interface of Google Reader. Individual feeds are categorized in the left pane. You can further categorize these feeds by creating new folders and dividing the feeds amongst these folders.
New feeds can be added right from the program using the "Add a Subscription" button from the top left. This area is also where you can search content in your feeds.
The program allows direct sharing of the article you read. Just place your mouse pointer over one of the visible articles and links will appear that let you email the article and share it on social networks.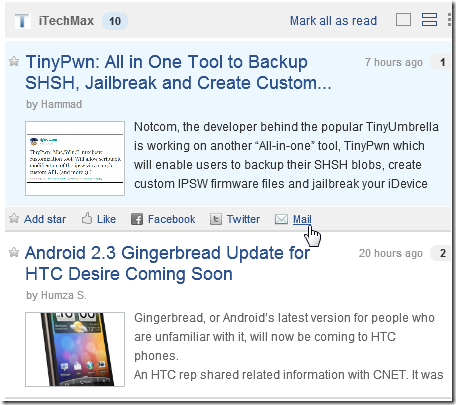 Viewing the articles can be done in 3 different ways: you can choose to have entire articles displayed, only a summary of them, or just the titles. These views can be changed from the buttons in the top right.
The buttons in the bottom right let you navigate to other articles and control the font size.
In addition to all these features, WebReader displays desktop notifications for each new entry in the feed; this ensure you are updated of new articles as soon as possible.
WebReader, clearly, is an excellent replacement for the web interface of Google Reader. You can get the freeware from http://www.getwebreader.com/