It all starts with the domain name. Whether you are running a web service, writing a blog, targeting PPC traffic or promoting your affiliate business, the domain name is a vital factor for the success of all types of online businesses. This is mainly because of two reasons.
The first reason is that people associate the domain name with a virtual brand, a good domain name sticks in everyone's mind, is easy to spell and tells something about the business, service or website. The second reason is of course search engine optimization. To this date, the search engines prefer keyword rich domains and will rank the domain higher in search results which contains relevant keywords than the other one which does not have any relevant keywords related to the business he/she is serving.
The Problem With Good domain names – Availability
Good domain names are like diamonds in a flowing river, it's very difficult to find a unique domain name which is
Short
Easy to remember
Keyword rich
Without numbers, symbols or special characters
The .com extension
That's when you need a good domain name search tool which can suggest you relevant domain names quickly. One such unique domain name search tool is pcnames.com
Search For Available Domains Instantly
To start your domain name search with any extension, simply type the keyword combination in pcnames.com homepage. Based on your query, pcnames.com instantly checks whether .com, .net, .org, .info, .biz, .us, .mobi and .name domain names are available or not.
The domain name suggestions appears instantly as you type and the site never shares your domain search information with any third party websites, domain resellers or other domain flipping business.
As you perform domain name searches one by one, the searches are automatically saved and listed under "Recent domain searches". This is very handy, there is no need to keep a separate log or spreadsheet of domain names that are available – your searches are automatically saved under the "Recent Searches" section as shown below: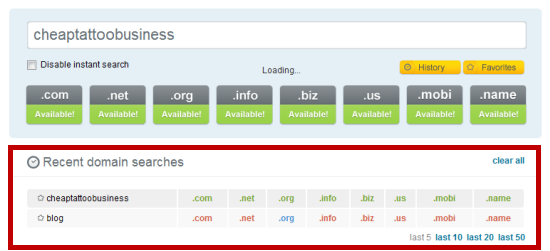 Hovering over a particular extension shows you more information regarding the cost of the particular domain name extension. This includes how much amount would it cost if you want to buy the domain with Godaddy, Yahoo, Network solutions or other reputed domain registrars. Following is an example: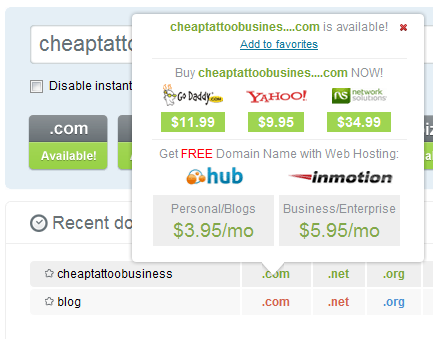 If you want to bookmark a particular domain name for later reference, simply click the "Add to Favorites" button and the selected extension is added to the bookmarks section of pcnames.com
Use The Bulk Search Tool For Bulk Domain Search
If you want to search for multiple domain names in one shot, go to the bulk domain search tool and type all the probable domain names in the text box, as shown below: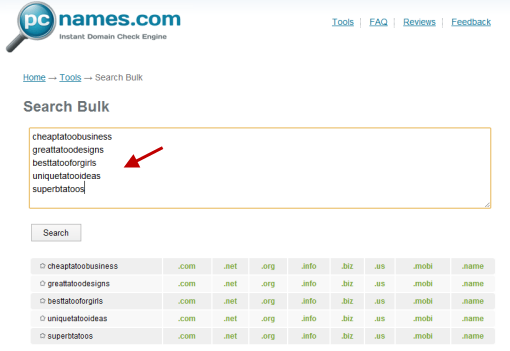 Hit the "Search" button and you are done.
pcnames.com will instantly search for the domain name availability of all the entered combinations and will show the results right below the textbox. You can then hover over a particular extension and view the pricing details of the specific domain name. To add the domain name to your 'Favorites" collection, simply hit the "Star" button placed just at the left of the domain name.
The Domain Name Generator Tool
There are times when you are out of ideas and thus you are not able to guess a unique yet catchy domain name. In such situations, it will be a good idea to try the domain name generator tool.
It works like this – you enter some keywords in the domain name generator tool and hit the "Generate" button. pcnames.com will then suggest available domain names by randomly combining the keywords, an example is shown below: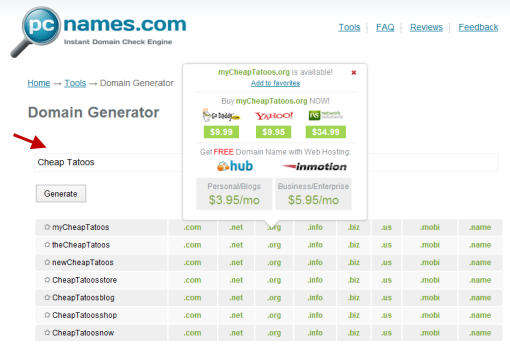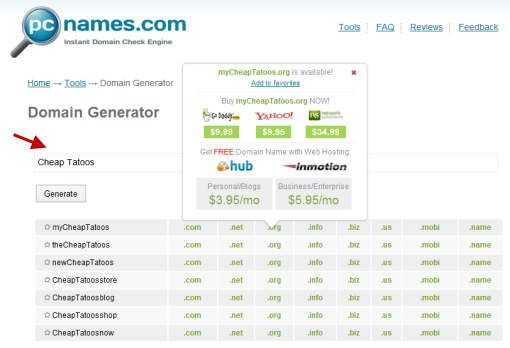 As you can see, the words entered are 'Cheap' and 'Tattoos'. The domain name generator generated some very catchy domain names e.g newcheaptatoos, Cheaptatooshop and so on.
Further, you can preview the price of a specific domain name by hovering the mouse cursor over any extension, as shown in the above screenshot.
Domain Search Widgets
pcnames.com also offers some handy domain search widgets, which allows you to embed a domain name search tool on your own blog or website. Works quite simple – head over to the domain search widget page, grab the iframe code and paste it in the source of your website's theme or template.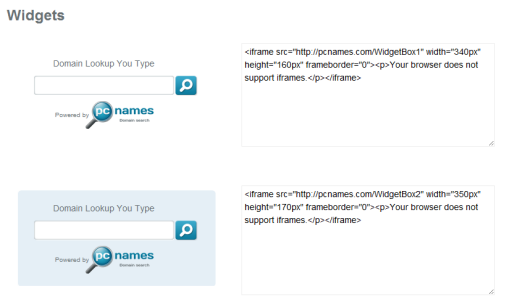 The widgets works pretty much the same way – your site visitors can look up the availability of a domain name by using the widget directly from your website.
Frequently Asked Questions
If you are new to the internet marketing business and want to know the inner concepts before buying a domain name, it would be better if you can learn the basics e.g what is a name server, DNS, Domain speculator and so on.
The folks at pcnames.com have put together a nice and detailed overview of everything related to domains, how they are handled and what you should know regarding managing the domains you are going to buy. We highly recommend reading their documentation, if you want to clear your concepts regarding the technical aspects of a domain / website.
Check out their frequently asked questions page for more domain names info
Read What Reviewers Are Saying
It's always better if you can read user reviews about a website and then decide using their service. Domain names are no exception, you should always research about the domain name registrar, read what existing customers are saying about the company and then decide to buy the domain name with that particular domain registrar.
pcnames.com has a dedicated page for all the reputed domain registrars with reviews or comments posted by users. So you don't have to browse to any other website, blogs or turn to any search engine for reading the review of a particular domain registration company.
To read about the user reviews and comments of existing customers about a particular domain registration company, head over to domain registrar reviews page for more information.
Conclusion
Overall, pcnames.com is one of the best domain name search tools available on the web. The site is simple, user friendly, ad free and does not require user registrations or any type of signups. You get all the important tools under one umbrella and searching for unique domain names has never been easier than before.
SmashingApps.com participates in various affiliate marketing programs and especially Amazon Services LLC Associates Program, which means we may get paid commissions on editorially chosen products purchased through our links to any of the linked sites from us.