Do you have a high speed broadband connection but not know how to kill your boredom? What if I told you that you could view any one of countless television channels from all parts of the world using only your broadband internet and without spending a penny? Surely you could find at least one interesting program on one of those countless channels, a program that will entertain you and help pass your time.
Watching any channel from around the world is exactly what can be done using TvTube.
From sports channels to documentary ones, TvTube is a great resource for TV channels. The channels are categorized nation-wise and genre-wise.
At the site's homepage we can see channels being currently watched, most popular channels, and the recently added channels.
A search box is also located in the top right of the homepage which facilitates finding any channel we are looking for.
Clicking on the name of a channel starts its broadcast within a player in the browser.
Below the channel's feed there are links to channels that are related to current one being watched. The relation can be that of the genre or of nationality.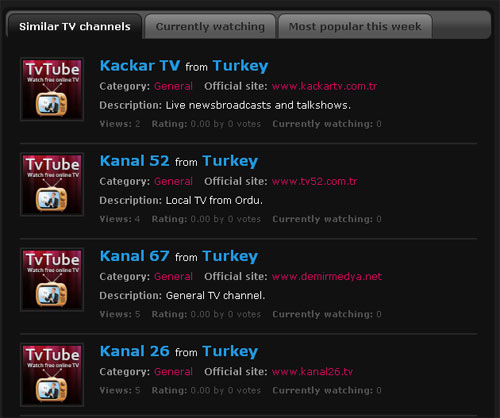 Some channels on TvTube will require your web browser to have the Windows Media Player plugin to be installed which can be obtained here.
TvTube not only provides us a gateway to pass our time but also a resource to learn about other countries through their television media. By sorting channels categorically, the site also simplifies the process of finding channels we are looking for.
Pay TvTube a visit and let us know what you think.