There are lots of people who prefer to browse the internet using a proxy. There are many reasons behind it. One of the most important reasons include your private information which you may just leave on a public computer.
When you browse the internet through hidden proxies, websites does not send you the request directly but to the proxy server and it shows the information of the proxy server rather than your personal information. They are also used to unblock websites on different organizations and school networks like Facebook, Twitter etc.
For that purpose, we have gathered a list of 10 excellent free proxy services which you can use to browse the internet anonymously.
HideMyAss
With HidemyAss, you can surf the web anonymously, hide your IP address, secure your internet connection, hide your internet history, and protect your online identity. All you have to do is paste the URL of the website you want to visit and click on HideMyAss button.
Checkout HideMyAss @ http://www.hidemyass.com/
Tor
Tor is free software for windows which enables users improve their privacy and security when they are browsing the internet. With Tor, you can prevent websites from tracking your IP and other personal information. It even helps users publish websites and other online services without revealing the location of the website.
You can download Tor from https://www.torproject.org/
Guardster
Guardster is another online proxy tool which helps users surf the web anonymously and protect your identity when you visit any website. Guardster protects your privacy by connecting with the website through Guardster servers which does not reveal you IP and other personal informations. It even comes with support for Javascript and cookies. If you are satisfied with the free service, you can subscribe to Guardster paid service which enables you to browse encrypted SSL websites and is completely ad free.
Check out Guardster @ http://www.guardster.com/
MegaProxy
Like Guardster, Megaproxy is another free proxy websites which enables users browse websites without any trace. You can browse the internet without revealing your identity and the best thing about this service is that your dont have to install any third party applications to use the service.
Checkout Megaproxy @ http://www.megaproxy.com/freesurf/
Fsurf
With Fsurf, you can helps users anonymously surf the web and help the users visit websites that are restricted by their ISP or organizations such as schools, universities etc. Unlike other proxy websites, this service is really simple, easy to use and has a simple interface.
Checkout Fsurf @ http://www.fsurf.com/
Privoxy
Privoxy is a free non-caching proxy software which can be used to enhanced privacy when surfing the web. With Privoxy, you can modify web page data and HTTP headers, control access, and remove ads and other obnoxious Internet junk. Privoxy is really easy to use and can be customized depending on the needs of the user.
You can download Privoxy from https://sourceforge.net/projects/ijbswa/files/
Online Anonymous Proxy
With Online Anonymous Proxy, users can open restricted and blocked websites (e.g Facebook, Twitter etc.) in institutions and organizations.
Checkout Online Anonymous Proxy @ http://zend2.com/
8. TryCatchMe
TryCatchMe is a free proxy website which provides users with the ability the surf the web without leaving any traces or any personal information. You can also access blocked websites in your school or university and protect your online privacy.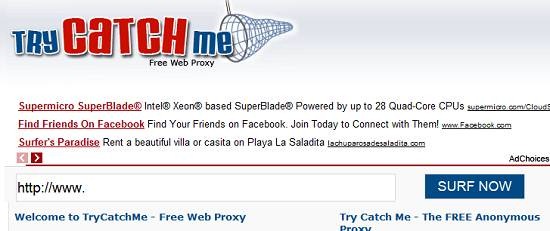 Checkout TryCatchMe @ http://www.trycatchme.com/
Heeky
With Heeky, you can bypass web filters that block certain websites on networks of schools and universities. You can also hide your IP and personal information while you are surfing the internet.
Checkout Heeky @ http://www.heeky.com/
Web4Proxy
Web4Proxy provides users with ability to surf the web anonymously and bypass web filters to access websites which are blocked by your ISP or organization's network.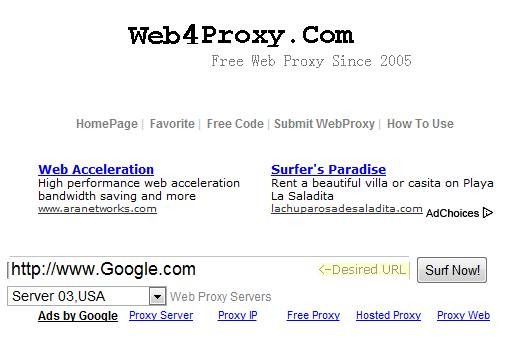 Checkout Web4Proxy @ http://www.web4proxy.com/
Disclaimer: By listing these products at SmashingApps.com, Our intention is only to give knowledge about all those interesting tools that might become useful for our readers. If these tools are not allowed by your organization or your network administrator then we strictly recommend that do not use these tools in any circumstances. By any means, SmashingApps.com will not be responsible for anyone's personal decision for using these tools where these are restricted.
</a>