Preezo is an Ajax web application that gives you the power to create and share professional quality presentations over the web without software or plugins.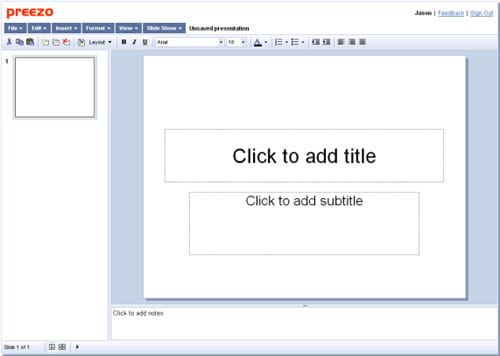 If you like to spice up your slide shows with a little movement then check out their Slide Transitions feature. Not only can you make your slides wipe, push and fade, but you can also set your slides to advance automatically after a specified amount of time.
They have a diagramming features as well that can help you to create rectangles, ellipses, triangles, lines and more.
They have a large collection of transition effects. For example, Box In, Box Out, Cover Down, Cover Left, Cover Right, Cover Up, Cover Left-Down, Cover Left-Up, Cover Right-Down, Cover Right-Up, Cut,  Cut Through Black, Fade Smoothly, Fade Through Black, Push Down, Push Left, Push Right, Push Up, Push Left-Down, Push Left-Up, Push Right-Down, Push Right-Up, Random, Split Horizontal In, Split Horizontal Out, Split Vertical In, Split Vertical Out, Uncover Down, Uncover Left, Uncover Right, Uncover Up, Uncover Left-Down, Uncover Left-Up, Uncover Right-Down, Uncover Right-Up, Wipe Down, Wipe Left, Wipe Right, Wipe Up, Wipe Left-Down, Wipe Left-Up, Wipe Right-Down, Wipe Right-Up.
Salient Features
– You can create professional quality presentations using an ultra-fast Ajax user interface.
– Access your presentations from any computer with an Internet connection and a modern browser. And there's no need for dedicated hosting to use Preezo.
– Reuse images or the content of entire slides from easy to use galleries.
– Save time and reduce headache by collaborating on a centralized web document.
– Distribute presentations to clients and colleages without having to email huge PowerPoint files.