Colors are the first things that the web designers consider while starting a new website project. Which colors to use that will complement the purpose of the website best is something that greatly affects a website therefore it is paid the utmost attention. Usually the designers select various colors and then use their different shades for different purposes, like for links or hovering effects and so on, on the website and out of them select the colors that best serve their purpose. To make the designers' task easier and to help them achieve their ends, by creating praiseworthy and breathtaking websites, there are a variety of tools available. These tools can help choose colors and create pallets and different schemes to ease the designers' task and enabling them to deliver amazing websites.
We have handpicked some great web color pickers and scheme and pallet generators for every one today. Go through the collection and start using these excellent tools to get amazing and awe inspiring results!!
Create color schemes with the color wheel or browse thousands of color combinations from the Kuler community.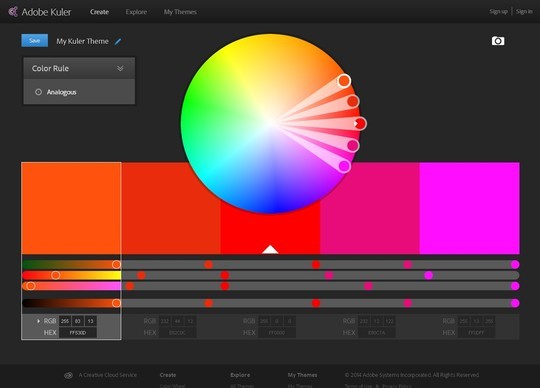 A designer tool for creating color combinations that work together well.
Contrast-A Find Accessible Color Combinations
Contrast-A checks color combinations for sufficient contrast and displays the results according to WCAG 2.0 (Luminance Ratio) as well as the results according to older accessibility guidelines, WCAG 1.0 (Difference in Brightness and Color).
This color schemer is a simple tool to help you experiment with various color schemes for your next web or print project.Click around within the shaded box to set the saturation and brightness, or within the rainbow to set the hue. You can also enter a particular value directly into one of the boxes.
Analyse the colors of any webpage to verify the contrast and ensure better accessibility.
This is a great tool to use if you want to develop a matching color scheme for your site. Say you want your nav color to be #000066 (navy blue) and you want to know what colors would go best with it, this tool will help you.
COPASO : Color Palette Software
COPASO is an advanced color palette tool that helps you create the perfect color palette. If you're finding COPASO a bit too rich for your color creating tastes, you can always use our basic color palette tool.
ColorExplorer is an online toolbox for working with color palettes.
Color palettes made from images.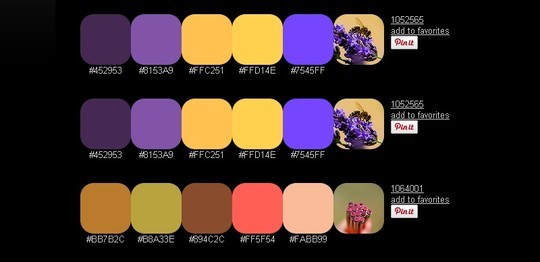 ColourMod originally made its debut as a web-based DHTML Dynamic Colour Picker. Since the inception of OS X from Apple, ColourMod has been ported to the Dashboard interface and is fully functional in OS X Tiger and Leopard, Lion and Mountain Lion.
Use the color wheel to find the perfect color scheme using the Sessions color calculator. Create endless free color combinations, working from any base color.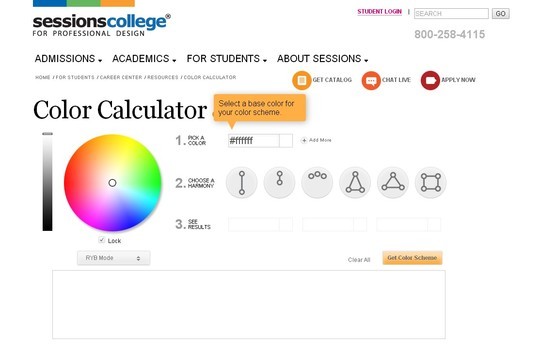 COLOURlovers is a creative community where people from around the world create and share colors, palettes and patterns, discuss the latest trends and explore colorful articles… All in the spirit of love.
Fast and intuitive color editing for the Apple iPad.
The color wizard lets you submit your own base color, and it automatically returns matching colors for the one you selected.
Make color schemes. Enter the URL of an image to get a color palette that matches the image. This is useful for coming up with a website color scheme that matches a stock photo a client wants to work with.
Be inspired by the most popular colors, palettes, gradients, and patterns in our database.
A web color combinations testing tool for web developers.
A well designed resource for web safe colors. This site was created for those who like to keep things simple.
This colorPicker is a light weight all-rounder (~ 29kB – only 1 file*; 12.8kB gZiped) that can display and let you choose the entire color palette in HSB and RGB color modes.
colourco.de is an online designer tool, which allows you to easily and intuitively combine colours.
Colors for data scientists. Generate and refine palettes of optimally distinct colors.
The color Wheel is an online application that lets you generate random color schemes.
The color contrast analyzer will check if two entered colors has enough contrast to be easily legibile when used in a design.
Generate a color palette from PNG, JPG or GIF image/photo. Receive color suggestions, download Photoshop swatches (.ACO)
Generate seamless striped background images!
Discover images like never before with search that puts color first.
GrayBit is an online accessibility testing tool designed to convert a full-color web page into a grayscale rendition to help visually test the page's perceived contrast.
We extracted the colors from 10 million Creative Commons images on Flickr. Search this collection by color. Addictive and very likely the best color search engine in the world*!
Harmonize colors. Create color schemes. Find HEX codes. Simulate color-blindness. Export into Illustrator, Photoshop and ColRD.com.
SmashingApps.com participates in various affiliate marketing programs and especially Amazon Services LLC Associates Program, which means we may get paid commissions on editorially chosen products purchased through our links to any of the linked sites from us.