If you are a professional blogger or webmaster, there is a good change that you track your site's traffic and analyze to learn how to better your website or blog. Such measures are an absolute must if you want your website to have a mark on the web. Most webmasters use Google Analytics for this purpose.
Although Google Analytics is the most popular application for this task and does a great job at tracking traffic, Woopra proves that there are areas in which Analytics falls short.
Before I get into Woopra's features, let me tell my readers that this tracking solution exists as a desktop application (for Windows, Mac, and Linux), an online application, and very soon will be usable on the iPhone.
Woopra has been declared better than Google Analytics by a number of sources, including the Washington Post What sets this service apart is its comprehensiveness.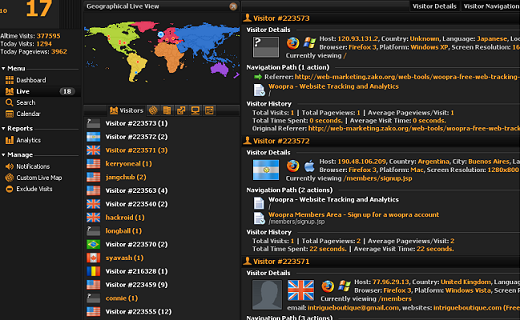 This amazing service lets users not only track their traffic using a variety of tools, but it lets them do this in real time. Moreover site owners can have live chats with their site's visitors.
Woopra also lets users monitor multiple websites. A one-stop service is created for monitoring all your sites. Through the quick site tabs at the top of the Woopra panel, you have one-click access to your registered blogs.
This traffic tracking solution comes in free and paid plans. Click here for details.
If you have any questions about Woopra you can always check their FAQ page  or visit their homepage here.
Packing features clearly better then Google Analytics', all webmasters should give Woopra a go.