The average internet user has accounts on a number of websites. Apart from email and social networking accounts, you end up creating accounts on other websites as well. Most people use the same username and password combination across all websites; however this is an unwise practice because if one account gets compromised, the others are automatically at risk.
Smart internet users keep different passwords on the sites they use. But as the number of accounts increases, it becomes harder to maintain all the passwords. That is where KeyPass comes into play.
KeyPass is a freeware program sized at 1.5 MB and compatible with Windows operating systems. After installing the program, this is what it will look like on first run:
The second row from the top has various buttons on it. Click on the first button to set a master password. This password will need to be entered to access the information you save in KeyPass.
In conjunction to a password, you can use a file as the master password but this is optional.
After you click on the OK button and enter the master password another time, you will see newly created categories in the left pane.
You can highlight a category and use the fourth button in the second row to add a password entry in that category.
While entering a new password entry, you can add numerous details. These details include the title of the password file, and the combination of username and password. You can even add a URL, notes, and an expiration date with the password entry.
You will then see the password in KeyPass's interface.
To select a password, simply double click on the password's dotted view. This action will copy the password to clipboard for exactly 10 seconds.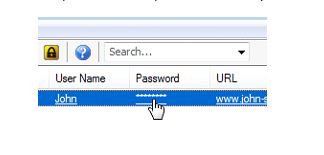 While the password is in the clipboard, you can paste it in on the website where you need to use it.
KeyPass functions in such a way that all you need to remember is the master password. You can quickly create a new account on a site with a password which you save in KeyPass. From then on, all you have to do is copy the password from the program's interface – no need to remember it yourself.
Needless to say, this simple procedure will appeal to many internet users. Get KeyPass from http://keepass.info/
SmashingApps.com participates in various affiliate marketing programs and especially Amazon Services LLC Associates Program, which means we may get paid commissions on editorially chosen products purchased through our links to any of the linked sites from us.