In the todays world everything we used to do offline is online now, even we are at home, on campus, at work or travelling foreign we have broadband internet everywhere to access our online applications for free, we use google docs to process our documents for free, we use gmail to check all our e-mails for free, we use meebo to get in touch with our friends(on gtalk, msn, aol, yahoo messenger) for free, we use flickr to manage our pictures for free, we use YouTube to watch our videos for free, we use wikipedia to access our encyclopedia & we use last.fm to listen to our music.
For the general people, who use the computer in there daily activity and don't need a full fledged Operating System with many of pre installed applications, spend thousands of dollar on softwares, firewalls, anti virus to purchase and worry all the time about the computer crashing and loosing there data.
—————————–Recommendations; Please continue reading below——————————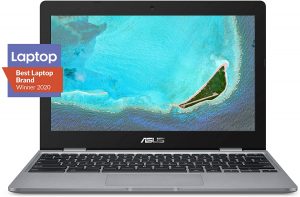 ASUS Chromebook C223 11.6″ HD Laptop Shop Now
This Asus HD Laptop is an amazon's choice for 'chrome computer laptop' is reviewed by 980+ reviewers that is available at only $249.99. It is ready for productivity and performance while being on the go or travelling, with speedy performance, robust security, and convenience for the user. This laptop has Lightweight 2.2 pound body and with thin and premium metallic finish for a sleek appearance having 11.6 inch HD 1366×768 Anti-Glare Display. The machine is powered by the Intel Celeron N3350 Processor (2M Cache, up to 2.4GHz) for fast and snappy performance including 4 GB DDR3 RAM; 32GB eMMC hard drive; No CD or DVD drive with it. Learn more about this product >>>
Now we have gOS as an operating system build for one purpose providing support and easy access to online web applications.


In simple terms instead of the icons on our computer pointint to applications, in gOS we have icons pointing directly to our online web applications.

Technically gOS is a cut down version of ubuntu 7.10 dektop, who's focus is online applications like gmail, google news, google maps, youTube, mebo and many more.
----------------------Recommendations; Please continue reading below----------------------
It's a neat Linux distribution which is made for shifting our regular desktop apps to online apps. The OS is based on linux so you can definately install desktop apps such as open office etc but its core focus is web2.0 sites and online applications. Shifting desktop to web. And best of all gOS is absolutely free for everyone! just download and install it on your computer and start using operating system for new generation.