With each new installed application, usually a new set of fonts is added to your computer. The increasing number of fonts can slow down your system's startup thereby negatively affecting the boot time. If you are not using these fonts, they need to be cleaned up for optimum system performance. To clean up these redundant fonts, you could employ any one of countless font managers available on the web. My primary choice, however, would be FontFrenzy – a font manager with some extra font cleaning features.
FontFrenzy is a freeware sized at only 490 KB and compatible with Windows. When you load it up, the program shows all fonts installed on your computer. You can see "FontFrenzy" written in each font with the font's name under the "FontFrenzy" text.
The five buttons you see on top of this pane correspond to Defrenzy, FrenzySnap, Refrenzy, FrenzyMan, and FrenzyInfo. The functions of these buttons are:
Defrenzy: clicking on this button will delete all user added fonts. Any fonts that did not come with you Windows operating system will be removed.
FrenzySnap: this feature backs up your fonts. It is a good idea to click on FrenzySnap and create a backup before removing any fonts.
Refrenzy: you can restore fonts from a FrenzySnap image by using the Refrenzy button.
FrenzyMan: this is where you can manage your fonts like other font managers. You can individually remove fonts, view them in folders, etc.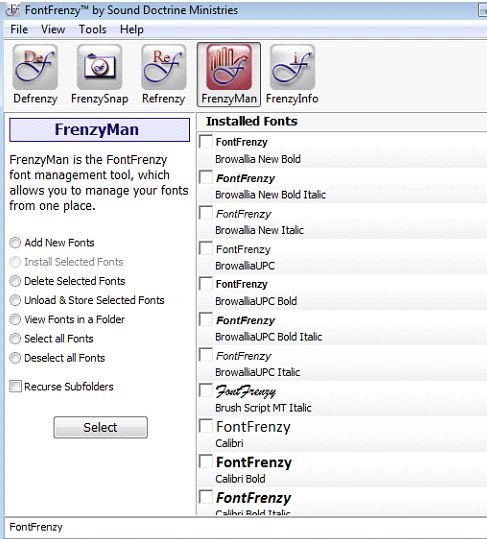 FrenzyInfo: this button will display the program's details such as version, company, and website.
In conclusion, if you are running a Windows machine and looking for a competent font manager, then FontFrenzy is your best option. In addition to giving you control over you fonts, it also lets you automatically clean up the frenzy caused by unnecessary fonts.