As the time passes by, those people are increasing who are interested to create an online ecommerce website business of their own choice and range of products. But most of the time, finding out of the best tools and services to create a suitable power pack tool are not simple enough. So, after having a Shopify account you can create an online ecommerce website backed by powerful tools that help you find customers, drive sales, and manage your day-to-day.
So, You want to know what is Shopify and how does it work? Shopify is an all-in-one ecommerce website builder built for independent business owners to start, run, and grow their businesses online, in-store, and everywhere in between.
Previously, we have covered 7 Ways To Make Your Business Earn Money While You Sleep that you might be interested in to read.
Tip: If you are looking for a visual wordpress theme builder then Divi theme builder would be the right choice to end your searching and start discovering it for your next project. Divi is more than just a theme, it's a website building framework that makes it possible to design beautiful websites without ever touching a single line of code and without installing and configuring dozens of disjointed plugins. We think this is the future of WYSIWYG, and it's unlike any WordPress theme you have used before.
Here are just few things you can do with Shopify to create an online ecommerce website:
Create an online ecommerce website and customize your online store with shopify themes available in the market
Sell in multiple places, including web, mobile, social media, and brick-and-mortar
Manage products, inventory, payments, and shipping
Create, execute, and analyze online marketing campaigns
To setup up your store on Shopify after signing up, you can better to choose a theme for your ecommerce website builder that fits as per your interest and need to have a visually strong and aesthetically sound impact to your visitors.
To do so, you can lookout for few of the best highly customizable and versatile powerlful shopify themes to create an online ecommerce website for you.
Premium Shopify Themes for eCommerce Website Builder
WOKIEE Shopify Theme is more than usual theme. It is a powerful design tool. WOKIEE is outstanding Premium Shopify theme. It will be perfect solution for your current or future webshop. It has all required tools and modules to create super fast responsive and mobile-ready website with amazing UX. Great variety of numerous layouts and styles allows to create different structures and satisfies any specific requirements.
Everything you need is in Shopify CMS. You can avoid expensive web development and minimize your design costs using Premium style WOKIEE Shopify theme . Gain full control over your entire website through your own Content Management System that lets you change the navigation, site content, images, products, collections and so much more. Premium Shopify Theme Wokiee is the best choice for your store.
Kalles includes more than fifteen purpose-built demonstrations, each with a variety of outstanding features and eye-catching styles. With its one-click install, you can simply import the demo and then add your content and publish in minutes.
Whatever you're selling, Kalles is the only Shopify theme you'll need to build a robust online store that provides a smooth and seamless shopping experience for your consumers. Kalles Shopify Theme is built for a variety of various online businesses, with a modern design, minimalist feel, and a variety of specific demonstrations. Display your items in a stylish manner and make it simple for your consumers to explore, choose, and buy. This is the epitome of simplicity, innovation, and affordability.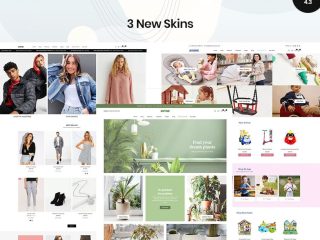 Avone is a new kind of Theme. In few words, it is the most powerful, easy to use shopify theme with unlimited possibilities. It is a fully Responsive Premium shopify Theme with a great design and extensive functionality.
Avone features over 1000 Theme Options, making it the most customizable ecommerce website builder in the market for shopify. Its Powerful Theme Options allows to craft almost any imaginable design. Avone Shopify Theme isn't missing out on any of the other best eCommerce features either.
Avone has all the reasons to be extraordinary. The goal was to design something that offers all the possible features you need to create your amazing online store without having to add extra customization, the demo can be installed easily with only one click, it won't take more than two minutes to be ready for use. The theme is a very user-friendly and is suitable for any web shop in fewer words it's Multipurpose Shopify Theme. A lot of thought and care went into this theme making it a pleasure to use.
Venedor is built for speed and performance, and it is designed with rich promotion sections that impact high conversion rates.
One of the main purposes of Venedor Shopify Theme is to help customers who are not familiar with programming to configure the store without coding skills such as custom html/js/css.
11 skins for electronics, fashion, furnitures, cosmetics, outdoors and pharmacies are already built in and more comes in the future. Each of these demos extends the ability to create tons of variations since all demos are uniquely designed with different sections.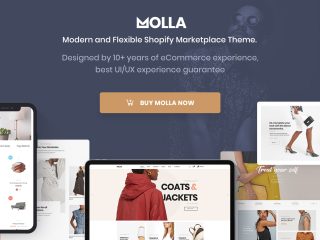 Molla Shopify Theme– Multipurpose Responsive is a modern and niche eCommerce template that is perfect for your eCommerce business. Molla including niche 20 demos, ultimate feature variations for category and product detail pages. More niche and powerful features are coming soon with Molla Shopify Theme.