Wireframes and mockup applications are the most essential tools for every web designer and developer. Although, some web designers and developers do not use such tools while some rely on them to a great extent. In this way, the significance of such tools and applications vary among different designers and developers. On the other hand, it goes without saying that wireframes and mockup applications can save plenty of time. Therefore, keeping a good collection of useful mockup applications and tools can come handy at the time of need.
Such tools come at a very high price and finding high quality freebie is just like finding a genie. In this round up, we have gathered some free wireframes and mockup applications for you that you can use for free.
The Pencil Project's unique mission is to build a free and opensource tool for making diagrams and GUI prototyping that everyone can use.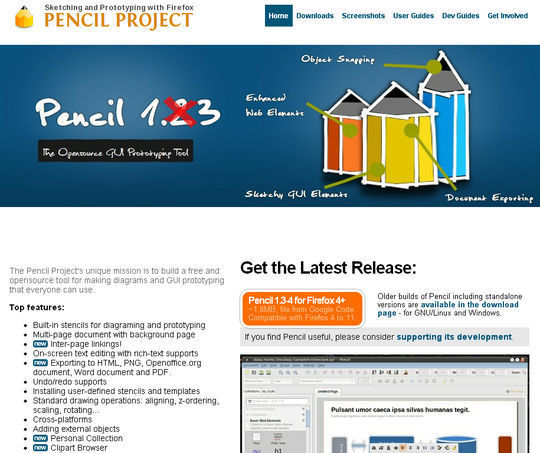 The best platform to define web and mobile apps with rich interactive wireframes.
Lumzy is a Mockup and Prototype creation tool for websites and applications. By Mockup, we mean that quick sketch that gives an idea of what the site or application you are planning to build will look like. With Lumzy, you can create prototypes of how the site or application will function by adding events within your Lumzy controls. For instance, what happens when the user clicks a button? You can create Message Alerts, Page navigation or Links to external content when your client interacts with your Mockup, yet with the hand drawn feel of a sketch.
Mockup Builder – Free online web prototyping tools, software
Mockup – it is the convenient software, which allows you to make a prototype of a site and new design for soft. We offer you to try possibilities of this program and to create web prototypes. Mockup has all necessary tools for giving the original look to appearance of websites. It is very convenient to use mockup for a web design.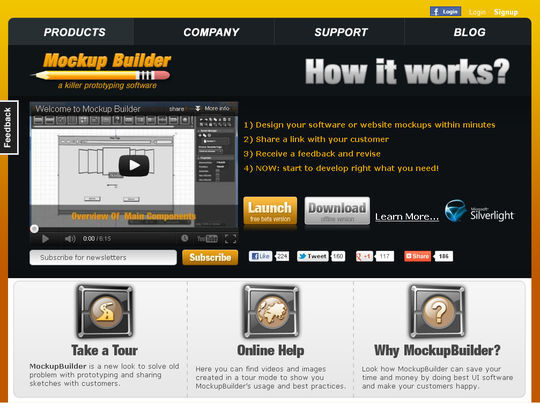 Cacoo is a user friendly online drawing tool that allows you to create a variety of diagrams such as site maps, wire frames, UML and network charts. Cacoo can be used free of charge.
Mockabilly – App for creating mockups on iPhone
Create iPhone Mockups with your Style and rock your Audience.
This is a web based tool for building web site wireframes. A wireframe is simply a visual arrangement of site content, which allows developer and client to plan a web site's content layout without a great investment of time. This particular tool allows the wireframe to be built in minutes, and if desired, a link to view the wireframe can be sent through email, instant message, or even the phone. With both parties able to view the wireframe even from different locations, the wireframe can then easily be updated based on feedback, discussion, ideas, suggestions, and so on.
Access MockFlow from the comfort of your Desktop with Offline capability. or Show presentations on the go with the Mobile Client. All for FREE.
fluidIA is an emerging agile design tool for prototyping rich user interfaces. The big idea behind this experiment is whether we as interaction designers, IA's, UX professionals and developers can create our own prototyping tool in an open way.
SmashingApps.com participates in various affiliate marketing programs and especially Amazon Services LLC Associates Program, which means we may get paid commissions on editorially chosen products purchased through our links to any of the linked sites from us.